A POPULAR WEBCAM SITE EUROLIVE.COM JOINED BONGACAMS!
Joining BongaCams: new opportunities for  EuroLive
We continue to follow the webcam world updates! Here is one of the key events of the beginning of 2022: EuroLive.com joined BongaCams, the most popular webcam site worldwide!
When two websites of such a scale join their forces, it opens inspiring perspectives: thousands of new models, lots of additional features and bonuses, higher traffic and conversion rate!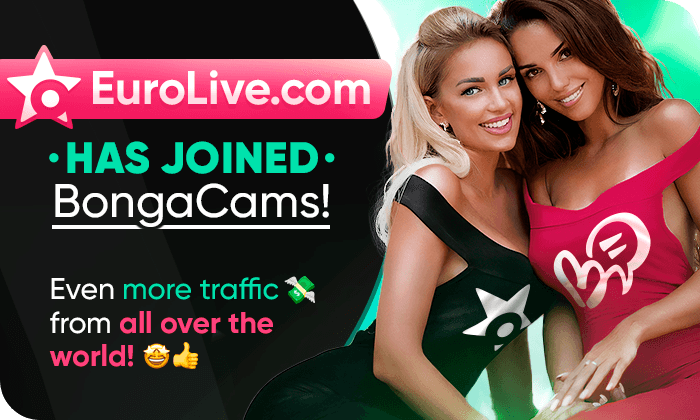 Joining BongaCams: new opportunities for EuroLive
A European webcam site EuroLive.com is one of the first sources in the history of the webcam industry. The website was created in 2006. Over the years of its operation, it has grown very popular with French-speaking audiences.
As EuroLive.com is joining BongaCams, it marks a new milestone in website development and opens lots of additional opportunities not only for the members, but also for webcam models, studios, and webmasters across the globe!
Many people have already appreciated the updated design and enhanced functionality of EuroLive.com. After joining BongaCams, the website became much more user-friendly and is now available on all mobile devices. Numerous useful features and bonuses have been introduced, while the number of models online has increased up to several thousand! Besides, the price of Tokens has become considerably smaller, meaning that paid features have become more affordable for the majority of members.
This event also brings many advantages for webcam models. The influx of new members opens wide opportunities for gaining income, while an updated website interface allows to use all the features previously available only on BongaCams!
BongaCams webcam community keeps on growing!
So, the enormous BongaCams network is becoming even bigger! Nowadays, according to Alexa global ranking, BongaCams is ranked #33 among all internet-sources worldwide, being the most visited webcam site. With EuroLive.com joining, BongaCams audience will become significantly bigger, allowing a huge number of models and members from different countries to communicate on one platform!
By the way, this year BongaCams is celebrating its 10th anniversary! As stated by website representatives, BongaCams is focused on ongoing development: creating the most comfortable conditions for members and offering the models the best opportunities for gaining a great income. All in all, it once again confirms BongaCams leadership in the webcam industry, promising lots of interesting updates!
We congratulate BongaCams on their remarkable anniversary as well as on starting a promising collaboration with EuroLive! We'll keep following the upcoming development of these websites, announcing key webcam world news!
TWITTER https://twitter.com/eurolive
Instagram https://www.instagram.com/eurolive/
Stripchat: ePayservices No Longer Available After 30th of June
Starting on June 30th, 2023, Stripchat will no longer offer ePayservices as a payment method.


"We know this may surprise some of you, but we're giving you plenty of notice so you can make any necessary changes to your payout method. There are many other payout options available for you to choose from."
To change your payout method, head over to "Payment settings" > "Payment method". From there, you can choose the method that suits you best and save settings.
An article with a list of all payout methods offered by Stripchat can be found here:
support.stripchat.com


Flirt4Free: Office Hours with Stacey White & Izzi, get Your 2,000-Point Boost!
Don't miss out on the next episode of Office Hours, the bi-weekly webinar series from Flirt4Free.com featuring top model Stacey White and one of the site's most successful Flirts, Izzi. Join the conversation on March 22nd at 11 AM PST/2 PM EST to gain valuable insight from their decades of on-cam experience.

Whether you need advice on time management, a better work/life balance, or directions on Flirt4Free site features, Stacey and Izzi have the answers! Sign up for Office Hours here using your stage name and email address and receive a 2,000-point PowerScore boost for participating.
Mark your calendars for more upcoming Office Hours Webinars:
March 22nd, 11 AM PST/2 PM EST w/ Izzi
April 5th, 11 AM PST/2 PM EST
April 19th, 11 AM PST/2 PM EST
BongaCams: Boost Interaction and Earnings with Stream Overlay!
Exciting news from BongaCams!
Introduce Stream Overlay – a chatbot that sends animated images in response to tips!

When you receive a certain amount of Tokens, members will instantly see an animation with your reply message displayed on top of the broadcast. Stream Overlay is sure to spark more interaction and help boost your income!

Configuring Stream Overlay is easy. Simply head over to the "Chatbots" tab and upload an image, GIF, or video along with your text. Set the minimum amount of Tokens that must be sent to trigger the animation. You can create up to 5 animated responses!
Take advantage of Stream Overlay now and make your chatroom even more interactive! Increase your earnings and make your broadcast stand out from the rest.