OnlyFans has lost its dispute with the British tax authorities
OnlyFans has lost its dispute with the British tax authorities regarding the VAT it should pay in the European Court of Justice.

Case description: Fenix International Ltd is a company registered in the United Kingdom which owns an electronic application – a social network known as OnlyFans through which digital content created by persons in the capacity of "creators" is transferred against a sum of money received from individual persons known as fans. Each individual person with the capacity of the author has a dedicated section in which he/she uploads digital content on the electronic platform, such as photographs, video materials, and messages.
Fans can access the content added by the creator by making punctual payments or by paying a monthly subscription. Fans can pay tips or donations without obtaining digital content.
Each creator sets the value of the monthly subscription, but Fenix International Ltd sets the minimum amount for subscriptions or tips.
Fenix International Ltd also provides the device for financial transactions, collecting and distributing payments to content creators, and sets the general terms for using the platform.
Fenix International Ltd charges 20% of any amount received by a creator, an amount which it invoices and which it has collected VAT at the rate provided in the United Kingdom.
The tax authorities in the United Kingdom require Fenix International Ltd to pay VAT on all collections due to content creators for the period from 2017 – 1 January 2020, during which the United Kingdom is a member of the European Union applying Directive No. 112/2006 on the common VAT system.
More specifically, the British tax authorities invoke Article 9a (1) of Regulation EU No. 282/2011 for the application of the VAT Directive in the sense that the tax authority considers that Fenix International Ltd acts in its own name when collecting money from fans and, consequently, has the status of a reseller-merchant and that this situation requires the company to collect VAT on all collections.
In 2020, Fenix International Ltd brought an action before the court in the United Kingdom in the sense that the provision of the Regulation does not apply as authors distribute in their personal name the electronically communicated material and that the contractual obligations entered into between the company and digital content providers have a completely different nature, they being the ones who make any sales of digital content.
Subsequently, this court of justice addressed the European Court of Justice regarding the application of Article 9a of Regulation No. 282/2011 in the present situation.

The court decision can be found here:
https://itva.ro/wp-content/uploads/2023/03/Cauza-C-695-din-2020-Fenix-International-Ltd-Only-Fans.pdf
Cherry.tv and Byborg Enterprises Join Forces to Create the Best Freemium Cam Site
Karoly Papp, Byborg Enterprises's Director, shared his confidence in the collaboration. "This joint venture provides us with a great opportunity to combine our cultures and knowledge and open up new international opportunities for both of our companies."

Paul Ashworth, CEO of Cherry.tv, expressed his enthusiasm for the new partnership. "We're incredibly excited to be joining forces with Byborg Enterprises SA and LiveJasmin to supercharge Cherry.tv's growth. With the help of LiveJasmin's resources and industry knowledge, we're confident we will be able to achieve better our mission of providing the best possible experience for our users and models."
The agreement between Byborg Enterprises SA and Cherry.tv is set to strengthen Cherry.tv's services and scale them to a new level. It will also create the best freemium cam site on the market, integrating gaming and social elements. Cherry.tv's founders will maintain full control of the brand and its operations, while Byborg Enterprises SA and LiveJasmin will use their technical knowledge and expertise to assist in the process.
The Cherry.tv team will be a Platinum sponsor of the upcoming XBIZ Miami event from May 15th to 18th. They will reveal their newest major platform upgrades, which American models eagerly await.
Jessy Dubai Announces "Pop Up" Giveaway Show on Cherry.tv
Award-winning adult performer and trans model Jessy Dubai will do an exclusive live "pop up" show on March 30th at 6pm PDT on Cherry.tv.
"Surprise! I wanted to give my fans some extra fun," said Dubai. "Leave your stressful work week behind and join me this Thursday for a special "pop up" adult playtime. Watch me play and play along…maybe you'll even score a random giveaway!"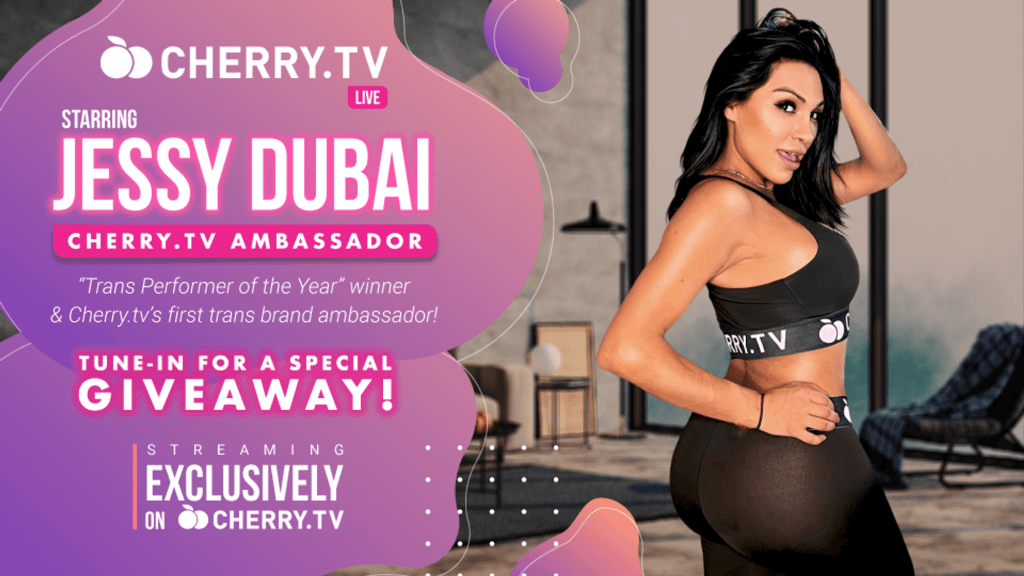 Jessy Dubai began her career as an adult performer nearly a decade ago. To date, she has starred in over 160 films and has worked with several top adult studios along the way, including: Trans Angels, Evil Angel, Devil's Film, Kink.com, Grooby, Gender X, and Transsensual. In 2016, she also won the XBIZ award for Trans Performer of the Year. In addition to her work in porn, Dubai is also a successful entrepreneur, producer, director, and club hostess.

cherry.tv
Livejasmin: Manage your inbox with new filters
Keep your fans close, and don't miss a single text!
Time is money! Save time and better manage your inbox with three new filters.

Say goodbye to endless scrolling to find unread messages. Livejasmin's unread filter will instantly display all threads that require your attention. Want to respond to members whose messages you've read but haven't replied to? Select the unanswered filter and easily follow up with them.
The pinned filter is perfect for those members you can't get enough of! Quickly find your favorite conversations with up to 50 of your members.
Your messaging experience just got better! Save time and get straight to the conversations that matter most with their new Messenger filters.
Try it out now!