She is adventurous and passionate about learning and trying new things. She loves to stay engaged and active, from exploring her city on foot to trying out new projects and crafts. As a camgirl, she has found a way to express her sexuality and explore her body in a unique and fulfilling way. With a goal of building a loyal fanbase and paying off student loans, she is determined to make the most out of her experiences. Her fans are a huge part of her life, and she loves to share her enthusiasm and appreciation for them. With lots of experience in the camming industry, she has learned to be fearless and proudly share her involvement in the adult industry. She is aroused by naughty language and loves when someone takes the time to show they care with thoughtful gestures. Kaylen Peach is truly living her best life.

What are your passions and interests?
I am someone who loves learning and trying new things. Sometimes that means I spend a lot of time doing crafts and DIY projects. Other times it just means I am eating out at new restaurants or exploring the city on foot. Being a camgirl allows me to constantly try new things as I explore my body and sexuality with others, which is something I truly love and enjoy.
What are your short-term and long-term goals?
Right now, I am working towards building a growing fanbase and community and paying off my student loans from university. In the long run, I would like to do a lot of traveling around the world before eventually settling down and buying a nice cozy home. I dream of having a property to call my own that has a beautiful sunset view and a slice of land big enough for a thriving vegetable and flower garden. It's all about the simple things for me!


What would you like to tell your fans?
I say this all of the time, but I would like them to know how much I appreciate what every one of them brings to the community we're building. My streams would be much less fun without all of the banter, humor, generosity, and sheer sexiness they bring to the chat!

What experience do you have as a model?
As funny as it is now, I watched camgirls for several years on Myfreecams before I eventually built up the courage to hop online for the first time in early 2017! I was in university at the time, working towards my master's degree and a medical career, when I decided I simply couldn't juggle a 9-5 job alongside my internships anymore. Not only was camming a flexible way to earn money, but it was also a lot of fun! I dabbled in the industry throughout college until eventually going more full-time at this over the past year.
What are the biggest challenges of the camming industry?
I used to struggle with the social stigma that comes with being a camgirl because it meant facing judgment from a variety of people in my life. This was especially true when it came to dating! But now, I honestly view it as a blessing in disguise. I have learned to stop caring what anyone thinks, and I share my involvement in the adult industry quite loudly and proudly now. If that scares anyone off me, well, that's good then! Because I am truly happy with my lifestyle, and I only need supportive and open-minded people in my life these days.
What turns you on almost instantly?
Talk dirty to me! Hands down, erotic language is my number one turn-on. I love to say naughty things, and I practically have no filter when it comes to this, but I also really enjoy hearing how turned on you are, your fantasies of us, and how I am making you feel. I am excited just thinking about it now. Yum!
What kind of romantic gestures do you appreciate?
For me, it's the thought that counts. That sounds so cliche, but it's true! A small, thoughtful gift or a creative and well-planned day together can mean just as much as something elaborate. I want to feel like you are paying attention to my interests and the things I like or have been wanting to do, even when just mentioned in passing.
Seska Lee Wins Spotlight With FansRevenue
CHICAGO, NOVEMBER 30th, 2023 — Live cam industry veteran Seska Lee has been crowned
winner of FansRevenue's first high-profile contest for cam models and adult content creators.
The 52-year-old performer has been in adult entertainment since 1998, making her one of the
industry's pioneers worldwide. Earlier this year, she was nominated at the 2023 XBIZ Creator
Awards and featured among Streamate's top earners.


"We are thrilled to have found Seska through this contest and, amazingly, it coincides
with her 25th career anniversary," says Olivier Tremblay, FansRevenue's marketing
director. "She's a true ambassador for the whole cam industry, past, present and future.
We feel it's the start of a great partnership between Seska and FansRevenue to help
further her monetize her loyal fanbase!"

Seska Lee is part of the TreasureCams agency led by award-winning performer Bella Vendetta,
whom she considers a mentor, guiding her through an industry completely different from what it was in the late 1990s. She is also an avid fan of neoburlesque and was part of several troupes
and productions over the years (The Coral Lees, Team Burlesque, Acme Burlesque).

She ran her own amateur adult website from 1998 to 2010. She then spent the next decade
studying holistic well-being, working as an intimacy educator and speaking at conferences or
universities about her life and career. She has been back in front of her webcam since 2020,
fully embracing her body and age: "[Ultimately], I want to show that a woman with a natural
body and gray hair can be vivaciously empowered […] on her terms."

An exclusive interview with Seska is available right now on FansRevenue's blog. She will host
her first Jerkmate live show on December 2 nd, 2023, at 8 am ET. Seska is also very active on
social media on Instagram, her free OnlyFans and X (Twitter). To learn more about Seska's 25 years in the adult entertainment industry, click here.

What is FansRevenue?
FansRevenue is the #1 monetization platform for Cam Models, Adult Content Creators and
influencers, powered by CrakRevenue and backed by over 13 years of digital marketing
expertise. Using an innovative combination of influencer and affiliate marketing, FansRevenue
helps content creators monetize their following by matching
Candy Preferences:
I have a sweet tooth that loves balancing tangy and sweet flavors. Sour gummies and chewy candies are favorites, but I also can't resist rich, melt-in-your-mouth chocolate, be it dark, milk, or white.
Spooky Stories:
During a live cam session, I mistook a postman outside for a stalker, causing a heart-racing moment. It turned out to be a humorous mix-up, with my viewers laughing as I comically used a Hitachi massager for defense!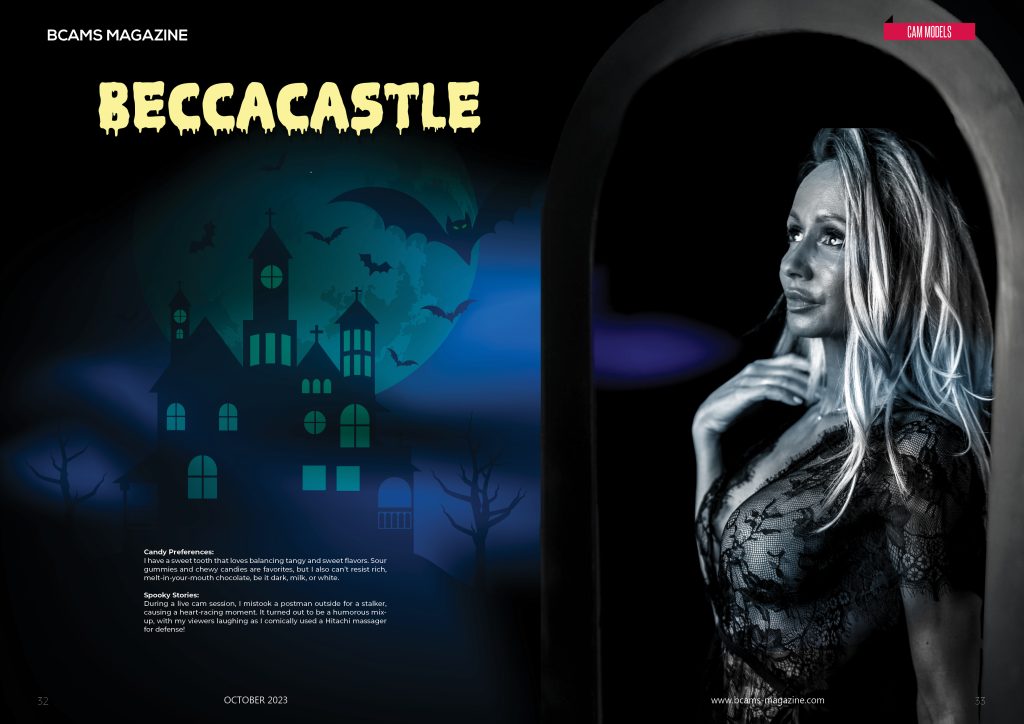 Candy Preferences:
I'm a big fan of fruity Tootsie Rolls—the little skinny ones, and JuJu Bees. They're my absolute favorites for their unique, fruity taste.
Spooky Stories:
I've always felt a ghostly presence around me. In my last apartment, it even scared @AriaHaze_XXX by knocking things over in the bathroom. Also, the tale of the Headless Horseman is my favorite; the idea of a horse charging at me is genuinely terrifying.