She is an adult entertainer and cam model who has been in the industry for a decade.
She is a hedonist at heart and loves indulging in her passions, such as reading fantasy novels, marathoning science-fiction, and anime shows, playing Dungeons&Dragons and other tabletop/card games, and cooking. To manage stress, she turns to hot baths, cuddling her orange kitten, and going outside for nature walks. She loves being objectified by her fans and has had the amazing experience of being a cam porn couple in some cities. Her most significant professional accomplishment was getting nominated for AVN Favorite Camming Couple and being a YNOT Badass Gamer Nominee for two years running.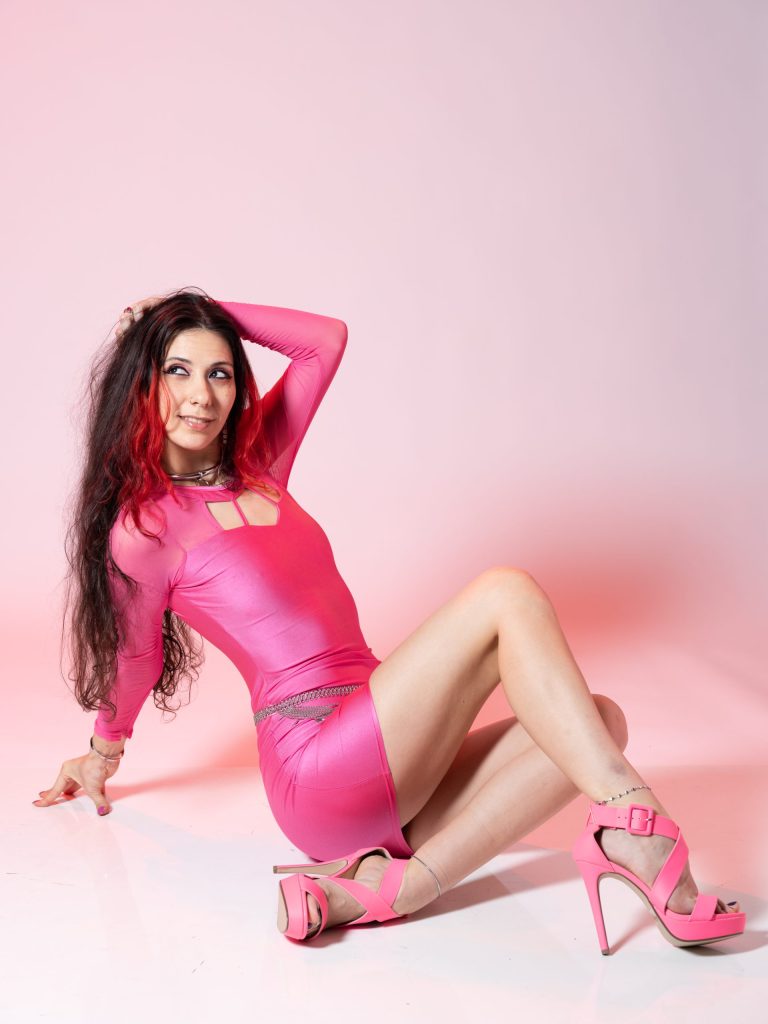 What are your passions and interests?
I enjoy being a hedonist and indulging in my passions as a way of life. The best kind of life to be lived is if you can spend most of your time pursuing interests, and mine are to laugh, think, and have orgasms — and I want to make the rest of the adult world also do all three a lot! I enjoy spending my time reading fantasy novels, marathoning science fiction and anime shows, playing Dungeons&Dragons and other tabletop/card games, and cooking.
How do you manage stress?
I like recharging my mental health by spending time in very hot baths, cuddling my orange kitten, and going outside for nature walks in the sunshine. Working out is also really helpful! The rest of the time, I spend de-stressing by playing a few competitive matches in Overwatch 2 😉
What do you value most in life?
Having time to spend with my loved ones and take life at a measured, enjoyable pace while also having the freedom to pursue interests and have a good time partying with friends! Good meals and getting quality nights' sleep are also extremely important to me. Sharing mutual interests with new friends and access to a good cup of coffee are definitely daily indulgences that I value a lot.
How do you define success?
Not waiting to live life when you retire and instead living like you're already on vacation! Success is not something that can be measured in quantities of objects but in the lifestyle that you have chosen and how you connect with others around you. We all have limited time and ability to pursue the things we want most in life to live our best and most fulfilling lives, you cannot wait until later to experience it. Finding freedom and courage to live truthfully and find meaning in your life is a good indicator of success.
What would you like to tell your fans?
My favorite thing to remind my fans is that I would be more offended if they DIDN'T objectify me! Camming and adult performance is a way of life for me, I am sexually fulfilled at being an exhibitionist, and it's a great experience to be used as a virtual sex doll or connect with my scene partners on adult sets. Being valued for my adult content and performance is important to me, as is being recognized in all the recent fan-voted awards!
Tell us about a memorable cam life experience.
Having notoriety as "the cam porn couple" in some of the cities we lived in, we would have a repeat experience of meeting new models in clubs or at parties, and them wanting to try out camming and to play with us for all our watching fans & naughty strangers online. We started to have a fairly regular harem roster going right before moving to the West Coast from my college town.
What experience do you have as a model?
It's been a wild and fun decade of webcam entertainment and sexual adventure! We have expanded into live reality porn with boy/girl shows and boy/girl/girl threesomes, as well as our hardcore RPG group stream project TableTopless.ORG
It was also a really good experience to discover I was made a cover model for two magazines at the end of 2022. I am looking forward to more career milestones both as a cam model, an adult entertainer, and a photo model.
What do you consider to be your most significant professional accomplishment?
Getting nominated for AVN Favorite Camming Couple with Richard Rall was a dream come true, followed closely by two years running as YNOT Badass Gamer Nominee. I am really looking forward to going after even more opportunities and working on perfecting our craft to kick even more ass in 2023.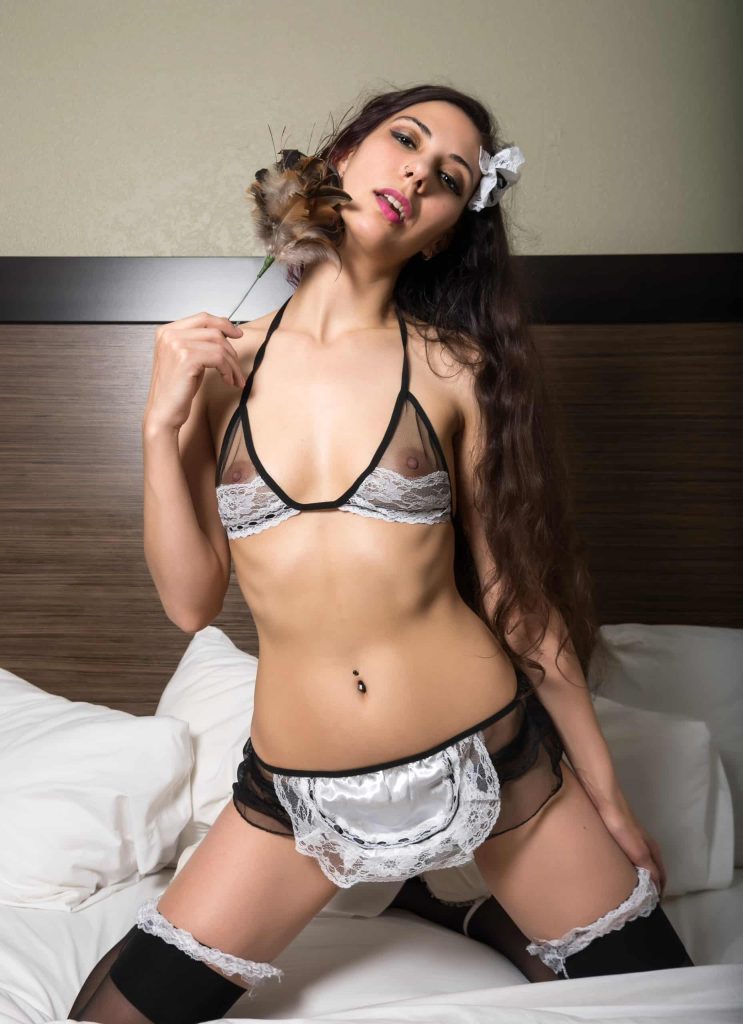 What turns you on almost instantly?
A Straightforward and sexually open attitude, with a sense of humor, is always a winning combination! I am very lucky to meet many interesting individuals through our relaxed camming attitude and the kinds of people that our conversations and shows attract. Through cam, I have expanded my sexual repertoire and discovered fun things to enjoy that I would not have considered before.
What is the craziest thing you ever did for love?
If you are truly and madly in love, be willing to sacrifice anything to ensure your connection is solid and placed above anyone else. Being in each other's corner no matter what and giving that unconditional supportive energy to each other grows the resonance. It is a truly magical experience when you find your soulmate and best friend you can fully confide in, and you should never let go!
What kind of romantic gestures do you appreciate?
Words of affirmation and acts of service are my love language! Gifts and being generous with your time are extremely appreciated. I love knowing that my fans and friends care about my life experience as a human and want to support my sensual creativity in every way.
How do you keep the spark alive in a relationship?
Keeping yourself and each other young while making space for your time together and pursuing mutual interests. My romantic partner Richard Rall has been my inseparable best friend for sixteen years, as well as a co-worker in all my naughty pursuits! Continuing to have adventures together while also taking our recharge time away from everyone has been really central to both of us. It's vitally important to actively work on appreciating life and the people in your life who matter the most to you. In fact, to keep the spark of life, you have to reflect it in others and also not settle for anything less than fuck-yes energy from people you surround yourself with.
CamSoda Model & AVN Nominated BBW Star Missy Deep Signs with modelRED
Super talented, AVN-nominated, sexy BBW star of CamSoda & OnlyFans, Missy Deep, has chosen modelRED for representation in the adult industry.
"I saw their site, read the About Us, loved how modelRED was a fully inclusive agency across race, gender, body type, and so I reached out," then Missy Deep added, "I did the initial Zoom interview with Giovanni and Michael at modelRED and got to know them better and how they operate. When they emailed me the contract afterward, I did feel that this was a fit for me and signed!"

A powerhouse of BBW talent, Missy Deep brings a hot and sexy body of work to the table as she looks to increase the amount of content she shoots. "I have to say I have been buying her porn before we met, and my wife and I both love her stuff," said Giovanni Valentino before adding, "and it's a joy when you get to work with people whose work you enjoy. It's an honor for her to join the modelRED family – she brings a depth of presence across a lot of websites and online stores that we can't wait to help grow sales for!"


Twitter @MissyDeepX
ManyVids @MissyDeep
OnlyFans @missydeepxxx
SextPanther MissyDeep
CamSoda MissyDeep


She is an ambitious, kind-hearted sex worker passionate about empowering others and leading a healthy and happy life. With her drive and confidence, she can overcome obstacles and strive to improve. She's looking for someone who has the same life values and respect for sex workers and loves to show her partner that she cares in any way she can. Whether it be through cooking meals, giving massages, or making passionate love, Marley Maxwell is the perfect partner for someone who is looking for someone who can dominate or submit. She is the ideal combination of strong and nurturing.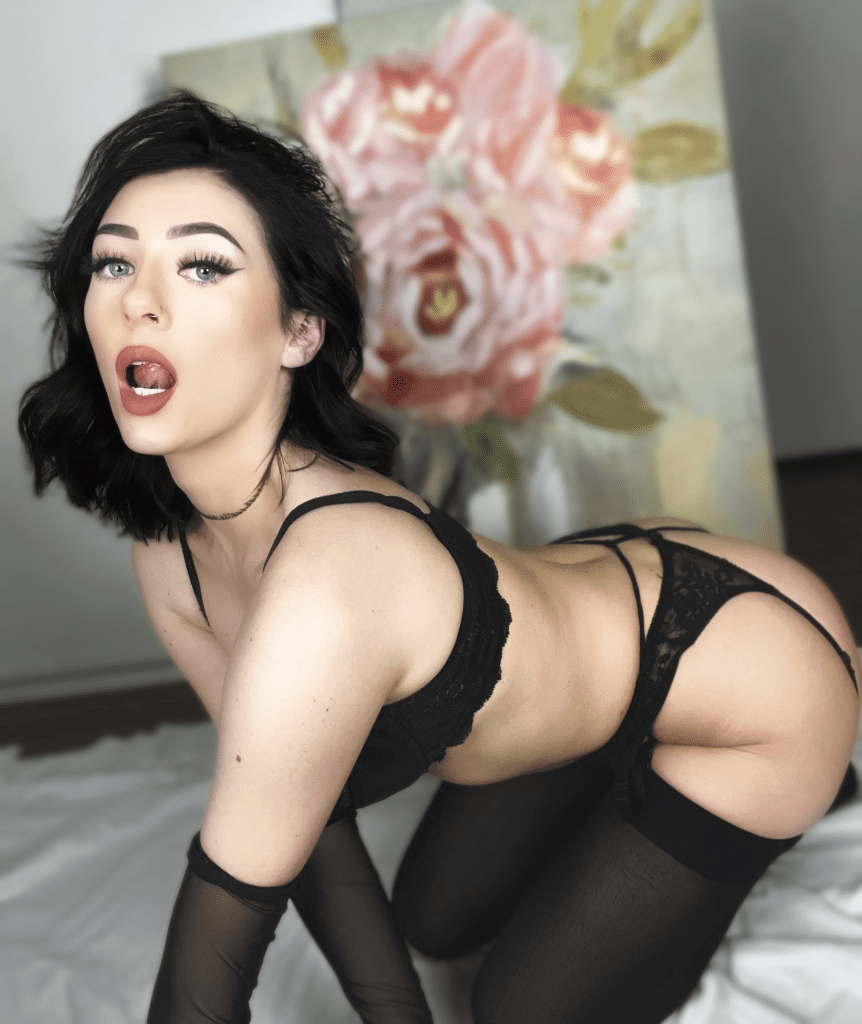 How do I define success?
I personally believe success is different for every one of us. To some, it may mean getting as rich & powerful as possible, but to me, I find that success is much simpler. Success to me is ensuring I am reaching my goals and leading a happy and healthy life, and the people in my life are as well. I also feel as though being able to push myself to do better & achieve more is being successful.
What would I like to tell my fans?
I would like to tell my fans, THANK YOU! Without such a kind and loving fan base, I would not be able to achieve what I have in the 3 almost 4 years I've been in sex work. I could not have ever imagined I'd be in the place I am now. I started camming when I was 19. I had just moved to the west coast from Florida the year before, and it's safe to say it was hard to take care of myself, being young and new to being an adult. Becoming a cam model completely changed my life and brought me stability, support, amazing people to interact with, confidence, etc. I could never thank my fans enough! All of you are greatly appreciated and valued. People who support SW are some of the kindest, most fun, and most understanding souls of them all.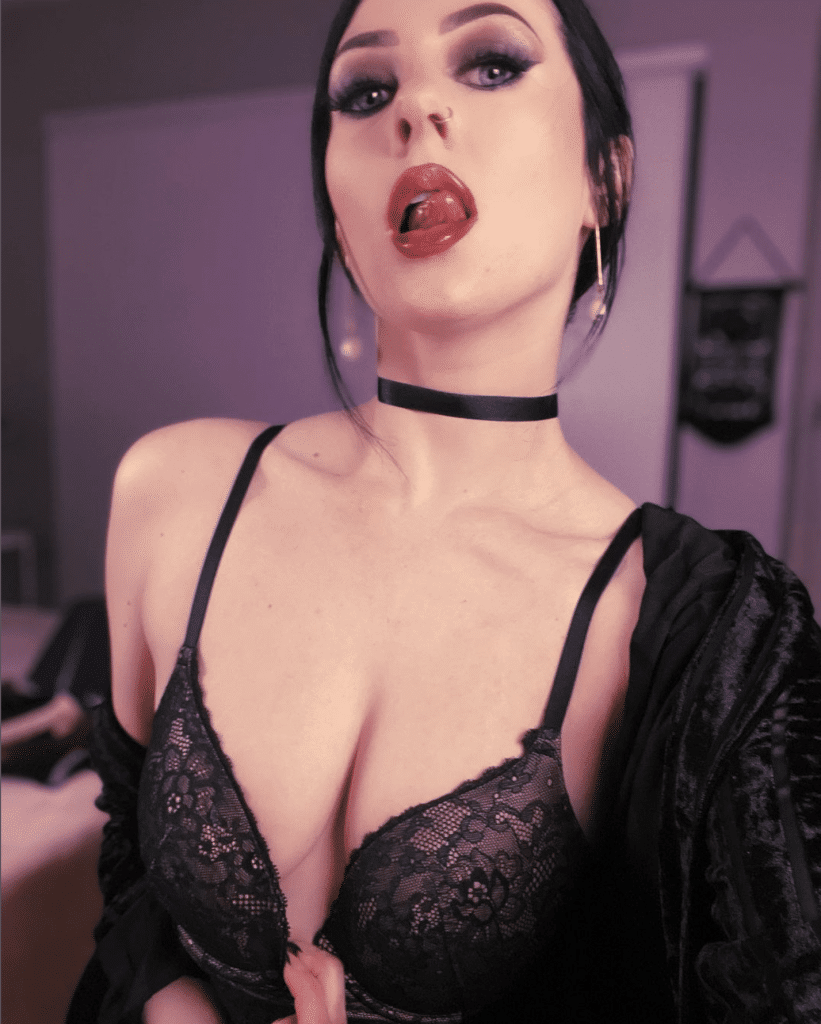 What turns you on almost instantly?
One of my biggest turn-ons would have to be people who can completely submit to me or are dominant enough to overpower me. It's something about someone being so willing and passionate to do whatever I ask that completely makes me melt. "Yes, ma'am", "whatever you want", "I'm so thankful" – those phrases are music to my ears. But on the other hand, a person who can dominate me and have me on my knees, willing to please them however they want… now that's pure pleasure. It's hard to choose just one thing that turns me on when there are so many things!
What qualities do I look for in a partner?
Someone with drive, a kind heart, a sense of humor, and extremely down to earth. Being extremely romantic and touchy-feely is a plus. I love someone with confidence but not too much that they're cocky. A great partner is someone you can do everything with and love every second, even if it's just something as simple as cooking a meal together or sitting together in silence watching tv. I look for someone with the same life values as me, and of course, they need to respect sex workers and others in general. At the end of the day, the way someone makes me feel and vice versa decides if they are dating material.
How do you like to show your partner that you care?
For me, I simply love to listen to my partner's needs and fulfill them. Cooking them meals, giving massages, randomly surprising them with something they love. Having spa nights, intimate dates, and long conversations about what's on my partner's mind are all ways I show my love. Seeing my partner smile makes me happy. Any way I can make my partner's life easier, I am more than willing to help. I'm naturally very nurturing and want to show love in any way. In bed, especially. I love to morph into whatever my partner wants- if they want to be put in their place and used for my pleasure, I would happily do so. If the next day, they want to bind me up and fuck me a slut, I would love that as well. Overall though, my favorite way to show care in bed is showering them with kisses, giving lots of oral, and making slow passionate love. I followed up with lots of aftercare, of course!
She is a woman full of tenacity, courage, and ambition. She's a risk-taker, unafraid to take on new challenges, even in the face of criticism. She's not afraid to speak her mind and stand up for what she believes in, and her adventurous spirit has taken her to some of the most daring places. Tia Beanie embraces criticism as an opportunity for self-reflection and improvement, and she will never settle for mediocrity, no matter the cost. She is wise beyond her years, and her bravery and ambition will never cease to amaze her.


Do you have secret power?
I do! I've experienced some extreme things in my life, and at this point, there's almost no situation I can't handle. It's a blessing going forward but can also be a curse looking back.
How do you handle criticism?
I live for criticism: it's an opportunity for self-reflection and self-improvement.
What drives you to succeed?
Criticism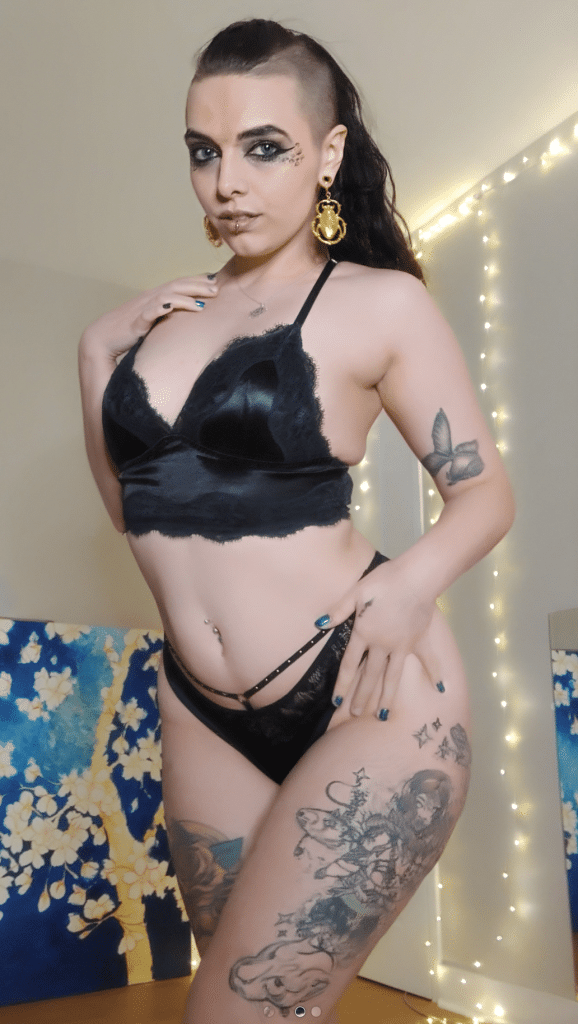 Do you have any regrets since you started camming?
I technically "started" camming in 2014 and took a six-year hiatus. My only regret is taking that break. I always wanted to get back into it, but I wasted time on mediocre relationships with mediocre, jealous men. I'd never dream of doing that now.
Where is the strangest place you've ever had sex in?
I had unmarried sex in a country where it's highly illegal. Luckily for me, the majority of hotels make exceptions for western tourists, and I wasn't arrested.
What's the stupidest excuse to get out of a bad date?
It wasn't to get out of date, but I once called off a date 51 minutes in because he told me inbreeding was a myth. He left thinking I was the weirdo. I hope to one day achieve that level of audacity for myself.