Apple and Google Urged to Ban TikTok Over National Security Concerns
Senator Michael Bennet of Colorado, a member of the Senate Intelligence Committee, has called on Apple and Alphabet to remove the popular social media platform TikTok from their app stores over national security concerns. Bennet claims the Chinese-owned company poses a threat to the US due to its data harvesting practices, which can be accessed by Chinese intelligence work in accordance with Chinese law.

Bennet's letter to the tech giants echoes the same sentiments expressed by an FCC commissioner in June last year. He argues that TikTok's reach and popularity allow it to collect sensitive data from American users, including device information, search and viewing histories, IP addresses, faceprints, and voiceprints.
The US government has already taken action against TikTok's ties to China. In December, President Joe Biden signed a bill prohibiting the use of TikTok by nearly four million government employees on devices owned by its agencies. At least 27 state governments have passed similar measures.
In response to Bennet's letter, TikTok released a statement claiming the claims were "misleading." The company said they had implemented Project Texas, an investment plan to provide additional assurances to their community about their data security and the platform's integrity.
TikTok has over 100 million active users, 36 percent American, who spend over 80 minutes daily on the app — more than Facebook and Instagram combined. There is no evidence that the Chinese government has demanded user data from TikTok or its parent company or influenced the content users to see on the platform. However, in November, TikTok confirmed that China-based employees could gain remote access to European user data, and a BuzzFeed report revealed that company employees in China had access to US user data.
The US Committee on Foreign Investment is reviewing ByteDance's 2017 merger of TikTok and Musical.ly. It may force TikTok to sell to a US company, similar to the executive order issued by former President Donald Trump in 2020 — though it was blocked by a federal court.
In 2021, TikTok agreed to pay $92 million to settle lawsuits alleging that the app clandestinely transferred vast quantities of user data on children to servers in China. To curb criticism of its data-sharing practices, TikTok has announced a partnership with Oracle to move its data on US users stored on foreign servers to Texas.
Anupam Chander, a professor of law and technology at Georgetown University, warned that banning TikTok in the US may encourage other countries to do the same to apps and services from the US and that it is unclear if anything short of a sale will satisfy TikTok's critics. TikTok's chief executive Shou Zi Chew will appear before a House committee in March.
Source: foxnews.com
Cherry.tv and Byborg Enterprises Join Forces to Create the Best Freemium Cam Site
Karoly Papp, Byborg Enterprises's Director, shared his confidence in the collaboration. "This joint venture provides us with a great opportunity to combine our cultures and knowledge and open up new international opportunities for both of our companies."

Paul Ashworth, CEO of Cherry.tv, expressed his enthusiasm for the new partnership. "We're incredibly excited to be joining forces with Byborg Enterprises SA and LiveJasmin to supercharge Cherry.tv's growth. With the help of LiveJasmin's resources and industry knowledge, we're confident we will be able to achieve better our mission of providing the best possible experience for our users and models."
The agreement between Byborg Enterprises SA and Cherry.tv is set to strengthen Cherry.tv's services and scale them to a new level. It will also create the best freemium cam site on the market, integrating gaming and social elements. Cherry.tv's founders will maintain full control of the brand and its operations, while Byborg Enterprises SA and LiveJasmin will use their technical knowledge and expertise to assist in the process.
The Cherry.tv team will be a Platinum sponsor of the upcoming XBIZ Miami event from May 15th to 18th. They will reveal their newest major platform upgrades, which American models eagerly await.
Jessy Dubai Announces "Pop Up" Giveaway Show on Cherry.tv
Award-winning adult performer and trans model Jessy Dubai will do an exclusive live "pop up" show on March 30th at 6pm PDT on Cherry.tv.
"Surprise! I wanted to give my fans some extra fun," said Dubai. "Leave your stressful work week behind and join me this Thursday for a special "pop up" adult playtime. Watch me play and play along…maybe you'll even score a random giveaway!"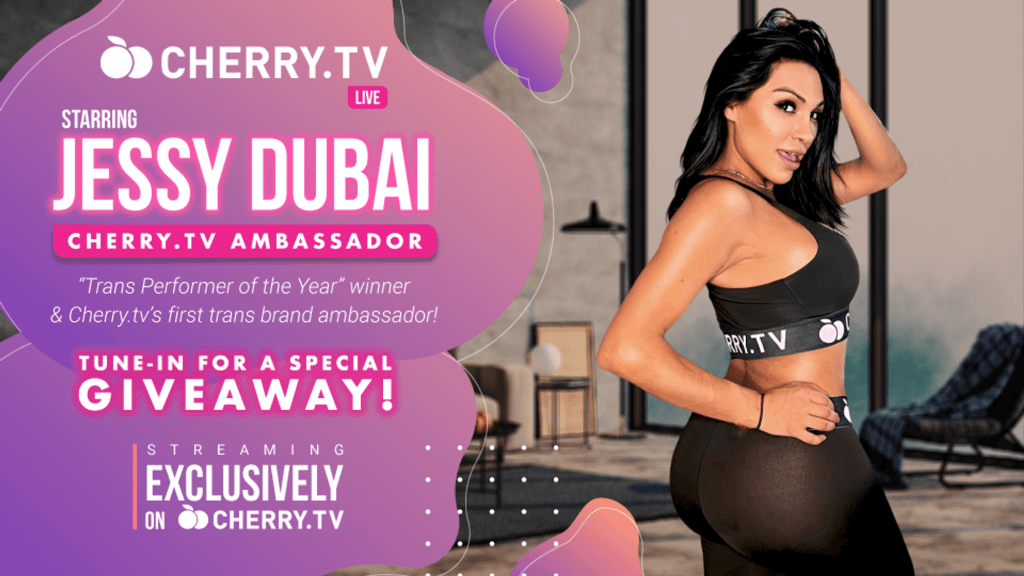 Jessy Dubai began her career as an adult performer nearly a decade ago. To date, she has starred in over 160 films and has worked with several top adult studios along the way, including: Trans Angels, Evil Angel, Devil's Film, Kink.com, Grooby, Gender X, and Transsensual. In 2016, she also won the XBIZ award for Trans Performer of the Year. In addition to her work in porn, Dubai is also a successful entrepreneur, producer, director, and club hostess.

cherry.tv
Livejasmin: Manage your inbox with new filters
Keep your fans close, and don't miss a single text!
Time is money! Save time and better manage your inbox with three new filters.

Say goodbye to endless scrolling to find unread messages. Livejasmin's unread filter will instantly display all threads that require your attention. Want to respond to members whose messages you've read but haven't replied to? Select the unanswered filter and easily follow up with them.
The pinned filter is perfect for those members you can't get enough of! Quickly find your favorite conversations with up to 50 of your members.
Your messaging experience just got better! Save time and get straight to the conversations that matter most with their new Messenger filters.
Try it out now!