Enhancing Your Live Cam Show with Top 5 Toys
Live cam shows are becoming increasingly popular, and with that comes a need for more advanced, interactive toys that can help make the experience even more enjoyable for viewers and performers alike. From the iconic Lush Vibrator from Lovense to the sophisticated Cowgirl sex machine, there is a whole world of toys that are perfect for live cam shows. Let's take a look at some of the most popular toys that are making waves in the live cam industry.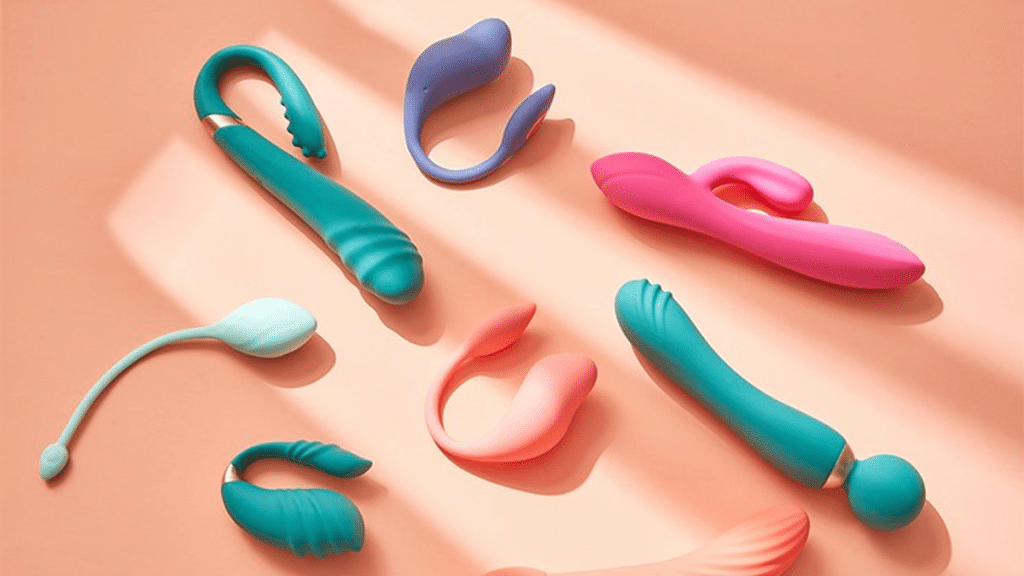 1) The Lush Vibrators From Lovense
The Lush Vibrator from Lovense is one of the most iconic toys in the live cam world. Shaped like a U, it is designed to hook inside of a cam girl, stimulating both her clitoris and G-spot at the same time. The result is often an orgasm so intense that it can bring some models to their knees. Moreover, the toy is Bluetooth-controlled, meaning that viewers can take control of the toy's power and send the cam girl into sexual ecstasy. It is a powerful tool that can't be faked, and it is no wonder it is a popular choice for live cam shows.
2) The Cowgirl
The Cowgirl is a high-end sex toy designed to provide intense pleasure to the user. It is shaped like a bucking bronco and works by sending a pulse of vibration through the user's private area until they reach an orgasm. It can be controlled via an app, meaning that viewers can take up the ante of the vibrations and send the cam model's pleasure into the stratosphere. It is a powerful toy that can be incredibly enjoyable to watch and use.
3) Some Sex Machines are Described as the Bugatti of Robotic Sex.
Sex machines are becoming increasingly popular in the live cam world, and for a good reason. These formidable and industrial-looking machines can provide incredible pleasure to a user, and many of them are Bluetooth-controlled, meaning that viewers can take control of the machine's speed, power, and position. Some of these sex machines are so powerful that they have been compared to having sex with the Terminator, and others have been described as the Bugatti of robotic sex. If you want to see a cam girl take one of these machines on, you will usually need to go into a private room with her.
4) Liberator Pillows
Liberator Pillows are perfect for helping cam girls stay comfortable while performing. They are also great for helping them to achieve awkward positions that their fans love. Many of these pillows are fully customizable and come with special compartments for toys and accessories, making them incredibly convenient. They are also incredibly easy to clean, making them a great choice for live cam shows.
5) A Magic Wand
The magic wand is another iconic toy in the live cam world. Originally designed as a massage aid, it is now a staple of the industry and rarely fails to bring about a hypnotic orgasm. It is usually quiet enough not to be distracting and is a great way for cam models to keep their viewers coming back for more.
The Technological Advances in the Live Cam Industry are Skyrocketing!

The live cam industry is rapidly advancing, and it is clear that there is a strong bond between some of the world's most advanced sex toy companies and some of the most cutting-edge live sex cam sites. The possibilities for the future of live camming are endless, and it is certainly something to look forward to.
Le Shaw: Byborg Enterprises Unveils Visionary Leaders to Revolutionize Sexual Health Research
LUXEMBOURG, December 6, 2023 — Byborg Enterprises SA proudly announces the appointment of not one, but two distinguished leaders to spearhead its groundbreaking International Sexual Health and Wellness Research Institute. In addition to the industry
luminary Bobbi Bidochka, Dr. Simon Dubé has been named Scientific Director, bringing his expertise in psychology, groundbreaking research in human sexuality, erobotics, and space sexology.


The newly appointed Director of the International Sexual Health and Wellness Research Institute, Bobbi Bidochka, renowned for her multifaceted background spanning academia, business, venture capital, and the SexTech industry, brings unparalleled experience to the role. As the co-chair of The Academic Congress on Love and Sex with Robots and the author of "Sexual Intelligence in Business," Bobbi is a force of innovation in the field.

Bobbi Bidochka holds a graduate degree in Sex Sociology from the University of Ottawa, and her commitment to transforming public perceptions surrounding Sexual Health and Wellness has been unwavering throughout her career. Recognized as a sex-positive feminist, Bobbi is dedicated to driving positive change in society through open and objective discussions about sexuality.

Dr. Dubé, with a Ph.D. in Psychology from Concordia University and a Postdoctoral Research Fellow at the Kinsey Institute, is renowned for his pioneering contributions to the fields of human sexuality and beyond. His leadership ethos, fostering innovation, interdisciplinary collaboration, and championing diversity and inclusion, aligns seamlessly with Byborg's commitment to pushing the boundaries of research in sexual health and wellness.

As Scientific Director, Dr. Dubé will lead collaborations with world-class researchers, focusing on the exploration of sextech, sex work, and sexology. His appointment marks an exciting new chapter in Byborg's journey, promising a future of groundbreaking discoveries and advancements in the realm of sexual health.

Julianna Adam, Managing Director Operations of Le Shaw's parent company, Byborg Enterprises SA, expressed enthusiasm about the appointments: "Bobbi's credentials and history are truly impressive and a great fit for us. We are thrilled to have her and Dr. Dubé spearhead our new Sexual Health and Wellness Institute. Their knowledge and expertise will prove invaluable in helping us reach our goals and provide exceptional care and support to our community."

Byborg Enterprises SA has recently launched its first-of-its-kind research center, dedicated to merging academic research, in-depth studies, empirical data, and independent funding. In collaboration with prestigious organizations such as the Kinsey Institute, Le Shaw aims to provide objective research that challenges societal norms and removes the social stigma surrounding sexual health topics.

The organization's main goal is to lead conversations on sensitive questions related to sexuality openly and objectively, directing the discourse towards a more informed, data and science centric, sex-positive world.

For further information, please contact:
Bobbi Bidochka
Email

About Byborg Enterprises:
Byborg Enterprises SA is a premium online entertainment company that is redefining
the future of human interaction and reshaping digital relationships through innovative
technology. Our company was founded with a global mindset, aimed at reaching every
corner of the world. With over 40 million monthly users of our streaming and
technology products, we enable people to interact with each other 24/7.
Sex Toys: A Hidden Source of Toxic Microplastics
A recent study reveals that sex toys are a significant yet overlooked source of microplastics and phthalates, potentially harmful to users. This discovery underscores the need for stricter regulation in the sex toy industry to ensure consumer safety, especially given the intimate nature of these products.
Highlights:
Sex toys release harmful microplastics.
High levels of toxic phthalates were found.
Urgent need for industry regulation.


A new study has brought to light an unexpected source of microplastics and phthalates: sex toys. These findings have raised concerns due to the intimate use of these products and the potential health risks they pose. This revelation calls for increased regulation of the sex toy industry to protect consumers.
Microplastics, tiny plastic debris from consumer and industrial waste, have been found everywhere, from remote mountaintops to ocean depths. Linked to various health issues, their pervasive presence is alarming. Researchers from Duke and Appalachian State universities have now identified sex toys as a personal source of these microplastics.
The researchers found that sex toys can degrade into microplastics and contain phthalates, chemicals linked to health concerns. Despite the taboo surrounding sex in some cultures, the global sex toy market has been growing and is expected to surpass $80 billion by 2030. With such widespread use, consumer safety is paramount, particularly as these products are often used internally.
The study focused on the potential exposure of Americans to hazardous materials through sex toys, posing significant health risks. Four types of sex toys were analyzed: a dual vibrator, an external vibrator, anal beads, and an anal toy. These were tested for nano- and microplastic release using an abrasion machine, which mimics wear and tear.
The findings revealed that the anal toy released the most microplastics, followed by the anal beads, the dual vibrator, and the external vibrator. Spectroscopy identified different materials in each toy, including polyethylene terephthalate (PET) and polyvinyl chloride (PVC). Gas chromatography-mass spectrometry (GC-MS) analysis showed high concentrations of phthalates in all toys, with some exceeding the US Consumer Product Safety Commission's limits for children's toys.
Phthalates are known endocrine disruptors, impacting pregnancy outcomes, child growth, development, and reproductive systems. While children are more susceptible, adults are not immune to these effects. However, research on phthalates' impact on adults is limited.
This study doesn't claim to be a comprehensive risk assessment of sex toys but aims to demonstrate the potential for exposure to hazardous substances. It highlights the need for stricter regulation in the sex toy industry, which is often misclassified by the CPSC and exempt from regulation. The researchers advocate for more studies, including tests with bodily fluids and realistic abrasion, to understand the transport and impact of these harmful substances.
The study's authors will discuss their findings at the 2023 Society for Risk Analysis Annual Conference, hoping to inspire further research and regulatory action. The study was published in the journal Microplastics and Nanoplastics.
Speaker's Past LGBTQ+ Remarks Ignite Backlash
Mike Johnson, the recently elected Speaker of the House, has been known to express strong anti-LGBTQ+ sentiments. Back in 2004, when he was 51, he wrote in a local newspaper from his hometown in Shreveport, Louisiana, that homosexuality was a sign of impending societal disorder and "sexual anarchy."
CNN uncovered these writings where Johnson depicted homosexuality as "inherently unnatural" and a "dangerous lifestyle" that posed a threat to the democratic fabric of society. He suggested that personal moral judgments, if made outside a common standard, could lead to chaos.
Further writings from 2005 reveal Johnson's resistance to including sexual orientation and gender identity as protected categories in Shreveport's anti-discrimination employment policies. He argued that these were lifestyle choices, not intrinsic qualities like race or sex, and should not warrant special legal protection.
Before joining politics, Johnson, as a lawyer, was actively involved in cases against LGBTQ+ rights. He worked with the Alliance Defense Fund (now Alliance Defending Freedom – ADF), a Christian legal group focused on preserving religious freedom and traditional values. The ADF was labeled by the Southern Poverty Law Center as an anti-LGBTQ+ hate group due to their extremist views and actions, such as supporting the criminalization of consensual LGBTQ+ relationships and the forced sterilization of transgender individuals.
While at the ADF, Johnson opposed the Lawrence v. Texas Supreme Court decision, which invalidated laws against consensual same-sex activities, fearing it would pave the way for the legalization of same-sex marriage – a change that came to pass despite his efforts.
Additionally, Johnson was involved in organizing events opposing anti-gay discrimination protests in schools and established a legal non-profit to champion religious liberty cases.
Since becoming a congressman, Johnson has continued his stance against LGBTQ+ rights, including opposing same-sex marriage legislation and attempting to reverse the Supreme Court's decision that legalized it.
Now as House Speaker, Johnson's position gives him considerable power over the legislative process, potentially impacting President Joe Biden's administration and furthering the Republican Party's objectives.
Johnson's office has not commented on these reports.