She is a successful cam model who loves what she does and has recently set new short and long-term goals. She takes criticism with a grain of salt and loves constructive criticism as it motivates her to become the best cam model she can be. She recently attended the Streamate Model Mixer in Vegas and made many awesome connections. Amber has had no regrets since she started camming, as she has now incorporated femdom into her camming, which has doubled her income!
She has faced challenges with her motivation but has found that being open about them with other models she trusts has helped her learn that she is not alone. Amber's strangest sexual experience was in a playground in downtown Sacramento. In relationships, she looks for someone who knows how to take charge and communicate effectively. She appreciates romantic gestures such as acts of service or bringing her favorite coffee or candy.
How do you define success?
For me, success isn't easily measurable or even completely constant. Success ebbs and flows, which means doing what makes you happiest at that given time and, most importantly, learning to own it and be unapologetic about it. It's learning to take the little wins and view them as big successes because, at the end of the day, all of those little wins add up to your collective successfulness.
What are your short-term and long-term goals?
I absolutely love what I do, I've always wanted to be a cam model, so I've recently had to set some new short and long-term goals for myself since I've already met many of the ones I previously had set for myself. My goal for 2023 is to have my first 6 figure year! It will be my first full year in the industry, and based on last year, I feel this will be attainable. Long term, I think it would be amazing to own a cam studio that way, I can continue to help new models and expand upon that!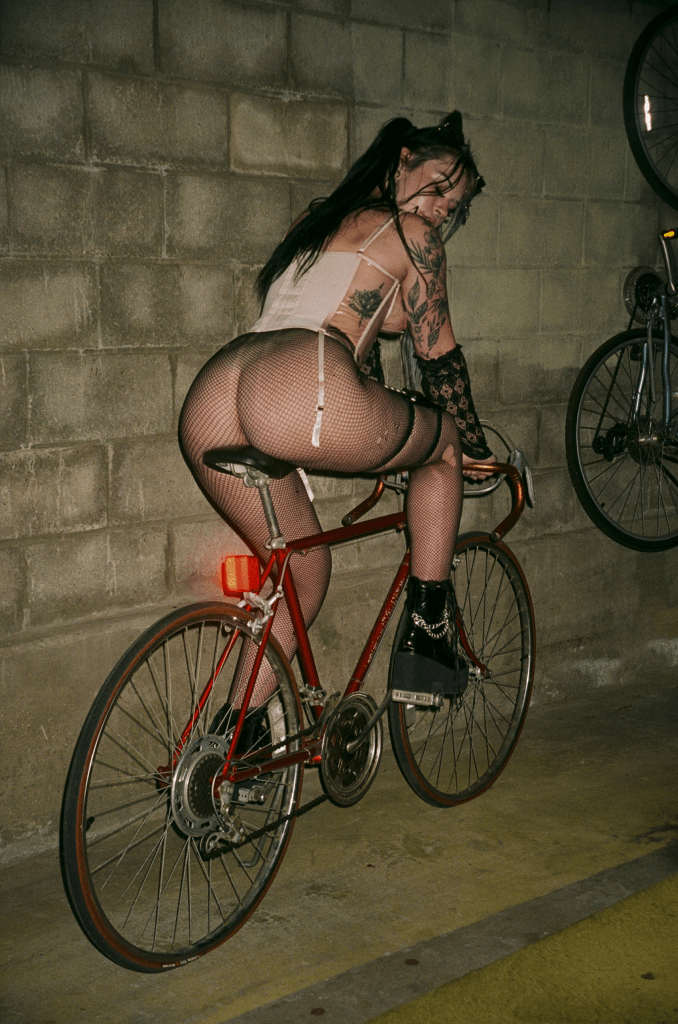 How do you handle criticism?
It honestly depends on the type of criticism since it seems these days EVERYONE has something to say about everything you do. I often take criticism with a grain of salt or laugh it off. At the end of the day, all that matters is that I am happy with what I am doing. On the very off chance that someone provides CONSTRUCTIVE criticism, especially from models I admire, I soak it up like a sponge. I absolutely LOVE constructive criticism. It motivates me to do better, expand my horizons, and become the best cam model I can be!
Tell us about a memorable cam life experience.
I recently attended the Streamate Model Mixer in Vegas, which was amazing! I got to meet so many models that I watch all the time on cam, and it was crazy that they were sitting right in front of me instead of viewing them through a screen. Everyone was so nice and welcoming, and it feels AMAZING to be a part of such a great community. I made many awesome connections and lifelong friendships on this trip, and I wouldn't have traded it for the world! I can't wait to go again next year!!
Do you have any regrets since you started camming?
My only regret since I started my camming career is not getting into femdom sooner! I started my career off exclusively as a sub, and people would ask me for domme-related stuff all the time, but I was so nervous, as this is something I had never done before in my personal life. After a few coaching calls with my mentor and studio owner, I felt I was starting to get the hang of things and was ready to make my new and improved cam debut. My income easily doubled just by expanding what I offer on cam, and I think to myself all the time, "I can't believe I didn't start doing this sooner!" Now I would say about 80% of my interactions on cam are domme related, and I wouldn't have it any other way!
What challenges have you faced, and how did you overcome them?
I struggle a lot with my motivation. I get overwhelmed easily and tend to beat myself up and self-sabotage a lot, so learning to work past this has definitely been a struggle and, honestly, something I'm still working on! I've found that being open about the challenges you face with other models you trust is the best thing you can do in this situation. You learn that you're not alone in this. There are so many amazing people who are more than happy to help support and guide you. When I'm feeling extremely unmotivated, my go-to is to do a call with my mentor. She's so helpful in helping me identify the specifics of what is holding me back. Finding a supportive community is ESSENTIAL in this industry!
Where is the strangest place you've ever had sex in?
The strangest place I ever had sex was in a playground in downtown Sacramento. (don't worry, it was like 2 am, so no kiddos were around, obviously) This wasn't my first time, or last, having sex publicly, but it definitely was the most exhilarating just based on how easy it would be for us to get caught. We realized afterward there was a cop parked near us, and I'm pretty sure he saw the whole thing (whoops, haha)
What qualities do you look for in a romantic partner?
As I previously mentioned, I am a naturally submissive person in my personal life, so I definitely look for someone who knows how to take charge. But for me, the most important thing is that my partner is emotionally sensitive and knows how to communicate effectively. I do best in relationships built on trust and understanding, and communicating your feelings to your partner without being insensitive is a big aspect of that trust for me. I definitely go based on personality more than looks. You can be the most physically attractive person I've ever met, but you instantly become ugly if your personality isn't attractive to me. I try to surround myself with like-minded individuals in romantic and platonic relationships.
What kind of romantic gestures do you appreciate?
I most appreciate acts of service. When my partner rubs my feet after a long day or makes dinner because I'm too tired, those moments are when I really feel most loved. It really is the simplest things sometimes, like opening doors for me or making sure that I'm walking inside the sidewalk, that will give me butterflies. Stuff like bringing home my favorite coffee or picking out candy you know I like at the register honestly means the world to me and fills my heart with such joy. I'm a simple gal. Show me you think about me when I'm not there and genuinely care about my well-being. That's all I ask for.

linktr.ee/heyitzviolet
Eva is a passionate and creative cam model who values love and strives for balance and harmony in her life. She has empathy and makeup psychology skills, and her special power is understanding people's needs and behavior. She has a goal to become a top model on LiveJasmin and strives to stay organized and productive. Eva's ideal romantic getaway is a quiet villa by the ocean, and she keeps the spark alive in relationships by being unpredictable and spontaneous.

What are your passions and interests?
In terms that passion being something that energizes you, I'd say my passion is to make a difference in everything I do. And in camming also. I like to be creative as I can.
What do you value most in life?
I think one of the most valuable things in life for me is love. I came to realize one day that everything in this world is made of love, with love, and for love.
How do you define success?
For me, success is when you do what you love, and you love what you do. Also, when you have that balance and harmony in your life.
Do you have secret power?
I think my power is empathy. I can easily read people even after they say only a few words, which is really helpful in my work. I can understand their needs, patterns, and behavior.
What would you like to tell your fans?
Happiness and love are inside you. Other people can't make you happy. They can make your coffee or something. But happiness is always in you. So come here, and let's share it! 🙂
Tell us about a memorable cam life experience.
I think the most memorable moment was when I had a really bad day, and I was sitting in free chat and crying, and one member just joined my private, and we spent hours just talking, and he really did turn my bad day in one of the happiest days on cam.

What experience do you have as a model?
My work is always about that human needs a human. And it's never only providing the content. I like to dig deeper, I like to learn more about other people and their experiences.
Do you have any regrets since you started camming?
I deeply regret that I didn't start it earlier. However, I was only 19 when I started, and I was a single mother with years old baby. So I couldn't do it earlier, but I wish!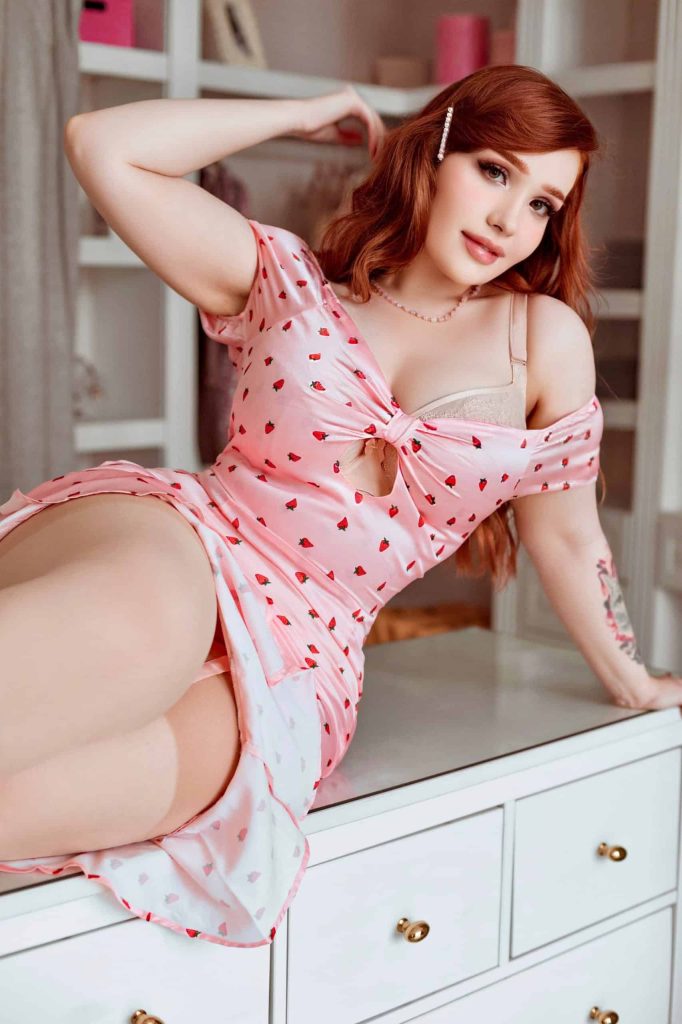 Do you have any special skills that would benefit a modeling job?
I'm a makeup artist and wedding stylist. And a bit nerd. I've been learning makeup as a science, and I can explain every detail of makeup and how it impacts the way other people think about you. Did you know that dominant men will most likely choose a girl with a thin eyebrow? Yes, it's statistical, and it's true. I call it makeup psychology. So this skill is definitely beneficial for my job.
What are the biggest challenges of the camming industry?
For me, it's to keep up the progress and still have a balance in my life. I try not to turn into a robot cam model and also keep harmony in my personal life. I'm still learning how to handle it because sometimes I do better at my job, but my personal life is getting worse or the opposite.
What do you consider to be your most significant professional accomplishment?
Unfortunately, I don't have any yet. But! I have a goal to become a top model on LiveJasmin.
What strategies do you use to stay organized and productive? I'm chaotic and very unproductive. I've been really struggling with this all my life, so if you have any tips, please, DM me!!!
What turns you on almost instantly?
Feeling of being wanted by an understandable, polite, and at the same time dominant man. It's just something I'm craving for.
Where is the strangest place you've ever had sex in?
Park. It was only a second date, and somehow I got pretty aroused, and I couldn't control myself, so my partner and I found a less visible spot in a public garden, and then… magic happened.
What's the stupidest excuse to get out of a bad date?
I didn't use excuses. I had only one really bad date, and I just said – oh, you know, I'm sorry, I got to go. It was nice to talk to you.
What is your ideal romantic getaway?
Take me to the ocean, in a very quiet villa, far away from civilization and that consumer culture… no TV, Wi-Fi, or cellphones… only you, me, and the ocean of our love!
What do you do to keep the spark alive in a relationship?
I have a trait – I'm unpredictable and spontaneous. You will never know what I'm going to do next. It's kinda hot when I keep my partner on the edge where they don't know what to expect. It's adrenaline rush with dopamine. But it's always a good surprise. I promise.

Contact Eva Olin
Instagram

Interview with the Winner of Model of the Month – January Edition, Hosted by Nikki Night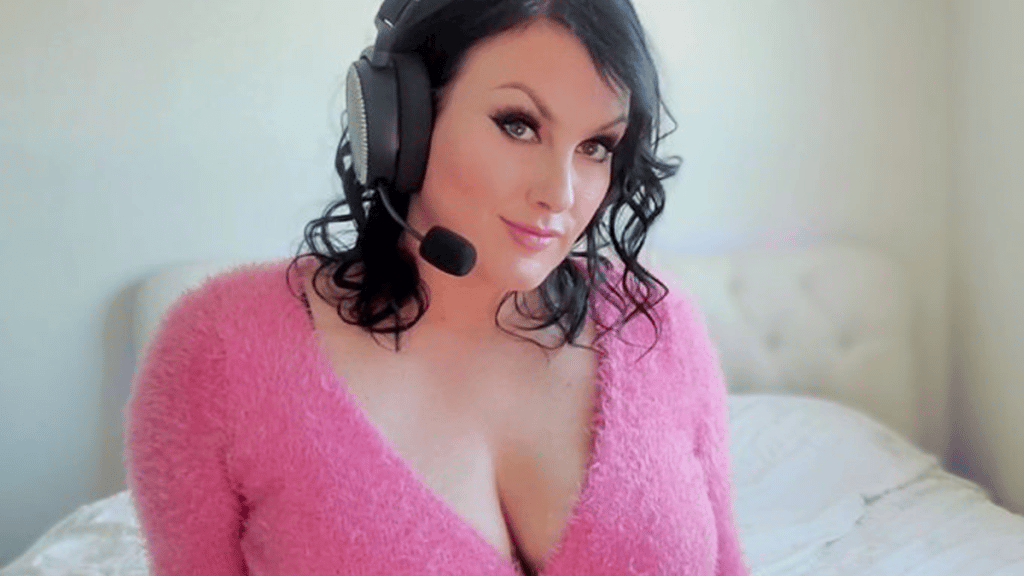 The winner interviews of Model of the Month January edition will be hosted by the
ever-charismatic and beloved Ms. Nikki Night – known as the Industry Cheerleader and the Fairy Cam Mother!

So stay tuned, be prepared, and don't miss the chance for an explosive interview with the winner of Model Of The Month January Edition, make sure to cast your vote for your favorite model at awards.bcams-magazine.com
See you soon!
BCAMS Team
MelodyHero is an online performer passionate about expressing her authenticity and sex-positivity. She loves to explore and travel, and her long-term goals include finding a place to call home and helping her family when needed. She has the privilege and choice to do things she is passionate about and wants to invest in those things. She is a great manager when under high stress, but she often experiences burnout. To manage stress, she needs to make time for herself and not get too wrapped up in her online life. She is also very creative and finds her best ideas during stressful moments. Her secret power is that no one can ever tell her real vs. fake orgasms!


What would you like to tell your fans?
I would tell them, "My Loyal Occult following, I cannot believe I am someone so memorable to each of you, but I am so glad to be someone memorable enough to be followed cross-platforms, servers, accounts, and inconveniences! Thank you to my heroes! (And my pretty fairy pets.) A giant kiss blew to you! Those few support me consistently-even while I've been in several abrupt, and this past rather long, "cryogenic status- hiatus," but even frozen in ice, I get notifications (tons of them!) BUT when I see you send me financial support "just because I was on your mind," -It really melts my heart so much, so that melts my Ice tank goes to room temperature, and I feel much more of a reason to leave my icy palace, and it ignites a fire of desire to be who I feel I was when I had started streaming-hopeful again and whether your tips are large or small they help me more than anything to get the time to be online! Dedicate creativity and ideas to my streams and clips, and socialize all over the place! I love it and want more than anything to have the time to do so. Thanks to you all, big n small, you have been my performances, health and wellness, s, my happiness, my hobbies I want to share with you, my survival, and my vacations-which I don't think is as important as it IS. Because but then I burn out and take a hiatus again and again, so don't doubt my gratefulness!
How do you define success?
There are so many types of success. Sometimes success is letting go of control, which can be miserable, but it needs to happen…I recently had to do something like that over the past few years. I'm sure many people may relate to the feeling. More consistently, I feel Success is learning and knowing yourself. The process of forgiving yourself and being kind to what again you could or couldn't control and continuing to carry on, you are enough. Success is going through a lot and never becoming Jaded; no guilt and shame are not worth losing yourself in. Confidence is a success! You don't need a romantic relationship or to be a bodybuilder; those are both fine but do it for YOU! So you are proud of only you, not now I can—no! Confidence is vital to living in your skin. Despite one's circumstances, always try your best and know after; you did.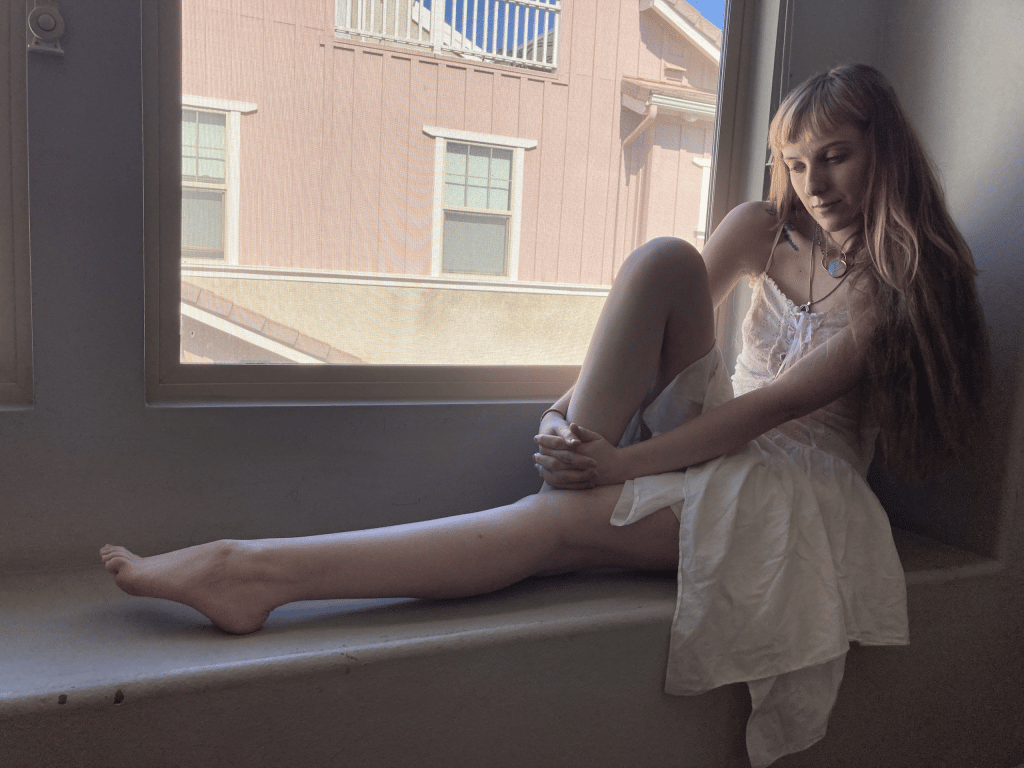 What are your short-term and long-term goals?
A short-term goal is to be more present on fan sites like reigniting my onlyfans and edit videos. I've got a lot to do there! And posting and becoming more active on social media, too, sharing a little more live content and just "day in the life" kind of stuff.
It's Been difficult to do so recently- you don't go out, watch tv, or see friends. There isn't much sexy stuff to show behind any curtain. It's just me procrastinating on some assignment and overthinking everything I do say, and you can see the feeling in my selfies, even if I smile, being fearful and having trouble trusting new people, and not calling old friends. It's a bad place to be, and I've been in it; 2020 just meshed into 2021, and it was all a big but quiet trainwreck for me. I felt like I was speaking so little to anyone that I was afraid to become mute, which was very scary. I am usually so extroverted instead of this boisterous impression leaping into conversations of people I do not know at all-it all felt like I should keep myself to myself. I was not prepared to be hurt. Yet, I pretty much socialize online 80% or more of the time! I felt I needed to be very cautious with what information I give out, but it's a paradox-if you withhold, people will pry at you out of suspicion, and I would rather be the one to expose myself, ha-you could say. Before anyone else! I mean, here I am, and I want to be myself. I think that's the whole point. I'm pushing myself here to be brave enough to be vulnerable, and it's my URL. I'll be me; nobody else can know me to impersonate or replace for sure! Ultimately I think we all want to be understood. I want to keep being myself and putting my authenticity right next to roles of fantasy! Live-streaming pretty much anywhere would be a great goal to achieve, and if I could make it more and more of a regular thing, that would be amazing!
As for long-term goals!
A schedule I can actually set in stone has been a long time goal for a long time; now, that would be a dream! That, and saving up to make sure I can help if my family needs anything and I can find a place in the world I'd want my home to be. First, though-I need to explore a little more (travel to real places outdoors of the internet!).



What drives you to succeed?
Well, the foundation of a career is about making money-but it never stops there. My drive to keep going is that I have the choice and privilege to do these things I'm passionate about. I want to invest in the things I just mentioned, other people's success, my traveling, and a place to call home. Those are big goals, but on the regular day-if, I've been consistently going online or posting content, and my regulars are there-I always want to be present and active as much as possible. I want them to know they're consistently helping me to be consistent, and my success is due to them, and it's an honor to be there at the same time to do whatever we feel like. I'm very sex-positive, and I often forget the rest of the world hides its habits! I feel like It's almost my duty to come from some time travel machine in the future, and I want to have everyone be able to compare the world to the one I'm beaming through rainbow connections of tangled up fiber optics, or at least my cables are a mess…I want to express acceptance and the sex-positivity fetish-friendly fantasy-my room is a sanctuary. I love questioning EVERYTHING… For the most part: No shame! No guilt, no manners!
How do you manage stress?
I've been told that I manage myself and my teams really well under super-high stress, but after that, I have a lot of trouble enduring stress or perceiving it correctly. Having very distractible attention doesn't help either! So I do experience burnout a lot. I need to see the value in 'vacations' and 'rest' between stress. The concept eludes me so often that I have difficulty making time for myself and not getting too wrapped into this becoming my life never goes offline. I know it has to be so common to burn out and come back as I do, but I think I'd rather burn out than have nothing but constant live streaming and snap chatting and only fans and twitch gaming. No "days off" or a week's vacation after a 24-hour stream should follow; otherwise, I think you'd lose yourself in that is kinda terrifying. As much as I say that a life without stress is wonderful, once in a while, I realize why all the greatest artists struggled. During the most mind-bending stressful moments in my life, I find myself being the MOST creative state that can be accessed through a flow state, and I create so much music and art and random things that I look back on as if I had done it while dreaming…unlike the greatest artists, I am not an iconic poet, rapper nor DJ just yet. I wish I had on my shoulder; a little fairy-god-vlogger to videotape what I get up to because I'll rap battle my friends, on the phone and hardly believe the words that come out of my mouth! All kinds of ideas spark themselves and illuminate a dark place in time. There are even ones of my own as if a spirit is dancing through me…or… I may need a screaming shout and kick dust around, maybe even dance to some cathartic music, HOPEFULLY, unusual where nobody will think I'm too crazy for doing so!
What do you like most about yourself?
So I don't know exactly what was going through my mind as I chose "MelodyHero" as my consistent online username, but my observations of my psyche make me think this might be my unconscious expression that my music taste is the best of all time. I got the best playlists! Musicians, bands/groups, artists, whether they are well known, new or old, massively famous or the most unappreciated obscure music, I can find something I enjoy in every genre; ok, almost every genre…almost.
How do you handle criticism?
I have been taking a lot less these days since I started using a new microphone, and I don't live in an apartment where the heating and cooling system shakes the entire floor and walls loudly, haha. I totally understand and love when some kind soul says, "bb ur mic is muted," and I can't thank them enough for saving me from talking to myself all night!
There are some things I can't stand! And that's when people give me business advice, and they don't perform or even are knowledgeable enough about the online adult industry to be giving any advice; they maybe are a salesperson, and they don't know how insulting it feels to be told what obvious sales techniques I already know. I have studied on my own time so many hours from industry pros and counsel specific to my cam and content marketing etc., so I'm just trying to be polite before I spontaneously combust from frustration.
Do you have secret power?
I do have a secret power. No one EVER Knows my fake vs. real orgasms!
OMG, I love when they say before a show, "oh, I'm a pro. I always know when girls are faking, it-so don't do that." Of course, they have now just challenged me! They always have the same amount of fun, I know for sure! Either way! I'm the best actress! What do they expect from the best? I don't feel bad because I keep it to myself, and it is always fun to do so for real! Ultimately though, my body feels like doing what it wants and not always "on command" of what I want. But I do find just as much joy in making the voyeur or viewer have the most sparkly fireworks of orgasm and fun they possibly can! That is, first and foremost, to me. So now, if you say you're a professional who can always tell a real or fake "O, " don't let me know! (I prefer the real ones built up with a lush and a pillow, I'm a bit of an edge queen…)

allmylinks.com/melodyhero