Are you ready for a mind-blowing meeting? Then greet the unbelievably sexy Linzee Ryder! The beauty of this model attracts your attention at once, teasing your imagination. Her astonishing energy literally takes your breath away! One look at this hot baby is enough to see that a true queen of seduction is in front of you! Find out more about her in the following interview!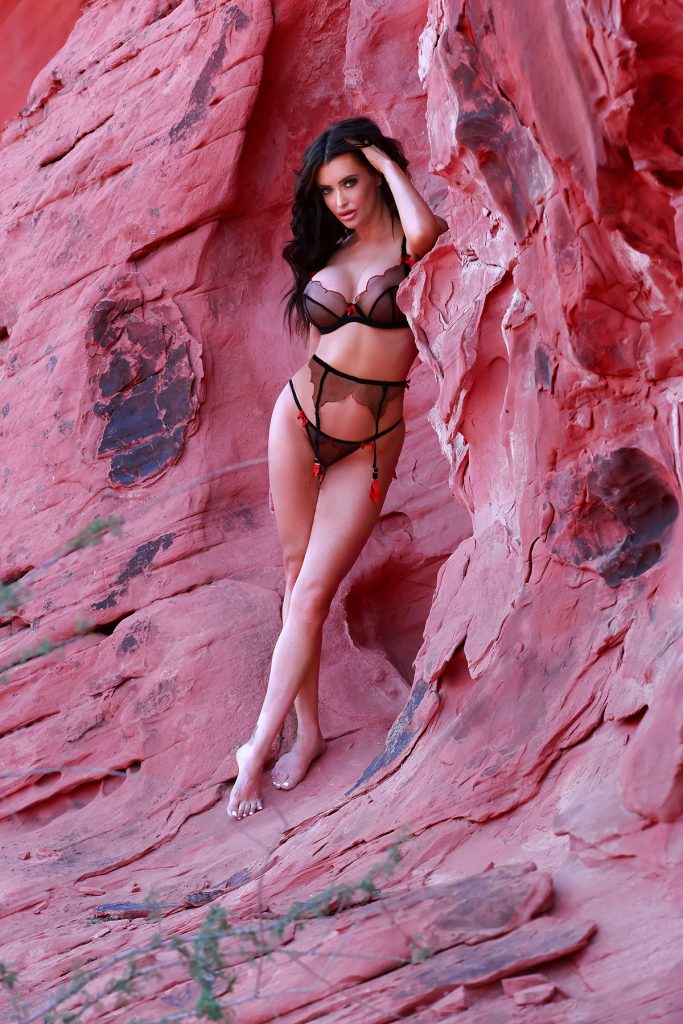 Do you have any regrets since you started camming?
My biggest regret about camming is that I didn't start sooner! I would have made a killing in my 20's as a cam girl, but I was busy stripping instead so I guess I probably made good money regardless, lol, but I do love camming and doing online work. I love that I can reach people from all over the world, rather than a smaller group of people.
What is your biggest turn-off?
My biggest turn off is bad hygiene…keeping fresh and clean, smelling good and putting effort into one's appearance is very important when it comes to turning me on!
What is the weirdest thing you've done while alone?
I talk to myself a lot when I'm alone lol! I don't even realize I'm doing it, but if someone walks in while I'm by myself they might be like "girl who are you talking to?" and I'm just like "umm, myself, duh!"…I think better that way, when I speak my thoughts. Especially when I'm packing for a trip.
What would be the next step in your career?
My next goal for my career is to start booking feature dancing jobs! I had my first feature show recently in New York City at Sapphire 39 and it was such a fun and great experience! I loved meeting my fans and taking photos with them and of course giving sexy, sensual lap dances they will never forget!
Tell us a memorable cam life experience.
The first time I had a really intense orgasm on cam…I was having a really hot video call session with one of my regular clients on SextPanther while using my vibrator…between the hot, kinky roleplay we were discussing, the fact that he was a regular so I was very comfortable with him and the way my vibrator was hitting my clit just right I had an earth shattering orgasm and even after the fact I continued to get off thinking about how hot it was!
The craziest thing you ever did for love?
I'm not sure if this is craziest or dumbest-I was young and in love with this great amazing guy I met at the bar my girlfriends and I went to for one of my friend's birthdays…we were crazy about each other and he asked me to quit my job as a stripper and move in with him and I did! I left everything behind-the money, my friends I had made at the club, my belongings that were too big to fit in his truck and shacked up with this guy I barely knew. Needless to say it didn't last long but I learned a valuable lesson that good dick is not worth giving up your life for.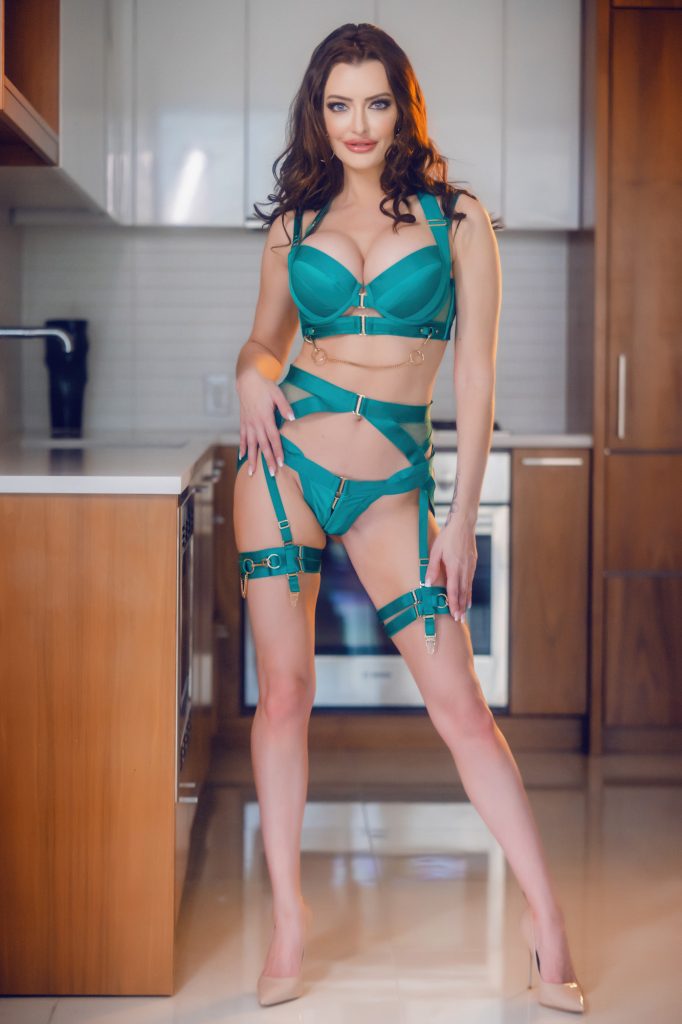 What do you do to maintain your beauty?
I am a huge fan of plastic surgery! I have had my boobs, which are natural A cups, augmented to E cups…I get regular botox and fillers…I also get regular facials, laser hair removal, manicures/pedicures and hair salon appointments for my hair extensions! I enjoy being active and outdoors for exercise, things like bike riding, hiking and kayaking as well as working out at the gym. Oh and sex is great cardio too right?!
What is the main quality that you seek in others?
A great sense of humor is a must! I need somebody who can make me laugh and someone that will laugh at my jokes and enjoy cuddling up to a comedy movie every so often.
What is the most courageous thing you have done in your life?
I used to be the kind of person that cared too much about the opinion of others and I came from a really strict and conservative background. I was just about the shyest person you may have ever met back then! The day I decided I was going to do what I wanted and felt was best for me in life and either the people that love me would be there for me still or were not meant for my life, was the most courageous thing I have done in my life.
What would you like to tell your fans?
I want my fans to know that I appreciate each and every one of them and I love having the opportunity to entertain them… turning them on turns me on!
Where is the strangest place you've ever had sex?
I have had sex in public a lot so it's not really strange for me but probably to other people it might be strange that I lost my virginity having sex on a picnic table outside at my old workplace which was a canoe rental.
What movie brings you to tears even on the tenth screening?
The movie A Dog's Purpose gets me every time! I love animals and the movie is a really great movie about a dog but there are some sad scenes that make me cry for sure. And by cry I mean ugly cry-sobbing!
What turns you on almost instantly?
A man who knows how to take charge! I enjoy being submissive and it is my ultimate turn on when a man takes on the dominant role in the bedroom and a little hair pulling and light, playful slapping and choking etc really gets me going crazy!
What's the biggest lesson life has taught you?
I had a difficult upbringing and really struggled when I was younger, but through sex work I have improved my life in many ways. What my journey has taught me is that life is too short to be unhappy. Life is full of many opportunities for happiness if you look for them. If you work hard and stay focused you can truly achieve anything!
What's your favorite family recipe?
My favorite type of food is Italian and my Grandma makes the best homemade marinara sauce and lasagna ever! It is her secret recipe that she handed down to me and it's definitely my favorite recipe!
If you had to describe yourself as an animal, which one would it be?
I have always claimed my spirit animal is a cat! They are independent and enjoy their alone time, but when they want attention they will get it! I also am a fan of naps and probably have 9 lives with how many times I should have died from doing something stupid lol
Do you prefer to give or receive?
I prefer to give, big time. I don't think it would even be possible for me to reach a climax if I did not give my partner pleasure first. I'm definitely more of a pleaser.
Have you ever had an inappropriate crush?
One of my babysitting jobs in my early 20's was very interesting because the father had been at the strip club I worked at and I recognized him. Of course I never said anything to him or his wife but there was always this sexual tension I feel because I knew he had seen me naked and he knew it too. He was so nervous at the club and didn't try to do anything beyond getting a couple lap dances and I appreciated that. He was a very handsome man and a really good dad and husband it seemed like, so I spent many nights fantasizing about him and I hooking up while his wife and child were away. The whole inappropriate factor made it extremely hot to me!
Have you ever tried using food during foreplay?
Yes haha and it was a mess! I used chocolate syrup, the real kind not the stuff that's actually designed for this, and in my mind it was going to be so hot having my guy lick the chocolate syrup off my naked body and I off his…instead it ended up being a sticky mess and we had some hot shower sex instead!
Where on your body is your favorite place to be touched? And how?
When I'm getting hot and heavy with a guy or girl I absolutely love it when they touch my inner thighs and tease with their nails lightly caressing my upper legs until I can't take it anymore and beg for them to feel how wet they've gotten me

A bubbly and outgoing person, Natalia is someone you'd enjoy getting to know. She has an appreciation for self-care, keeping a detailed cam journal, and cooking Asian meals for her partner. Professionalism is important to her. Despite her friendly disposition, she never shows anything too personal or inappropriate to fans. Natalia is widely known in the camming world for her authentic and unique charm that keeps fans coming back for more. There's no mistaking her personality for someone else's – her goofy smile and silly attitude make her unforgettable. One thing is for sure – you'll never get bored when you're with Natalia Raye Xo!

How do you manage stress?
Since being a performer can make me feel socially drained at times, I manage stress by taking a day to myself. I love taking hot Epsom salt baths and moisturizing my face and body. If I am feeling extra stressed, I'll spend an hour writing my thoughts in my journal. If doing those activities doesn't help, playing Super Smash Bros on my switch definitely does the trick.
What strategies do you use to stay organized and productive?
I keep a very detailed cam journal to stay organized and productive. I bought an extra large notebook from Five and Below, and after every show, I write down which hours were great and which hours were not so great. If I have an idea about a clip I'd like to film, I write it down right away. Every Sunday, I make a detailed (tentative) schedule for my day, from waking up, to bathing, to eating breakfast, when I want to start camming when I want to take breaks, and so on. I don't always follow this schedule, but it's nice to have some sort of structure. I also like to write down my daily money goals, so I don't end up slipping by the end of the week.



What do you think sets you apart from other cam models?
What sets me apart from other cam models is that I am genuinely myself on cam every day. It's so tiring to try to be someone else, and my fans seem to enjoy watching the person I really am in my day-to-day life. Of course, every cam girl should be careful with how much information they disclose to fans, but if the questions they ask me aren't too personal, I have no problem answering them with a smile. I am silly and cute, and I try to make it sexy in my way, and I think that's what gets my fans coming back for more of Natalia Raye.
Where is the strangest place you've ever had sex in?
The strangest place I've had sex was in a mall parking lot. It was before my boyfriend and I could drive, so we weren't in a car. We were in a semi-secluded area behind a pillar. And we didn't do it there just once, but at least five times. I guess someone caught on to our dirty little secret, and on Christmas Day, a mall security guard told us we needed to leave. I'm shocked he didn't ban us from the mall for life!
How do you like to show your partner that you care?
I show my partner I care by giving him the attention he deserves. Being a cam model can leave you feeling sexually and socially drained at times, but I never let that affect my relationship with Nathan Raye (my partner). I always make sure he knows that he is loved and appreciated by me. I prioritize having sex with him at least once a day. I don't want him to feel that my work is more important to me than him, and being intimate is very important for both of us to have a strong relationship. I also make him homemade Asian meals. I don't know what he likes more, sex or my home cooking (lol).

Twitter
Instagram
She is an adventurous and creative soul based in London. Throughout her life, she has embraced various passions, from being a competitive snowboarder to a cheerleader, and currently pursuing a career as a cam model. Fueled by fearlessness and courage, she has set both short and long-term goals, including opening her own studio and transforming her house into a personalized sanctuary. Snowboarding and pole dancing ignites her deepest passions, and she is willing to take risks for a chance at true love. Ivy finds beauty in the purity of platonic relationships, emanating her passion through both her actions and kind words. Simple yet heartfelt gestures, such as leaving post-it notes adorned with compliments, have left indelible impressions on her, constantly reminding her of life's true essence and what truly matters.

What do you value most in life?
My family and friends support me in everything I do, and I wouldn't be where I am without them. I think sex work can be lonely at times, always traveling or online, and it is important to see people you care about in the real world.
What are your short-term and long-term goals?
In the short term, I want to decorate my house and open my own studio.

What drives you to succeed?
All that ever holds somebody back, I think, is fear. For a minute, I had fear. Then I looked in the mirror and shot my fear in the face.

What are your passions and interests?
I love snowboarding. I was a competitive snowboarder traveling the world chasing winters switching from the northern to the southern hemisphere until I broke my neck and came back to London. I decided to try adult because I wanted to get sober, and it was hard to work in strip clubs while trying to be sober. I also like pole dancing, and I was a cheerleader from a kid through to university.

What is the craziest thing you ever did for love?
Not sure if I have been in love, but I once flew back a day early from a holiday because I heard my crush was going to a sex party, and I was like, I HAVE to be there.

What do you think about romance, and how does it make you feel?
I love romance, and I don't think it needs to just be with a sexual partner. I am romantic with my platonic friends, too. We cuddle and have mate dates. Platonic love is probably more important to me than sexual love.
What is the most romantic thing someone has ever done for you?
I had a partner who would leave post-it notes around the fridge with things he loved about me. That was super cute… They would be stuck to a carton of juice in the fridge or my jewelry box.
She is an alluring and inspired model who has made her mark in the camming industry. She is determined, dedicated, and loves to entertain and connect with her fans. Lori Ice embraces her uniqueness and seeks to find her place in a sea of similar content. With an understanding of the importance of staying organized and productive, she has used calendars, planners, and visual aids to structure her content and workflow. Lori Ice is also an adventurous lover who goes to extremes for love, once traveling across the world to reunite with someone special.


When you were ten, what did you want to be when you grew up?
As a child, my biggest dream was to be a model. I watched the fashion shows and wanted to be like the models on tv, full of glamour and attitude. I never really went after this dream because I didn't have the physical standard for it. I remember I used to spend hours playing in front of the mirror that I was a famous model and was being interviewed by reporters, hahaha.
What do you like most about yourself?
I like my determination and dedication. When I set my mind to do something, I always try my best to achieve my goals. If I really want to achieve something, I try to learn and investigate as much as possible about it in order to try to reach my goal on time. Even though I encounter many obstacles on the way, I try to enjoy every moment of my life, whether good or bad, because they all pass.
What would you like to tell your fans?
I would like to tell my fans that if it weren't for you, I would never have gotten where I am today in my career. Thank you for all the support, all the daily positive messages for the company, and motivating me to give my best every day. And again, I truly thank all the members, those who have accompanied me since I joined this industry three years ago, and all those who have recently joined. I love you all!


What challenges have you faced, and how did you overcome them?
I faced many challenges in the industry, especially at the beginning of my career in 2020, because I was one of the few, maybe the only, Brazilian on the pages among thousands of Colombians and Romanians. I always felt it difficult to belong to some niche of the camming world, I am also a Latina, but I didn't feel identified with the broadcast style of most models. I tried to be inspired by various models that I forced to find connections in order to find my niche in the sites. However, I realized that I was unique. I am Lori, the crazy model who speaks five languages, who likes to chat with members for hours, and who also loves to seduce as if she was performing on a stage for all of them. I overcame these difficulties with time. I started to accept myself more and to believe in myself.
What strategies do you use to stay organized and productive?
To keep myself organized, I use calendars and planners. I have a different planner for every aspect of my life: studies, work, and personal life. For instance, for work, I use Trello to keep the activities I need to do on my pages, such as keeping my content always up to date, planning outfits for the week, planning photo shoots for the month, etc., as well as activities that are already in progress. , and those that have already been completed. Also, I like to post all the ideas I have for special shows and new playlists for the streams on the sites. I'm a very visual person, but also very distracted, so I always need to be visualizing my plan for the day, either on my cell phone calendar or on a written planner.

Where is the strangest place you've ever had sex in?
In a closet! Hahaha. Once, I went out with some friends to a pub, and we were invited to another party at someone else's house. I was with my boyfriend by that time, and I wanted to have sex with him at that time, but we couldn't find anywhere safe to do it inside of the house, so we hid in a closet and had sex there, hahaha.
What is the craziest thing you ever did for love?
I went on an exchange scholarship trip to Argentina, and I met a boy there. We got very close, but I had to go back to my country at the end of my trip. So, one year later, I went back there only to meet him again just because I was in love, haha.