Don't miss out on the excitement of meeting VisceralVixen69 and getting to know her closer! Find out more about the preferences of this delightful model in the following interview! She radiates self-confidence and knows no one can resist her beauty and the magic of her alluring eyes! This girl heats the environment around herself to the fullest, unveiling the mystery you'd want to solve as soon as possible!
What is the craziest thing you ever did for love?
I've done quite a few crazy things for love in my lifetime, but I have to say the most drastic one would be my first love. That was… Insane.
He was my first boyfriend, a high school lover I met on GaiaOnline, of all places. We dated long distances for a year straight, which in high school years is like an eternity. But, obviously, we broke up. Fell apart for real-life people and temptations. On my end, though, I never had closure. I loved him still. He crossed my mind many times over the next few years. Eventually, adulthood came, and I got into a serious relationship that blew up in fire. But not long after that, guess who popped up in my life again? A simple ad on Gaia, from the same profile, and a PM, reaching out. Telling me how I was missed, what happened. We started chatting and reconnected, harder than we had four years prior.
I quit my job, packed my stuff, and broke my lease. I flew over 2,000 miles from my home and family and started my life fresh with 0 plans. I cut off contact with my abusive family members and started my life over. I gave up, quite literally everything for him. For a life and future with him.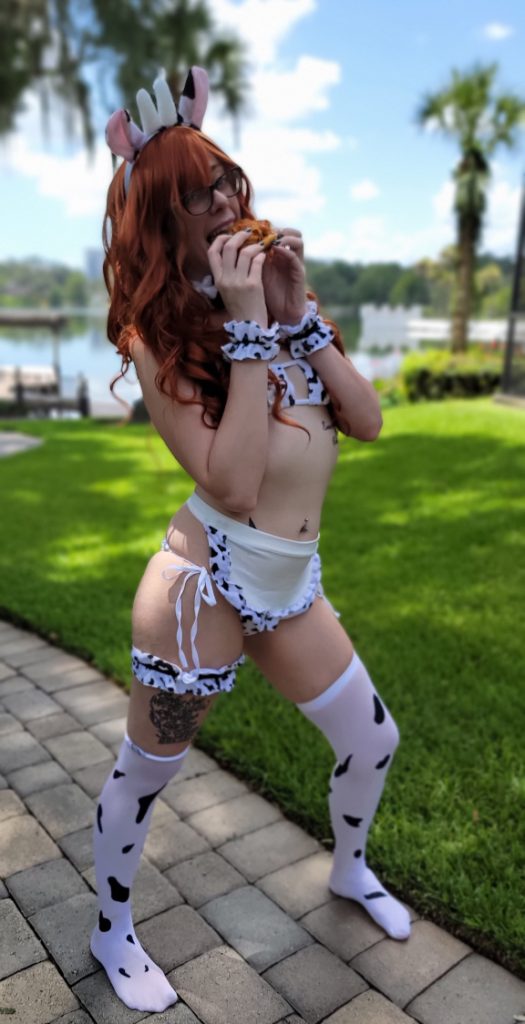 Have you ever tried using food during foreplay?
Yeah, and I did it before I started camming or content creation! My first time playing with food was Valentine's day. My (now ex) boyfriend made us a delicious steak dinner. I cooked the sides, baked a dessert… Well, it didn't take long for clothes to come off and for us to crawl all over each other, fucking like bunnies. It happened so quickly that we forgot all about our delicious dinner!
Well, thankfully, I had this evil little idea pop into my head that I thought he would like. I told him I had this sexy little game for us to play and to follow along. I quickly cut up his steak into small bite-sized pieces, fingered myself, and slid the steak up my pussy, a few pieces at a time. Then, I sat on his face after telling him he could only use his tongue to eat dinner.
I can let your imagination carry on with what happened, but all you need to know is that he ate every bite of that 12oz steak and a few bites of mine that night. And I may have had a cream filling by the end for dessert!
Where on your body is your favorite place to be touched? And how?
I have three types of favorite touch spots. Yes, I know, I'm ridiculous. But trust me, and I think you'll love it!
1- I absolutely cannot resist myself when I feel lips tracing and kissing down my neck and shoulder. Nibbling, sucking, kissing, hell, even just breathing in that area is absolutely my weak spot, and will have my knees like pudding and my toes curling tightly. But there's this one spot… Towards the back of my shoulder, where you get a good rub….. If you bite me there, and not a gentle little nibble bite. I meant BITE me like you're sinking your fangs into a deliciously marbled Ribeye steak. Feeling your teeth sink into me, right at that sweet spot, even just thinking about it makes me so damn wet. If you bite me… I'm halfway climbing down your pants instantly, aching for you. It's my instant "ON" button.
2- Your hands on my hips while we are in Doggystyle fucking. I want to feel your fingers curling into me, grabbing onto my hip bones, pulling me back into you roughly while you fuck me and pump me full of cum. Just… literally, I cannot describe how good it feels. I need to take a break from writing this and play with myself cause thinking about getting fucked in my favorite position is teasing me too much!
3- Honestly, the perfect one to discuss after an orgasm! Because after sex, cuddles are a critical must!!!! I love being the little spoon. Curling up into you, scootching my cute little butt against your crotch, where I can wiggle and tease you all night long… with our legs all tangled up and intertwined. Your arms wrapped tightly around me, holding me close to you so I feel safe and protected. It's like this when I can finally breathe and feel the world's stresses, fears, and worries ease away.

Do you have any regrets since you started camming?
Oh absolutely! Many, but every regret you have, is a lesson. It's a matter of you taking it to heart. Suppose you look at the lesson before you and accept it if you choose to better yourself and do better for yourself and others. You cannot live life without regrets, and camming is no different.
If you could go back in the past, what would you erase from your life?
I've had a vicious life, but I wouldn't change, remove, or erase a single thing/memory/person within it. Because of everything I have gone through in my lifetime, every experience, trauma, memory, and scar… It is what made me who I am today. Flaws and all, I finally love who I am. Why would I want to change that?
What would you like to tell your fans?
I want my fans to know that I love and adore them. That I appreciate them and all they do for me. That I will never forget all they have done for me. These guys and gals have helped me break through homelessness and assisted me still in working through my anorexia recovery and horrible lifelong relationship with food. They help me combat my depression, remind me to do my physical therapy, to practice self-care. They bring me peace, comfort, and steadfastness I never had in my life before, and they bring me an unexplainable amount of joy. Honestly, I don't know what I would do without my fans. Thank you for making my life better and for being there for me. Thank you for doing what nobody did for me in my lifetime, which was to teach me that I'm worth loving. For teaching me to love myself. I love you all so damn much. You all have changed my life in ways I can't begin to explain.

linktr.ee/VisceralVixen69

Seska Lee Wins Spotlight With FansRevenue
CHICAGO, NOVEMBER 30th, 2023 — Live cam industry veteran Seska Lee has been crowned
winner of FansRevenue's first high-profile contest for cam models and adult content creators.
The 52-year-old performer has been in adult entertainment since 1998, making her one of the
industry's pioneers worldwide. Earlier this year, she was nominated at the 2023 XBIZ Creator
Awards and featured among Streamate's top earners.


"We are thrilled to have found Seska through this contest and, amazingly, it coincides
with her 25th career anniversary," says Olivier Tremblay, FansRevenue's marketing
director. "She's a true ambassador for the whole cam industry, past, present and future.
We feel it's the start of a great partnership between Seska and FansRevenue to help
further her monetize her loyal fanbase!"

Seska Lee is part of the TreasureCams agency led by award-winning performer Bella Vendetta,
whom she considers a mentor, guiding her through an industry completely different from what it was in the late 1990s. She is also an avid fan of neoburlesque and was part of several troupes
and productions over the years (The Coral Lees, Team Burlesque, Acme Burlesque).

She ran her own amateur adult website from 1998 to 2010. She then spent the next decade
studying holistic well-being, working as an intimacy educator and speaking at conferences or
universities about her life and career. She has been back in front of her webcam since 2020,
fully embracing her body and age: "[Ultimately], I want to show that a woman with a natural
body and gray hair can be vivaciously empowered […] on her terms."

An exclusive interview with Seska is available right now on FansRevenue's blog. She will host
her first Jerkmate live show on December 2 nd, 2023, at 8 am ET. Seska is also very active on
social media on Instagram, her free OnlyFans and X (Twitter). To learn more about Seska's 25 years in the adult entertainment industry, click here.

What is FansRevenue?
FansRevenue is the #1 monetization platform for Cam Models, Adult Content Creators and
influencers, powered by CrakRevenue and backed by over 13 years of digital marketing
expertise. Using an innovative combination of influencer and affiliate marketing, FansRevenue
helps content creators monetize their following by matching
Candy Preferences:
I have a sweet tooth that loves balancing tangy and sweet flavors. Sour gummies and chewy candies are favorites, but I also can't resist rich, melt-in-your-mouth chocolate, be it dark, milk, or white.
Spooky Stories:
During a live cam session, I mistook a postman outside for a stalker, causing a heart-racing moment. It turned out to be a humorous mix-up, with my viewers laughing as I comically used a Hitachi massager for defense!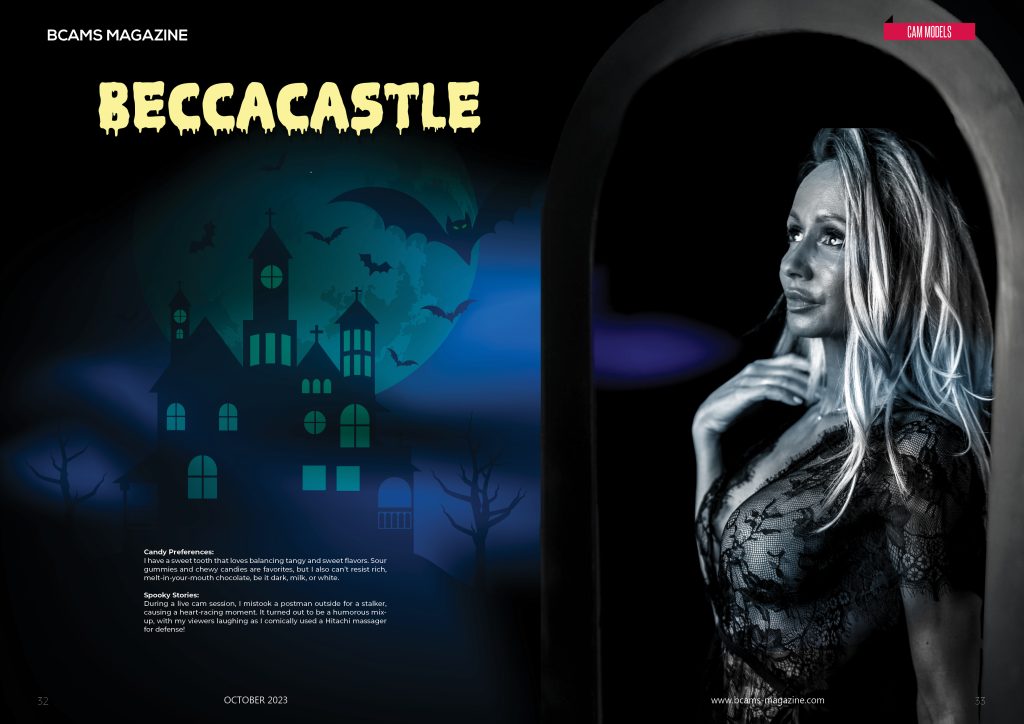 Candy Preferences:
I'm a big fan of fruity Tootsie Rolls—the little skinny ones, and JuJu Bees. They're my absolute favorites for their unique, fruity taste.
Spooky Stories:
I've always felt a ghostly presence around me. In my last apartment, it even scared @AriaHaze_XXX by knocking things over in the bathroom. Also, the tale of the Headless Horseman is my favorite; the idea of a horse charging at me is genuinely terrifying.