We introduce to you a beauty that you just can't take your eyes off! Meet Evelyn_Evy! From the first minutes the dazzling beauty conquers with her spectacular looks and causes an irresistible desire to get to know her better. Sociable, sensual, and inspiringly cheerful Evelyn_Evy told us many interesting details about herself. Check out the whole interview!
Do you work exclusively on only one cam site? Or do you prefer several cam sites?
I work exclusively on Flirt4free
Finish this sentence: If I ruled the world one day, I would…
I would legalize pornography everywhere.
Do you have any regrets since you started camming?
I regret I did not start sooner.
Do you have a secret power?
My secret power is having power over men.
If you could rename the cam site you work with, what name would you give it?
I would not rename it because it represents it well.
If you were able to ask for 3 wishes right now, what would you ask for?
Finding my soulmate, no matter where he is, being able to build and own my own business and buying a house I will make a home out of.
What would be the next step in your career?
Evolving and learning new things so I can satisfy everyone.
Tell us a memorable cam life experience.
I will always remember my first day camping. The new, the fun and the excitement.
The craziest thing you ever did for love?
Forgive.
What is your favorite memory since you started streaming?
One of my favorites would be the moment when I received the highest tip.
What do you do to maintain your beauty?
Nothing, it comes from within.
What is the main quality that you seek in others?
Respect, because respect sums up all the qualities you need to be a decent human.
What stands between you and your greatest goal?
Time.
What's the stupidest excuse to get out of a bad date?
I never have nor will I have a bad date. My time is precious and I choose to spend it wisely.
What do you think of when you masturbate?
Each time a new fantasy. My mind works better than porn, and my imagination has no limits. Think about passionate kissing, holding hands, fingers playing piano on my skin.
Did you ever fall in love with someone met online?
Not yet.
What is the dirtiest compliment you've ever received?
Nothing seems too dirty anymore. Everything sounds too common.
If you could go back in the past, what would you erase from your life?
I would not erase anything, all the experiences I had made me who I am today, this amazing person.
If someone wrote a biographical book about you, what would be the title?
Barely legal.
What is the most courageous thing you have done in your life?
Starting camming.
What would you like to tell your fans?
I want to thank them for their time and support they always showed me. Sharing fantasies and making me happy. For each smile they put on my face. As well as counting on their support from now on and growing stronger friendships.
Who was the worst guest in your house and what did they do?
Never had one. As I am picky and would not befriend someone I would waste my time with.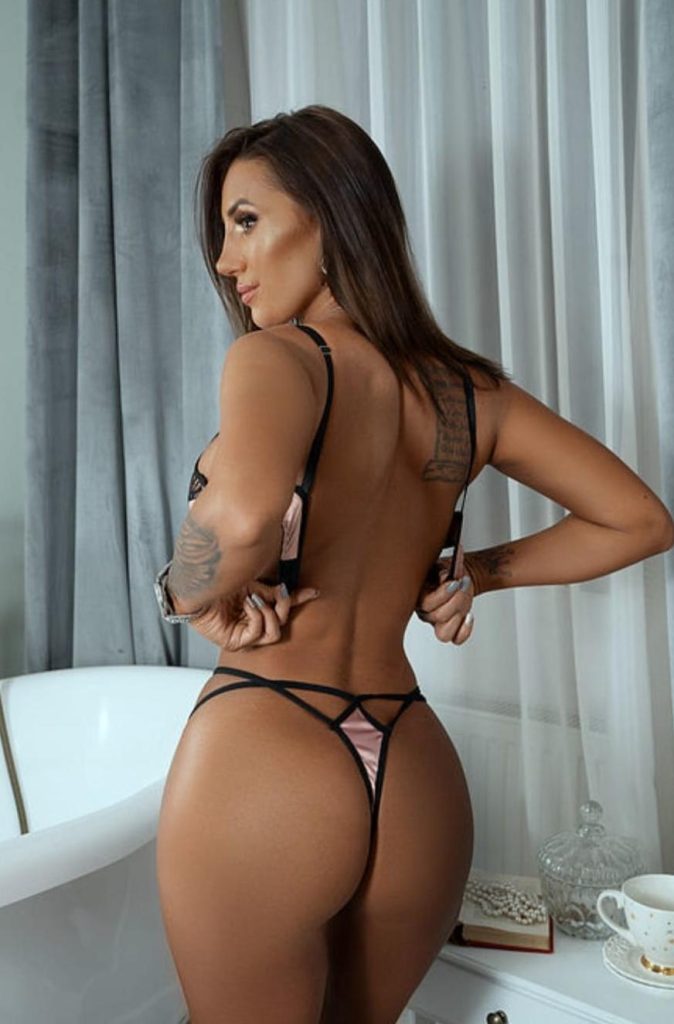 What is the most important thing you want to change in your life this year?
Improve, evolve, learn more, seek more. Explore… my body.
Where is the strangest place you've ever had sex?
Opera concert. Something way different. Loved it!
What movie brings you to tears even on the tenth screening?
I would not watch a teary movie, as I am single, I need a shoulder to cry on.
What turns you on almost instantly?
Knowing I am craved and desired.
What's the biggest lesson life has taught you?
Trust no one. Though life has a way to teach you something new when you least expect it.
What's your favorite family recipe?
My grandmother's donuts! Delicious!
What's the number of times you've had sex in a row?
Too amazing to keep track or count…
If you had to describe yourself as an animal, which one would it be?
Lioness… Roarrr!
Do you prefer to give or receive?
I always give without expecting anything in return.
What's the longest you've gone without sleep (and why)?
Around 30 hours. Most of that time I spent online having fun, and went clubbing after.
What do you do to keep fit?
Eat, sleep, work out, repeat.
Have you ever had an inappropriate crush?
Not yet.
Have you ever tried using food during foreplay?
Nutella! Made my kitty even more delicious!
What celebrity would you like to meet at Starbucks for a cup of coffee?
Snoop Dogg
Where on your body is your favorite place to be touched? And how?
Pet my kitty, lick my kitty. Lick it clean after 🙂

She is a gorgeous model with an impressive drive for success. She is physically active and practices breathwork and meditation to manage stress. Her top priority is her health; she values it above all else. Her competitive nature from growing up as a triplet has made her motivated to make her family proud. She's a savvy cam girl but is careful not to let the idea of rank get too far into her head. She stays organized and productive with a weekly schedule that allows for both streaming and offline work and one day a week to be completely lazy. Regarding romantic partners, she won't settle for just anyone. She's looking for the male version of herself – someone who is attractive not only on the physical level but also mentally, goal-oriented, and will match her energy and help her become a better person.

How do you manage stress?
I have figured out a few ways to manage the stress that work well for me! I am very big on being physically active, so I set aside a chunk of time daily to get in my workouts. This helps alleviate not only my stress but also my mood! Another thing I have learned to do is breathwork as well as meditation. It sounds silly, but it truly does work amazingly for me, and I highly recommend it!
What do you value most in life?
The thing I value most in my life is my health. Most people don't truly appreciate their bodies until it is too late and they are sick. I have seen this happen to multiple friends and close family members, and I refuse to allow it to happen to me too. I have not taken the best care of my body in my early twenties (aka partying and excessive drugs and drinking), and this year I finally had enough and now have prioritized taking care of my body in all aspects.
What drives you to succeed?
I strongly believe that my drive for success stems from my childhood. I am a triplet and grew up knowing nothing other than competition. I was put into sports at a young age. By the end of high school, I had participated in almost every sport available to me, so all I had ever known was pushing myself academically and athletically. I also went from having everything as a child to having my world turned upside down and having absolutely nothing after my father passed away. I vowed to myself that I would not allow my past to drag me down and I would achieve everything I wanted in life, no matter what challenges I faced. I want to make not only myself but my family proud.

What are the biggest challenges of the camming industry?
In my cam career, I have faced the challenge of letting the idea of going for rank get to my head. By this, I mean that I got so caught up in the chase for a higher and higher rank that I honestly was killing myself. I was putting rank over my health, and it was showing. After I finished my rank month in November, I decided that things needed to change because my health and happiness were way more important to me than a number. One of the biggest changes I have made was changing my work hours. In doing so, I have been able to actually have much more of a normal life (as normal as it can be in this career), and it has not only made me so much happier but also has given me a new love for my job that I was losing before.
What strategies do you use to stay organized and productive?
The strategy I have utilized to become more productive in camming is making a schedule for myself at the beginning of each week. I will set 4-6 days as online streaming days and 2-3 days for offline work, such as filming content for MFC and onlyfans! I also like to have 1 day every week or every other week to be completely lazy. Doing this gives me the full rest and reset I need to be a stronger cam girl overall and not get burnt out.
What qualities do you look for in a romantic partner?
I am extremely picky when it comes to romantic partners. I will not settle for someone simply because I am lonely or just want a boyfriend, I've been there and done that, and I can promise you I won't ever make that mistake again. I want someone that I find attractive not only on a physical but also on a mental level. As silly as this sounds, I want the male version of me. Someone who is goal-oriented cares strongly about their physical health and will match my energy and make me a better person.

Twitter


She is a passionate and adventurous cosplayer and gamer with a huge heart for making people happy and giving them a reason to relax. She loves connecting with people and cherishes the support of her wonderful fans, explores new worlds both in games and through her cosplay, and loves to feel free and break past her shyness. She loves the sound of someone's voice getting all low and crackly when it's late and being teased with static tingles. Her ideal romantic getaway is a bubble hotel in Reykjavik, Iceland, where she can explore her lover and the beauty of the Northern Lights.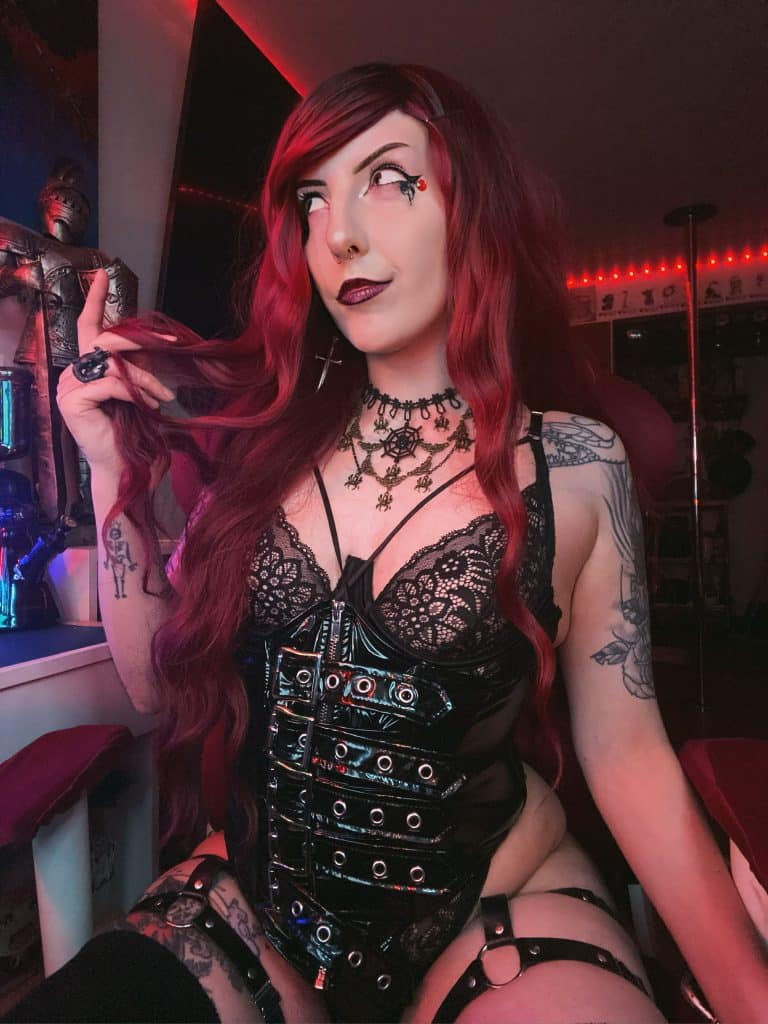 What are your passions and interests?
Gaming and cosplay! I love experiencing exciting new things, and gaming always takes me on a new adventure! Not only do I get to explore new worlds, but I get to hear so many stories along the way. Cosplay helps me bring that magic back to life, and helps me to connect with each character I portray.
What drives you to succeed?
Being the reason for someone's happiness and pleasure. Nothing makes me happier than giving someone a reason to laugh, smile, and feel good. Life has so many stressors at work. The least I can do is give others a fun escape. I find it very fulfilling to know that my work can help people relax.
What would you like to tell your fans?
You all make everything not only possible but an absolute dream come true. I hope to make you proud and to bring you immense pleasure like you constantly do for me. Thank you for helping keep life exciting and constantly keeping me on my toes, wondering what fun content I'll get to create next. I cherish your support, and I feel endlessly grateful to have it.
Do you have any regrets since you started camming?
Only that I hadn't started sooner! I kept second-guessing myself and delaying the launch of my sites because I doubted myself. Once I finally thrust my doubts to the side, I felt so free. I also wish I had broken past my barrier of being so shy a lot sooner. I've met a lot of incredible models and have connected with some of the coolest people I've ever met. I love how much models support and uplift each other in cam.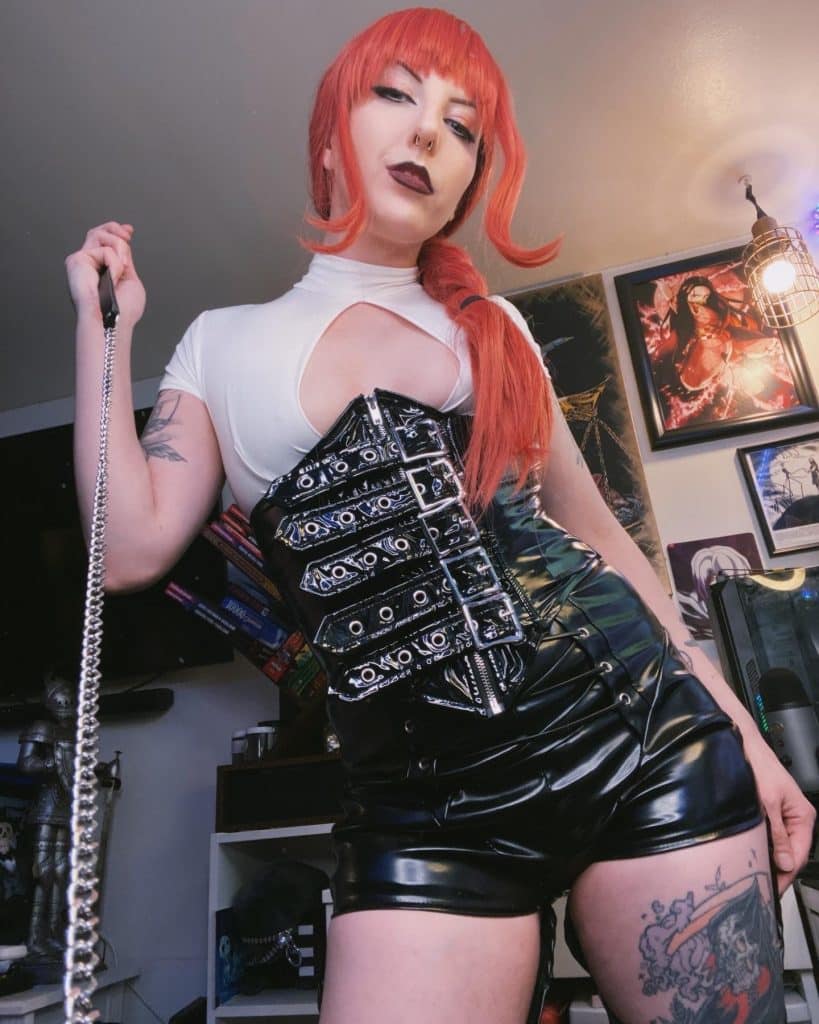 What turns you on almost instantly?
You know when it's super late, and they're tired, and their voice gets all low, deep, and crackly? That does things to me. I'm a very auditory-stimulated person, and certain sounds can lead to rather intense feelings for me. I also melt to the static tingle of someone's fingers, tracing my hips and teasing me.
What is your ideal romantic getaway?
I've always dreamed of going to bubble hotels in Reykjavik, Iceland. You get to sleep in a bubble deep in nature under the stars. I think it'd be amazing to explore Iceland with my lover. We could explore each other while soaking in the steamy waters of the hot springs and then retire to our bubble to make love under the northern lights.

Twitter

Honey Rose is a tiny, creative dynamo. Passionate about crocheting, painting, cooking, and eating, she manages stress by grounding herself in nature. Despite a disability, she has been resilient in the sex work industry, finding success in her own happiness. She is also a vocal partner and has even moved to a different state for love! Never one to shy away from a challenge, Honey Rose has even had sex in the strangest places, like on the hood of a car. She is a confident and authentic individual who is ready to explore further.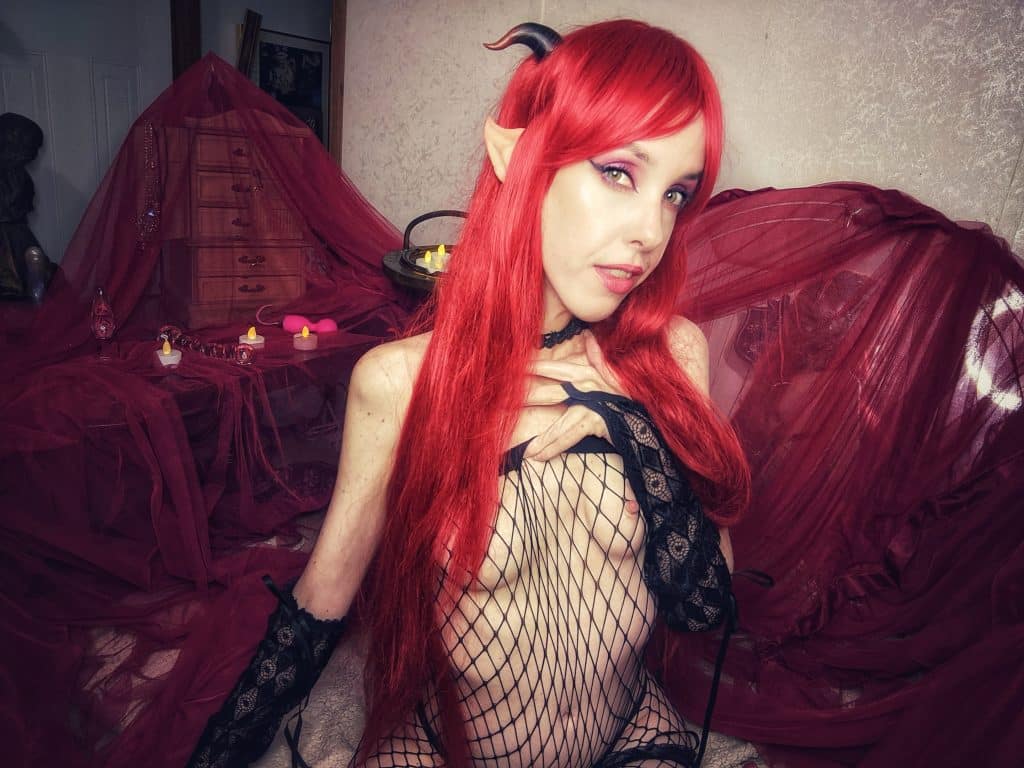 What are your passions and interests?
Aside from sharing my authentic self and sexuality, I am passionate about creating. I love to crochet, I paint tabletop mini figures for D&D, and cooking for the people I love. I also love to eat!
How do you manage stress?
One of my favorite things to do is just spend some time outside. I live in a pretty rural area, so I love to go sit and listen to the birds or watching for deer. Grounding myself in nature is a tool I'm grateful for. Hot showers, tea and getting lost in a videogame or D&D actual play are also handy.
What do you like most about yourself?
Physically, I've always liked that I'm a tiny little nugget! I'm 4'11" and fairly small in general, so I joke that I'm a real life pocket pussy! (With a great ass) On a more philosophical level, I'm so proud of myself for not giving up on sex work despite the innumerable setbacks I've encountered along the way.
What do you value most in life?
Community, compassion, and empathy. My cam big sister and slutty mentor, Anna Cherry, welcomed me into her already thriving community, where I've been allowed – and encouraged – to flourish. My sex work community has been invaluable, and the compassion and care they show me and each other is truly beautiful. I can't imagine my life now without the people I've met through sex work.
How do you define success?
For me, success is undefinable and changing. I have spinal muscular atrophy, a type of muscular dystrophy, and as a disabled sex worker, some days, success looks like getting out of bed. Overall, I measure my success by my happiness. In the end, if I'm happy and with the people I care about, I've succeeded.
What are your short-term and long-term goals?
Short term, I'm looking forward to having a new and better camming and filming space when I move later this year. I've been doing more cosplay recently and I'd love to keep exploring that! Long-term, I really just want to keep building my own little brand of nerdy, dirty smut.
What drives you to succeed?
I do! In the sense that I want to see myself do well in this industry, to virtually encounter as many genitals as I can and make them and their possessors feel as good as possible! I love this industry and I want to remain a part of it for as long as possible and that drives me to keep creating.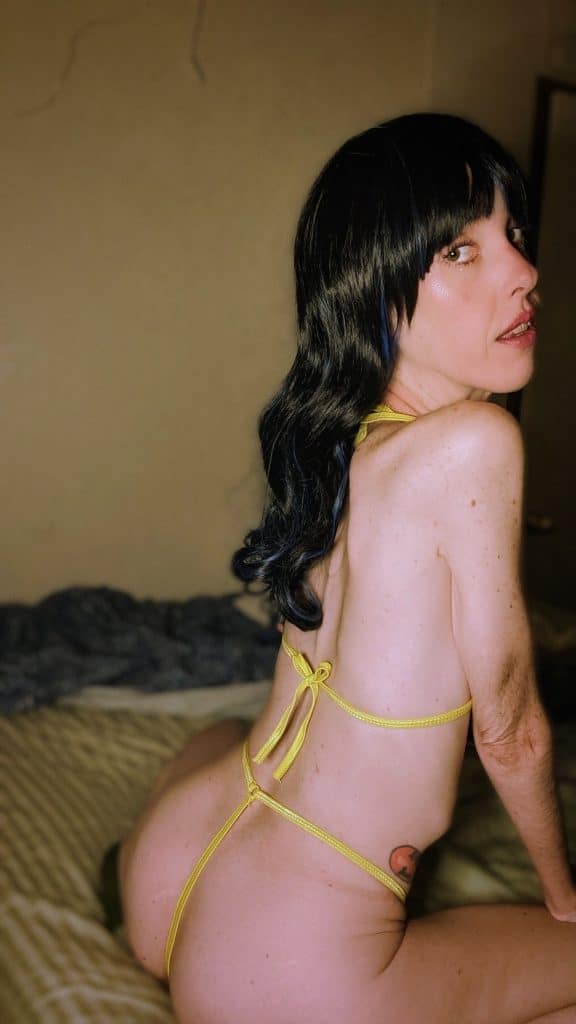 How do you handle criticism?
It was difficult at first not to take criticisms as a personal insult, especially when you and your body are the product. Instead, I focus on the things I can change and strive to do better in those areas. Sex work is so variable, the true definition of different strokes for different folks! A good cry and a nap can also be helpful, depending on the circumstance.

Do you have secret power?
I'm pretty good at deepthroating but I'm not so sure it's a secret! I like to think my secret power is shape shifting into a sex sprite to fulfill all of your dirtiest fantasies.

What is the dirtiest compliment you've ever received
In person, I'm fairly reserved and almost shy, but I love being used like a dirty little slut! Apart from the compliment that is me making you horny, I've been told I was built to take cock and I melted!
What would you like to tell your fans?
I'm so constantly grateful for the people who love and support my work! I'm usually dealing with internet or equipment issues and my fans are always there, cheering me on and encouraging me to do my best.
What challenges have you faced, and how did you overcome them?
As a person with a disability, sex work has given me the freedom to work when I'm able and take time off when I need, but it is definitely it's own struggle. Certain positions or requests may be hard for me to accommodate and I don't have the stamina of most people, but I've found that honesty and communication very rarely fail me!
What turns you on almost instantly?
I love vocal partners! Tell me all of the dirty things you're going to do to me! Moaning, a good "fuck yes" or telling me what a good girl I am, and I'm a puddle.
The craziest thing you ever did for love?
I moved to a different state after a few weeks of dating! We decided to move very quickly and I told my family the day we left, but it worked out and we've been together almost 10 years!
Where is the strangest place you've ever had sex in?
I think the strangest place was on the hood of my partner's car on the side of the road. I tend to be pretty shy in public but I loved the idea of someone catching us in the act!

Twitter
Instagram