VR PORN Room Service? Yes, please!
Las Vegas hotels to deliver VR porn headsets via robot to lonely guests
We're living in the golden age of technology. Zooming with your relatives over the holidays? Easy. Music, movies, any series you want on demand? You got it.
Now visitors to Las Vegas won't even need to leave their hotel rooms to get a taste of Sin City. You can get a virtual reality headset pre-loaded with porn delivered to your room via a self-driving robot.
VR Bangers, a company that specializes in pornographic films specially tailored to three-dimensional virtual reality headsets, is partnering with several Vegas hotels to offer helmets pre-loaded with adult content to guests eager to indulge their need for instant gratification.
For $50 a day, you can get a "fully sanitized" Oculus Quest 2 VR headset from VR Bangers, pre-loaded with immersive VR porn, including scenes with the choice to "match the background with the hotel room in order to allow for total immersion."
Daniel Abramovich, the CEO of VR Bangers, told Daily Star that hotels and resorts were initially resistant to the idea because they "don't want to be associated with porn even though they show 18+ movies on their hotel TV, which is hypocrisy — because what's the difference, right?"
"The idea to use the robots changed everything," Abramovich said.
"Hotel rooms no longer have to store our VR porn, the service became completely voluntary, and still you can have your favorite VR sex scenes delivered if you don't have your headset."
"We've even created some special scenes to ensure that they offer even greater levels of immersion and realism!"
The VR headsets, the Oculus Quest 2 developed by Facebook parent company Meta, allow users to match the background with the hotel room in order to allow for total "immersion."
Virtual reality porn is nothing new, at least not in the past few years. One report from 2017 showed that 60 percent of the top VR websites were porn platforms. After Pornhub began hosting VR videos on their site in 2016, views of VR porn went up "almost 250%." Another report found that the projection of VR porns value would be close to "$19 billion by 2026," due in part to making VR headsets like the ones offered by Oculus more accessible to consumers.
So next time you're in Vegas, you can support a growing tech industry, from the comfort of your room. Just make sure you wipe the headset down yourself first.

Cherry.tv and Byborg Enterprises Join Forces to Create the Best Freemium Cam Site
Karoly Papp, Byborg Enterprises's Director, shared his confidence in the collaboration. "This joint venture provides us with a great opportunity to combine our cultures and knowledge and open up new international opportunities for both of our companies."

Paul Ashworth, CEO of Cherry.tv, expressed his enthusiasm for the new partnership. "We're incredibly excited to be joining forces with Byborg Enterprises SA and LiveJasmin to supercharge Cherry.tv's growth. With the help of LiveJasmin's resources and industry knowledge, we're confident we will be able to achieve better our mission of providing the best possible experience for our users and models."
The agreement between Byborg Enterprises SA and Cherry.tv is set to strengthen Cherry.tv's services and scale them to a new level. It will also create the best freemium cam site on the market, integrating gaming and social elements. Cherry.tv's founders will maintain full control of the brand and its operations, while Byborg Enterprises SA and LiveJasmin will use their technical knowledge and expertise to assist in the process.
The Cherry.tv team will be a Platinum sponsor of the upcoming XBIZ Miami event from May 15th to 18th. They will reveal their newest major platform upgrades, which American models eagerly await.
Jessy Dubai Announces "Pop Up" Giveaway Show on Cherry.tv
Award-winning adult performer and trans model Jessy Dubai will do an exclusive live "pop up" show on March 30th at 6pm PDT on Cherry.tv.
"Surprise! I wanted to give my fans some extra fun," said Dubai. "Leave your stressful work week behind and join me this Thursday for a special "pop up" adult playtime. Watch me play and play along…maybe you'll even score a random giveaway!"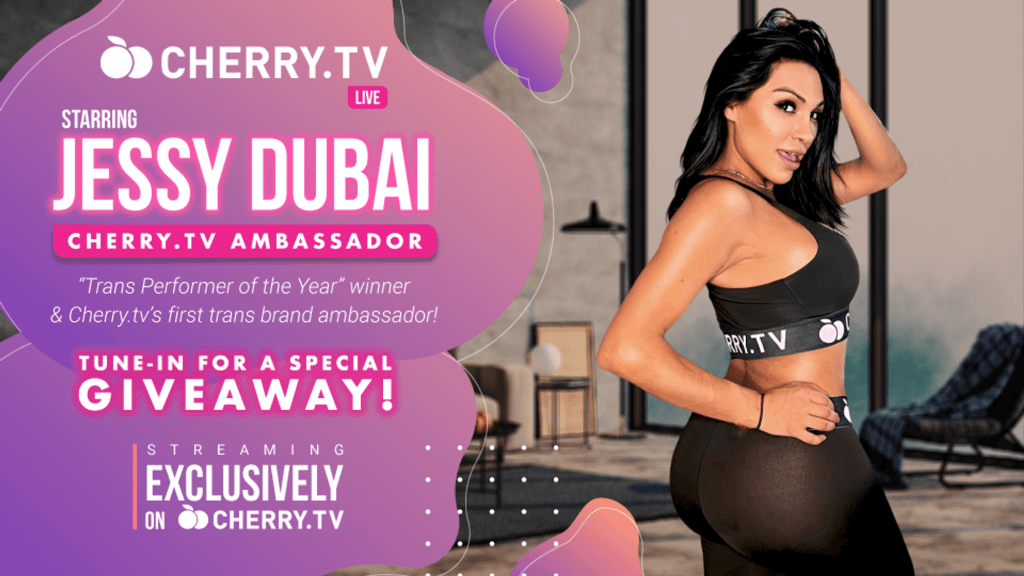 Jessy Dubai began her career as an adult performer nearly a decade ago. To date, she has starred in over 160 films and has worked with several top adult studios along the way, including: Trans Angels, Evil Angel, Devil's Film, Kink.com, Grooby, Gender X, and Transsensual. In 2016, she also won the XBIZ award for Trans Performer of the Year. In addition to her work in porn, Dubai is also a successful entrepreneur, producer, director, and club hostess.

cherry.tv
Livejasmin: Manage your inbox with new filters
Keep your fans close, and don't miss a single text!
Time is money! Save time and better manage your inbox with three new filters.

Say goodbye to endless scrolling to find unread messages. Livejasmin's unread filter will instantly display all threads that require your attention. Want to respond to members whose messages you've read but haven't replied to? Select the unanswered filter and easily follow up with them.
The pinned filter is perfect for those members you can't get enough of! Quickly find your favorite conversations with up to 50 of your members.
Your messaging experience just got better! Save time and get straight to the conversations that matter most with their new Messenger filters.
Try it out now!