Can you enjoy sex without orgasm and have fun without the hot finale?
The experience that orgasm comes when it wants (or not) is familiar to most women. That's why here comes a plea for enjoyment instead of pressure to perform. This is better for you and love – and now it even has a name: Karezza (also known as Coitus reservatus).
However, this does mean above all that you don't need the ejaculation of the man to have good sex. But even women don't have to put themselves under the pressure to come either.
The two partners practically always come. Annoying, but normal, research confirms: Women come in a relationship about 80 percent of the time, singles about 70 percent, according to a study by the University of Indiana. This discrepancy is then called the "orgasm gap".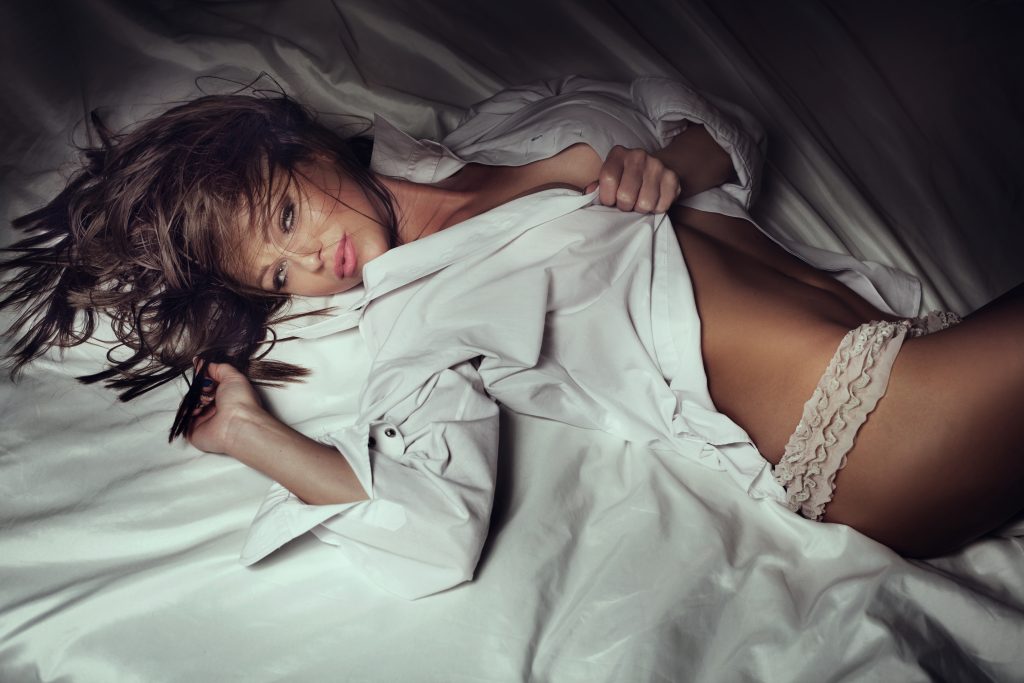 Why do women often not have an orgasm?
There are many possible reasons for a lack of climax. One of the most important: Lack of stimulation. For many women, sex is the sub-optimal pathway to orgasm because the clitoris is not sufficiently stimulated.
But over-stimulation in the central nervous system can also be to blame: stress and distraction cause more trouble for women than men.
The male brain is designed to ward off all distractions – the female one not so much. Perhaps because only the orgasm of the man is necessary for reproduction?
What other reasons are there for orgasm problems?
Of course, the form of the day also plays a role. In addition, medications such as antidepressants, anxiety, neurological problems can also hinder the pleasure high.
Even the social claim that you also have to function in bed can be stressful: "Many feel stressed by the pressure of having to come," says sexual physician Dr. Elia Bragagna from Vienna. "But achieving an orgasm and having to make an effort for it doesn't fit together."
According to Bragagna, 76 percent of women are happy in love and life, even if they don't always experience a climax. Orgasm is a possibility, not a duty.
Of course, sometimes the man needs a helping hand too – so why not read our article about sex tips for men for some great ideas.
Can sex be better without an orgasm?
Simple answer: Yes, it can. And that's when you're more likely to get involved in the sex itself and not work too hard towards a goal. This also means: Don't just consider "the one" as sex.
Many couples equate sex with penetration. With the result that everything else is degraded to "foreplay" before it goes on to the "real thing".
For many women, manual and oral sex is the best way to the most intense arousal. "Men should accept that women are the expert for their lust."
In addition, you should learn to appreciate the pleasure of each other in its entirety. Sex has intense moments even without orgasm, "such as the pleasure of intense closeness, the feeling of feeling the partner inside you, the fun of being birded, or the shudder when you look into each other's eyes."
That's why it's like on Instagram: Don't miss the most wonderful moments while you make an effort to stage them perfectly!

BCAMS Magazine, the 11th issue!
The independent livecam industry resource for news and tips & tricks for cam models and camsites.
This July our attention turns away from the beaches to some of the most adored bombshells in the industry! As always, we are here to stir up your senses with our super selection of top models around the world. You are going to fall for these hot and ardent beauties!

"BCAMS Magazine is a fast-growing one, and each issue proved the strong connection made with the live cam industry. Thank you for your trust and support."
Sugar Bounce empowers content creators to grow their fan base and monetize their talent. While Sephora attempts to de-stigmatize sex and masturbation, by venturing into selling sexual wellness products.
Las Vegas Hotels deliver VR Pornto to your room by a self-driving robot! Yup, you got that right! While FansRevenue are here to give us a deeper insight on their business model and future plans.
And because we wanted to close July with a bang, we attended EXXOTICA for the first time, and boy this expo can be full-blown, balls to the wall crazy!
All this and more awaits you in our BCAMS Magazine 11th Issue! Make sure to check it out!
Exxotica, the largest adult event in the USA dedicated to love & sex was back in Miami this July. It has been our first time attending and boy this expo can be full-blown, balls to the wall crazy! There's so much skin, so many toys, and sadly, so little time. Taking place over three days, EXXOTICA was created for like-minded adults who are looking to "celebrate sexy".
Attendees of Exxotica weren't just treated to some of the industry's hottest performers signing autographs, selling their merchandise and posing for pictures, they also got plenty of entertainment in the form of shows on the main stage and educational seminars.
The entire event is an interactive experience that allows you to engage at your own personal comfort level. Some of you came out of your shell a little… or a lot, depending on who you are, but it was all in good fun!
And we sure did have a great time interviewing some of the top stars in the industry. You can check it out on our social media platform Instagram: @bcamsnetwork and Twitter:
@bcamsnetwork
SugarBounce – An adult entertainment ecosystem powered by the token TIP
The multi-billion-dollar adult entertainment industry has a lot of problems, such as unfair pay, discrimination against creators, and breaches of user and artist privacy. Therefore it would be wise for a content consumer and creator to look for alternatives.
One alternative might be SugarBounce, which presents its platform that enables content creators and viewers to participate in the adult industry in a fair and durable way. If the project succeeds in taking over just a fraction of the adult entertainment industry, we can assume that more content creators and consumers will find their way to the platform.
What is SugarBounce?
SugarBounce is a decentralized adult entertainment platform, based on Binance Smart Chain (or blockchain), aimed to revolutionize the adult industry by leveraging the technological advancements of Web 3. SugarBounce is a diverse ecosystem which encapsulates all forms of adult entertainment under one roof through its 6 unique verticals consisting of – adult webcam streaming, an NFT marketplace, crowd funded content platform, decentralized adult content repository, an anonymous payment processor, and much more.
SugarBounce presents a revolutionary take on the multi-billion dollar adult industry, empowering content creators to grow their fan base and monetize their talent. SugarBounce has a unique hybrid model: a decentralized blockchain technical solution combined with institutional safeguards that guarantee copyrights for creators, data safety for users and ensure global access to adult content.
(Current Status)
We launched our first product, Sugar Streams – an adult webcam site, on 28 April 2022. Within 3 months of the limited beta release, Sugar Streams had garnered 10K unique users all across the world with an engagement rate of 67%.There has been a gradual progress since our dApp launch and the odds have been in our favor as a result of collaborated team effort.
Which is the tipping method on the site?
We offer a unique and hassle-free payment structure, users can tip models on the site with Credits.
Credits on SugarBounce can be bought either via credit/debit cards or SugarBounce's native crypto currency $TIP.
Following our integration with Biconomy, a multi-chain relayer protocol, users can now buy Credits without paying any gas fees on crypto payments and enjoy high-quality, superior NSFW live streaming.
How many models do you currently have on the site?
We have onboarded more than 800 models from all across the world in the male, female and LGBTQ+ and anime categories, post the launch of our revolutionary adult cam site.
Are you interested in any country? Do you plan to work with Romanian models?
We endeavor to expand our horizon across the globe by welcoming cam models from all parts of the world to showcase their talent and empower them with resources to grow their fan base and monetize their art.
Romania is a global leader in adult live camming and there is, without a doubt, an abundance of potential raw talent in the country. We are already working and will continue to work with Romanian models. Very interestingly we have had a couple of Romanian studios who have been with us since launch.
Also with growing usage of cryptocurrencies in Romania, we plan to set up ideal financial structure by implementing crypto payment systems that allow customers to pay for their adult content without any issues, chargebacks or discrimination at the hands of financial institutions.
What is the difference between you and the other platforms?
Well to start with, our streaming network is a completely decentralized Web-rtc based p2p streaming network which only keeps getting better as more and more users come and join the platform. Also very soon we will be introducing a watch to earn feature where users can opt to be a node in our streaming network and then earn monetary rewards while they are on the platform watching their favorite performer stream.
• We also have our own native cryptocurrency $TIP and users can tip their models at very competitive prices.
• SugarBounce is all about storage security and data encryption. Users can enjoy their favorite content without fearing possible identity theft or falling victim to credit card fraud.
• We also have one of the highest payouts for models 0.08$ for every credit
• We are also making drastic changes to our affiliate program where models will be able to supercharge their income to 112%
Why NFT? How do the cam models/creators respond to them?
How do the NFT's help the models?
NFTs are the current talk of the commerce and are gaining massive exposure in the mainstream crypto market.
Basically what NFTs do is solve the issue of content ownership as NFTs are not just artwork , Today anything can be backed by NFTs from videos to art to even a piece of clothing making it unique and the owner of that NFT can then reap monetary benefits from its sale or trade for life without the fear of duplication and that is why it's a game changer for models and they should get on it.
SugarBounce is decentralizing the process of creating adult content by returning the power to its rightful owners — the NSFW artists. Another one of our unique verticals – Sugar Markets takes us a step closer in achieving this goal.
In a nutshell, SugarBounce's NFT platform, built on ERC-721, creates an efficient framework for creators to launch an NFT and earn perpetual income from its resales.
Where do you see SugarBounce in the next 2-3 years?
In the next 2-3 years realistically we would like to be in the top 10 camsites in the world.
Centralization is at the core of the problem of the adult entertainment industry.Be it in terms of censorship or running into a conflict with the banking system or other monopolies. By replacing banking support with cryptocurrency, platforms like ours present an alternative to the age-old centralized financial system.
We endeavor to preserve the anonymity of our viewers and creators and overcome some of the most prominent issues within the traditional adult industry including chargebacks, payment processor restrictions, discrimination at the hands of financial institutions, blocked payments etc. by integrating payments via cryptocurrencies.
Our Ecosystem seeks to disrupt how NSFW content is consumed around the globe in the booming era of Web3 by giving rise to a new economy interconnected with its native cryptocurrency $TIP and brings in an amalgamation of P2P streaming, IPFS, and NFT Tech to bring a never-seen-before NSFW experience to viewers.
Tell us a little about Sugar Starter.
Sugar Starter is a unique never-before- done before crowdfunding platform for newcomers and existing content creators in the porn industry where they can crowdfund their entire journey in the adult film industry and not have to go through the exploitation by middlemen like casting agents and talent managers.
Our one-of-a-kind platform will allow new and existing talent to build niche content proposals that will be listed as a pool on Sugar Starter. Investors will contribute by staking capital in these proposal pools and own this content as NFTs along with the creators. Both the content creators and investors can earn monetization revenue for a lifetime as the owners of the NFT backing the content. While the viewers can watch this content for a predetermined price. Sugar Starter creates a perfect avenue for the NSFW artists to fuel their growth as an independent entity and protects them from capital thefts by industry moguls.
What type of models do you target?
So at this point we are targeting all models . Be it Independent or studio models or models that have a particular niche or models from a particular geographical location . Honestly we want them all. We didn't want to restrict ourselves to a particular section as we wanted to have a wide range of models and content that we offer on our site.