Let us introduce you to the fantastic and seductive Bella Maori! Her exceptional allure knows no bounds! Even her eyes radiate cosmic sexuality! Her juicy lips whisper seductive words, and her brown-eyed blaze with the fire of just awakening passion!

Do you work exclusively on only one cam site? Or do you prefer several cam sites?
I work exclusively on Myfreecams.
Finish this sentence: If I ruled the world one day, I would…
End homelessness, free all caged farm animals, and make sure no one goes hungry.
Do you have any regrets since you started camming?
No, it's empowering, and I love it.
Do you have a secret power?
I'm an empath and can feel things that most people don't.
If you could rename the cam site you work with, what name would you give it?
I think Myfreecams fits perfectly with the brand. I wouldn't change a thing.
What is your biggest turn-off?
My biggest turn-off is bad hygiene. I don't care how good you look if you have BO, I'm out of there!
What is the weirdest thing you've done while alone?
One time I took an Ambien because I was suffering from insomnia. I ran outside without a shirt wearing basketball shorts chasing after my dog, and I took all the fish ornaments out of my fish tank. It was a wild experience. I never retook Ambien after that.
If you could ask for three wishes right now, what would you ask for?
A mansion, end homelessness, and a billion dollars.
What would be the next step in your career?
I'd like to land a leading role in a mainstream Hollywood film. That's my ultimate goal.
Tell us about a memorable cam life experience.
One of the most memorable cam life experiences was when someone asked me to sing the baby shark song, and that's all the person wanted me to do. It was really funny but strange.
What is the craziest thing you ever did for love?
When I was in High School, I decided to do a surprise visit to my boyfriend at the time. I rode the city bus for 2 hours, and when I got there, he wouldn't let me in the house because another girl was there and he had hickies on his neck. It was wild.
What has been your favorite memory since you started streaming?
To be honest, all of my shows are memorable, so it isn't easy to pick one. But if I had to, it would be my first-day camming, and I was so lost and didn't know what I was doing. It was a disaster, but everyone was so nice.
What do you do to maintain your beauty?
I eat healthy, drink tons of water, and moisturize like no one's business, lol. I only wear makeup for special occasions. I exercise daily, but I have to admit that sometimes I'll eat some pizza, hahaha.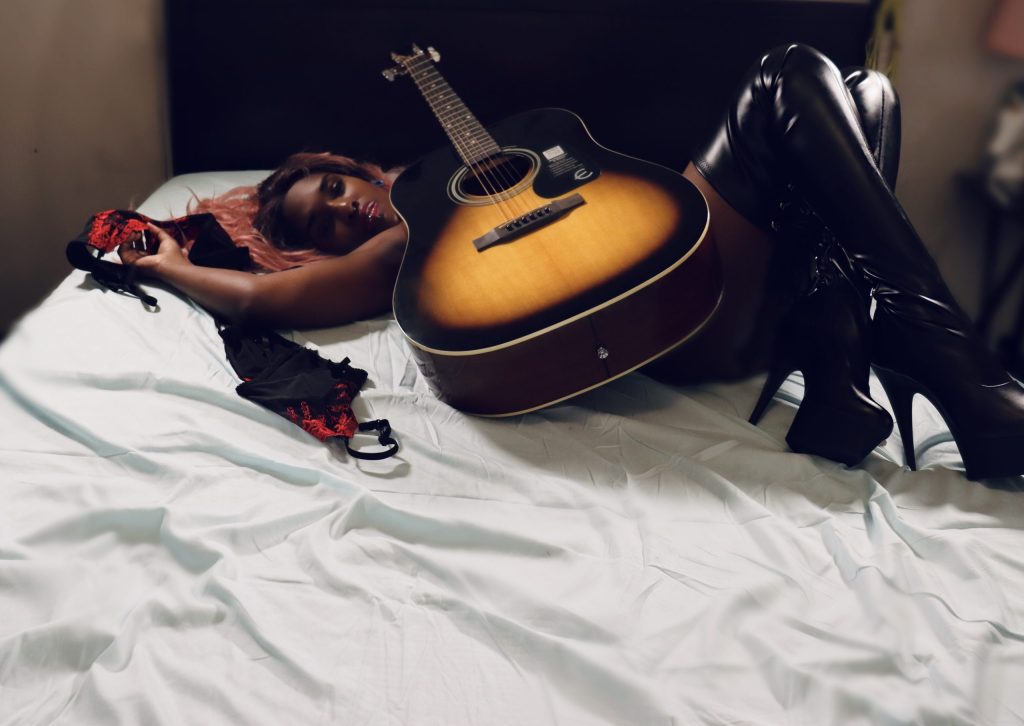 What is the main quality that you seek in others?
Sincerity.
What stands between you and your greatest goal?
I doubt myself sometimes.
What's the stupidest excuse to get out of a bad date?
I need to pick up my mum from the airport.
Did you ever fall in love with someone you met online?
No.
What is the dirtiest compliment you've ever received?
I was told that I have WAP.
What would be the title if someone wrote a biographical book about you?
"A devil with angel wings."
What is the most courageous thing you have done in your life?
Stood up to an abuser. It was awesome!
What would you like to tell your fans?
My fans mean so much to me because they are the reason why I am here. I want to say thank you for believing in me and my career and that I love you to pieces.
Where is the strangest place you've ever had sex?
On a bike trail in the middle of the night.
What movie brings you to tears even on the tenth screening?
Blue Valentine.
What turns you on almost instantly?
Bad boys, masculinity.
What's the biggest lesson life has taught you?
Don't worry about what people think about you. Just live your best life.
What's your favorite family recipe?
My mother's rice pudding is fire!
What's the number of times you've had sex in a row?
Six times.
If you had to describe yourself as an animal, which one would it be?
A fox.
Do you prefer to give or receive?
I prefer to give.
What do you do to keep fit?
I work out five times a week, eat healthy, and drink lots of water daily.
Have you ever had an inappropriate crush?
Yes. I once thought I was in love with one of my professors.
Have you ever tried using food during foreplay?
Yes, and it's fun until afterward, when you have to clean up the food
What is one thing you will never do again?
That's a difficult question to answer because whenever I say I'll never do something, I always end up doing it again.
What celebrity would you like to meet at Starbucks for a cup of coffee?
I want to meet Daniel Kaluuya. He's an amazing actor.
How would you make me have an orgasm?
I can't reveal my secrets.
Where on your body is your favorite place to be touched? And how?
My inner thigh. When touched there gently, it drives me insane.

bellamaori.com



Seska Lee Wins Spotlight With FansRevenue
CHICAGO, NOVEMBER 30th, 2023 — Live cam industry veteran Seska Lee has been crowned
winner of FansRevenue's first high-profile contest for cam models and adult content creators.
The 52-year-old performer has been in adult entertainment since 1998, making her one of the
industry's pioneers worldwide. Earlier this year, she was nominated at the 2023 XBIZ Creator
Awards and featured among Streamate's top earners.


"We are thrilled to have found Seska through this contest and, amazingly, it coincides
with her 25th career anniversary," says Olivier Tremblay, FansRevenue's marketing
director. "She's a true ambassador for the whole cam industry, past, present and future.
We feel it's the start of a great partnership between Seska and FansRevenue to help
further her monetize her loyal fanbase!"

Seska Lee is part of the TreasureCams agency led by award-winning performer Bella Vendetta,
whom she considers a mentor, guiding her through an industry completely different from what it was in the late 1990s. She is also an avid fan of neoburlesque and was part of several troupes
and productions over the years (The Coral Lees, Team Burlesque, Acme Burlesque).

She ran her own amateur adult website from 1998 to 2010. She then spent the next decade
studying holistic well-being, working as an intimacy educator and speaking at conferences or
universities about her life and career. She has been back in front of her webcam since 2020,
fully embracing her body and age: "[Ultimately], I want to show that a woman with a natural
body and gray hair can be vivaciously empowered […] on her terms."

An exclusive interview with Seska is available right now on FansRevenue's blog. She will host
her first Jerkmate live show on December 2 nd, 2023, at 8 am ET. Seska is also very active on
social media on Instagram, her free OnlyFans and X (Twitter). To learn more about Seska's 25 years in the adult entertainment industry, click here.

What is FansRevenue?
FansRevenue is the #1 monetization platform for Cam Models, Adult Content Creators and
influencers, powered by CrakRevenue and backed by over 13 years of digital marketing
expertise. Using an innovative combination of influencer and affiliate marketing, FansRevenue
helps content creators monetize their following by matching
Candy Preferences:
I have a sweet tooth that loves balancing tangy and sweet flavors. Sour gummies and chewy candies are favorites, but I also can't resist rich, melt-in-your-mouth chocolate, be it dark, milk, or white.
Spooky Stories:
During a live cam session, I mistook a postman outside for a stalker, causing a heart-racing moment. It turned out to be a humorous mix-up, with my viewers laughing as I comically used a Hitachi massager for defense!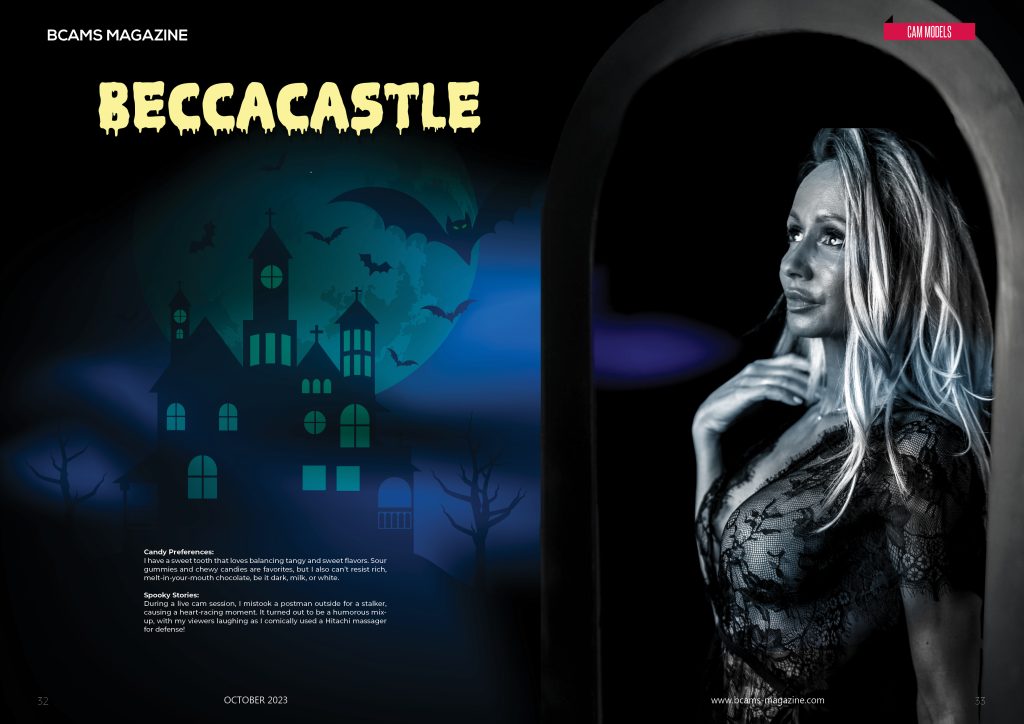 Candy Preferences:
I'm a big fan of fruity Tootsie Rolls—the little skinny ones, and JuJu Bees. They're my absolute favorites for their unique, fruity taste.
Spooky Stories:
I've always felt a ghostly presence around me. In my last apartment, it even scared @AriaHaze_XXX by knocking things over in the bathroom. Also, the tale of the Headless Horseman is my favorite; the idea of a horse charging at me is genuinely terrifying.