10 Sugar Daddies Sites 2022
Are you a normal job kind of person, or do you prefer a sugar daddy?
Well, if you are here reading this, then that means you are already bored of your day job, and you're likely interested in a sugar daddy dating lifestyle. If so, then you came on the right page as we've already done the research for you, and we've made a huge list of the top sugar daddy dating websites.
There are some amazing benefits to both sides of the sugar dating equation, from a more than satisfying sexual appetite to traveling the world with someone you really enjoy spending time with.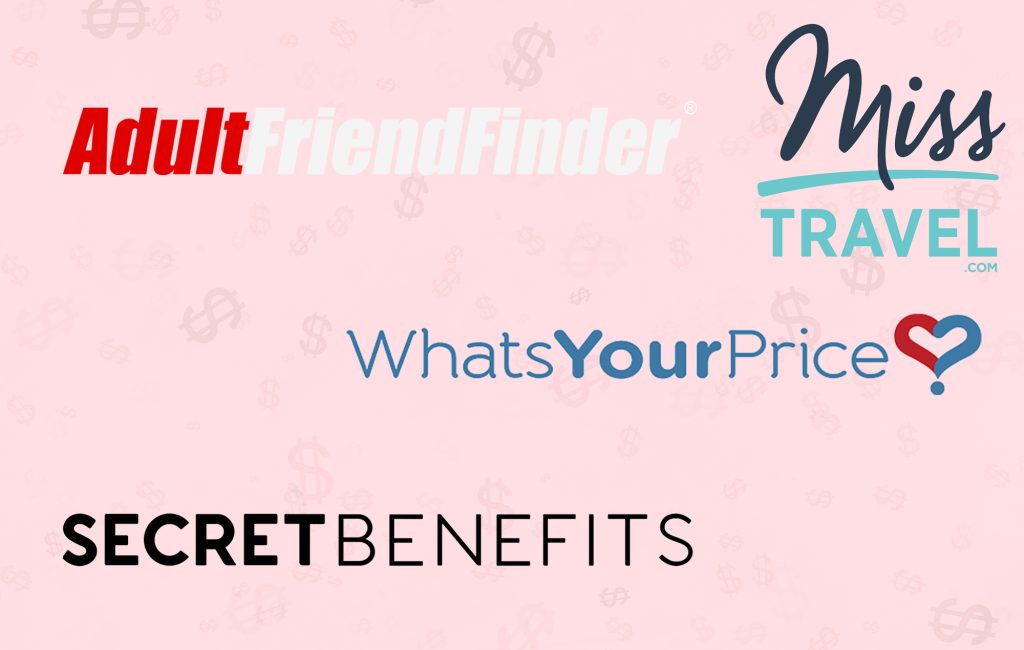 AdultFriendFinder – A Versatile Dating Platform Originally, Adult Friend Finder was designed to be a casual hookup site, but given that it's got one of the largest numbers of active accounts – why not include sugar dating, too? Plus, not to mention that the users on this site come from diverse backgrounds, so you can quickly turn this from a regular old casual dating site to a sugar hookup platform. However, since AFF wasn't created to be a sugar daddy website, the transactions with your chosen sugar baby will be done outside of the platform. There is a silver lining! AdultFriendFinder is well aware that some of their users like to date, well, sweetly. So, they took it upon themselves to also provide both sugar babies and daddies with helpful guides and reading materials to help them properly conduct sugar dates on the platform.
Seeking – Most Popular Sugar Daddy Dating Site in the world
Seeking was founded in 2005, and since then, the site has gained popularity and also good reviews, boasting a relatively male and female ratio. The site has an easy interface and is both mobile and desktop friendly, making it easy to find your perfect match.
Your profile can specify everything from a detailed "about" section to personal habits and the exact type of connection you hope to find. Among the pros of this site, we can find specifications like free sugar babies, free trials for sugar daddies and mommies, a mandatory net worth verification, and plenty of good news and media coverage. As nothing is perfect, well, this site isn't too. The cons for this site are the screening process which sometimes can miss fake profiles.
What's your price – Bid on your next date
What's Your Price is definitely one of the more revolutionary forms of sugar dating available today, being described by many as an eBay of sorts, allowing men to bid on dates during auctions. Basically, as a sugar baby, you can upload a photo, in this site's case, only women, pass the verification process, and post a date up for auction, which the sugar daddies, men only, can bid on.
Since the data is based on the amount of money a person can pay, What's Your Price has found a great way to make everything function easily. Basically, if the man can't pay, he won't get the date! But this shouldn't scare anyone as the most common prices range between $80 – $100.
The pros of this site are that you can manually purchase credits, binding on first dates, 24/7 assistance, and verification service. Not everything is pink here! The most important con for this site is that the guests can't see the profiles registered.
Remember, profile photos are verified on this platform, so you won't have to worry about showing up and facing the possibility of your date not looking at all like the photo.
SecretBenefits – Discreet Sugar Daddy Website
SecretBenefits is another sugar dating website that offers plenty of great features to earn its spot as one of the top three. Among its pros, you can find the strict photo verification system, and the sugar babies get to use the site for free, quick account verification, plus you get no monthly payments. The only thing negative about it is that they don't have a mobile app.
SecretBenefits focuses heavily on being as discreet as possible and allows users to upload photos to a secret album meant only for their connection or connections.
Unfortunately, discreet as it might be, SecretBenefits is for female sugar babies looking to meet male sugar daddies only – which leaves a slight demographic gap in the equation.
The site can easily be accessed by anyone from any internet-connected browser, whether it be on your smartphone, tablet, or PC. You can purchase credits to contact other users on SecretBenefits, and it's nice not to have that monthly commitment if you're too busy to log on or you meet your match for the time being. Overall, SecretBenefits is a reputable sugar daddy site that's worth checking out.
Miss Travel – Luxury Sugar Daddy Dating Site
Miss Travel is a luxury dating site where the Attractive Traveler specifies her dream vacation. If the generous sugar daddy wants to whisk her away, he can send a message to connect. Chat to get to know each other, figure out your travel plan, then hop on a plane and satiate your wanderlust!
So, does your dream date include an exotic location?
If yes, and if you're looking for a luxury travel partner, then Miss Travel is the perfect sugar baby site for you!
Pros: Made with sugar vacations in mind, transacted using customized trips, guaranteed safe & secure platform.
Cons: no other sugar payment methods, long verification process.
If you are a married person, then the site, Ashley Madison, is just perfect for you. Ashley Madison is infamous for being a site that's dedicated to extramarital affairs. As such, AM isn't necessarily a sugar daddy or sugar baby website, but it sure as hell can be used like one!
If you wish for a good connection with customer support, just in case you need it, EstablishedMen is your sugar daddy dating site. EstablishedMen understands that the traditional sugar daddy tends to lean toward the older side of the spectrum, which is probably why they've emphasized providing their members with some of the most user-friendly features available.
The best for mobile sugar dating is RichMeetBeautiful.
RichMeetBeautiful touts itself as one of the most secure sugar baby apps out there. This is a platform where a sugar daddy can find a real, verified girl with whom they can get into a relationship. That's all thanks to how RMB does its verification process for new accounts.
In fact, they take time to let you know the kind of security measures they take to ensure that their website has nothing but 100% legit accounts – with absolutely no catfishing, scams, or trolls allowed.
If you're looking for an older sugar daddy, then EliteSingles is the right sugar daddy dating site for you. Made with the traditional sugar daddy in mind – meaning an older man with bags of cash – Elite Singles makes sure that even guys who have never used a dating app before can take advantage of what their platform has to offer.
You're going to find that this sugar daddy app has a reasonably large community with a decent male-to-female ratio, which means you and your fellow sweet pops won't have to compete with each other just to connect with a sugar baby.
And last but not least, if you're looking for a premium sugar daddy dating site, SuggarDaddie is what you're looking for!
This platform is also one of the most exclusive, with some of the most strict verification processes. All that to ensure only the biggest fishes and the sweetest sugar baby pros get to join.
You might have gotten soft with age, but that doesn't mean you can't always go hard into blowing your stack on sugar dates, which is exactly what SugarDaddie is for. Think of this sugar daddy site as the most luxurious among the already luxurious sugar dating niche.
Having gone through these highly recommended best sugar daddy websites, all that remains is for you to decide which one suits your needs most. Remember that you can sign up with more than one site. Go on, make that move right now. Read more articles in our magazine

Octav Moise Set To Retire From Industry; Sells Paxum Brand And Assets
Octav Moise clarified exclusively to BCAMS Magazine that he sells the Paxum brand and the assets. This sale was not related to the controversy surrounding Paxum Bank in Russia. PAXUM Bank and Paxum Inc. are not part of the same group and are not connected in any way, offering independent services and operating in different fields.

"It has been both a privilege and a pleasure to lead the development of Paxum into one of the premier global payment platforms," he said. "I have truly enjoyed working with so many talented and devoted colleagues, and building long-term relationships with our clients. I am proud of our many accomplishments and I look forward to making a smooth transition with as little disruption as possible to the positive momentum that Paxum has established."
Moise has been at the helm of Paxum for 16 years. Under Moise's stewardship, Paxum has won multiple Awards for Payment Services Company of the Year. Currently, "he is enthusiastically pursuing business in the renewable energies field," said a rep.
He went on to add, "I know I've made a difference with Paxum, and I'm satisfied I'm leaving Paxum in capable hands moving forward. In fact, I'd like to take this moment to acknowledge and thank my many friends, clients, colleagues and the entire industry for all the support and memorable moments we've enjoyed together over the years. I'm excited for my future projects, and I hope our paths will cross again."

We wish you good luck with your new projects, Octav!



Tinder: Action Against OnlyFans and Sugar Daddy Ads on Its Platform
Tinder is taking a tough stance on users who try to promote businesses or advertise sex work on the dating app. The company has announced that it will remove any social media handles listed in public user profile bios to combat this behavior. "Tinder is not a place to promote businesses to try making money. Members shouldn't advertise, promote, or share social handles or links to gain followers, sell things, fundraise, or campaign," Tinder announced on Thursday. This policy refresh is designed to keep the app a "fun and safe place" for meeting people where "realness" is key, according to Tinder.

"To guide these younger daters as they start their dating journey, Tinder is using this policy refresh to remind and educate members about healthy dating habits — both online and in real life," said Tinder's senior vice president of member strategy Ehren Schlue. "Tinder isn't the place for any sort of sex work, escort services, or compensated relationships. So, no — don't use Tinder to find your sugarmamma."
The dating app's updated community guidelines go further, with a new paragraph explicitly stating that Tinder is not the place for any sort of sex work, escort services, or compensated relationships. This is part of the company's effort to distance itself from the hookup app label it has been given in the past and redefine its cultural significance away from hookups and towards healthy relationships.
Stripchat: Users Can Join Your Fan Club Faster for Tokens
Stripchat has just made it easier than ever for fans to join your Fan Club—with tokens!

This revolutionary new payment system takes away the hassle of filling out forms and allows fans to join for longer periods than just one month. To ensure that your Fan Club members keep their subscriptions renewed, upload new content regularly and provide exclusive custom benefits for the three tiers: Soldiers, Lords, and Princes. Additionally, stay in touch with your Fan Club members to keep them engaged.