10 Sugar Daddies Sites 2022
Are you a normal job kind of person, or do you prefer a sugar daddy?
Well, if you are here reading this, then that means you are already bored of your day job, and you're likely interested in a sugar daddy dating lifestyle. If so, then you came on the right page as we've already done the research for you, and we've made a huge list of the top sugar daddy dating websites.
There are some amazing benefits to both sides of the sugar dating equation, from a more than satisfying sexual appetite to traveling the world with someone you really enjoy spending time with.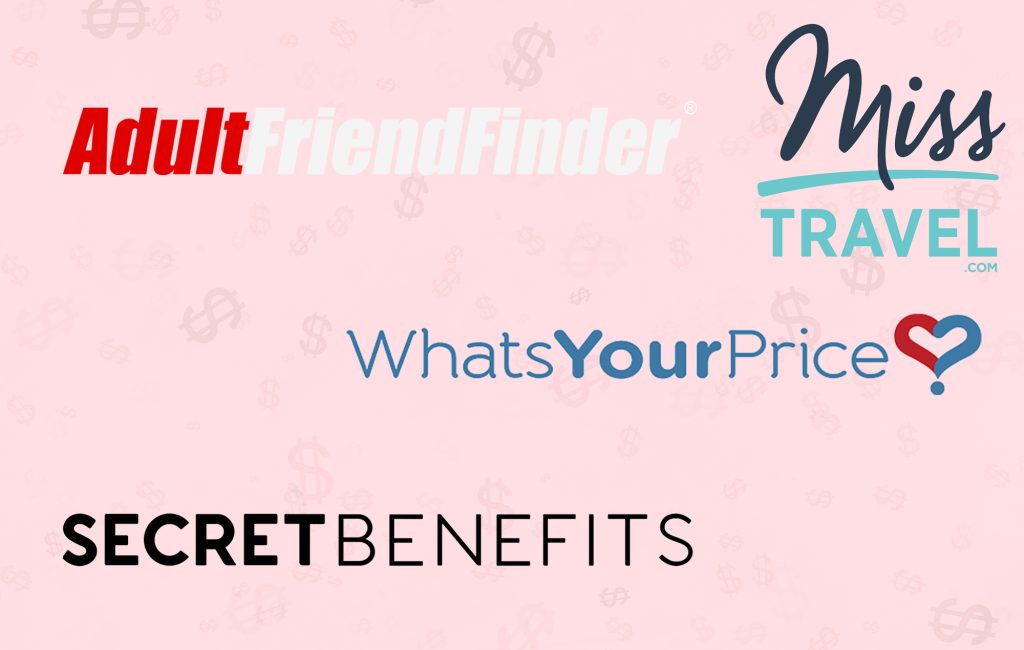 AdultFriendFinder – A Versatile Dating Platform Originally, Adult Friend Finder was designed to be a casual hookup site, but given that it's got one of the largest numbers of active accounts – why not include sugar dating, too? Plus, not to mention that the users on this site come from diverse backgrounds, so you can quickly turn this from a regular old casual dating site to a sugar hookup platform. However, since AFF wasn't created to be a sugar daddy website, the transactions with your chosen sugar baby will be done outside of the platform. There is a silver lining! AdultFriendFinder is well aware that some of their users like to date, well, sweetly. So, they took it upon themselves to also provide both sugar babies and daddies with helpful guides and reading materials to help them properly conduct sugar dates on the platform.
Seeking – Most Popular Sugar Daddy Dating Site in the world
Seeking was founded in 2005, and since then, the site has gained popularity and also good reviews, boasting a relatively male and female ratio. The site has an easy interface and is both mobile and desktop friendly, making it easy to find your perfect match.
Your profile can specify everything from a detailed "about" section to personal habits and the exact type of connection you hope to find. Among the pros of this site, we can find specifications like free sugar babies, free trials for sugar daddies and mommies, a mandatory net worth verification, and plenty of good news and media coverage. As nothing is perfect, well, this site isn't too. The cons for this site are the screening process which sometimes can miss fake profiles.
What's your price – Bid on your next date
What's Your Price is definitely one of the more revolutionary forms of sugar dating available today, being described by many as an eBay of sorts, allowing men to bid on dates during auctions. Basically, as a sugar baby, you can upload a photo, in this site's case, only women, pass the verification process, and post a date up for auction, which the sugar daddies, men only, can bid on.
Since the data is based on the amount of money a person can pay, What's Your Price has found a great way to make everything function easily. Basically, if the man can't pay, he won't get the date! But this shouldn't scare anyone as the most common prices range between $80 – $100.
The pros of this site are that you can manually purchase credits, binding on first dates, 24/7 assistance, and verification service. Not everything is pink here! The most important con for this site is that the guests can't see the profiles registered.
Remember, profile photos are verified on this platform, so you won't have to worry about showing up and facing the possibility of your date not looking at all like the photo.
SecretBenefits – Discreet Sugar Daddy Website
SecretBenefits is another sugar dating website that offers plenty of great features to earn its spot as one of the top three. Among its pros, you can find the strict photo verification system, and the sugar babies get to use the site for free, quick account verification, plus you get no monthly payments. The only thing negative about it is that they don't have a mobile app.
SecretBenefits focuses heavily on being as discreet as possible and allows users to upload photos to a secret album meant only for their connection or connections.
Unfortunately, discreet as it might be, SecretBenefits is for female sugar babies looking to meet male sugar daddies only – which leaves a slight demographic gap in the equation.
The site can easily be accessed by anyone from any internet-connected browser, whether it be on your smartphone, tablet, or PC. You can purchase credits to contact other users on SecretBenefits, and it's nice not to have that monthly commitment if you're too busy to log on or you meet your match for the time being. Overall, SecretBenefits is a reputable sugar daddy site that's worth checking out.
Miss Travel – Luxury Sugar Daddy Dating Site
Miss Travel is a luxury dating site where the Attractive Traveler specifies her dream vacation. If the generous sugar daddy wants to whisk her away, he can send a message to connect. Chat to get to know each other, figure out your travel plan, then hop on a plane and satiate your wanderlust!
So, does your dream date include an exotic location?
If yes, and if you're looking for a luxury travel partner, then Miss Travel is the perfect sugar baby site for you!
Pros: Made with sugar vacations in mind, transacted using customized trips, guaranteed safe & secure platform.
Cons: no other sugar payment methods, long verification process.
If you are a married person, then the site, Ashley Madison, is just perfect for you. Ashley Madison is infamous for being a site that's dedicated to extramarital affairs. As such, AM isn't necessarily a sugar daddy or sugar baby website, but it sure as hell can be used like one!
If you wish for a good connection with customer support, just in case you need it, EstablishedMen is your sugar daddy dating site. EstablishedMen understands that the traditional sugar daddy tends to lean toward the older side of the spectrum, which is probably why they've emphasized providing their members with some of the most user-friendly features available.
The best for mobile sugar dating is RichMeetBeautiful.
RichMeetBeautiful touts itself as one of the most secure sugar baby apps out there. This is a platform where a sugar daddy can find a real, verified girl with whom they can get into a relationship. That's all thanks to how RMB does its verification process for new accounts.
In fact, they take time to let you know the kind of security measures they take to ensure that their website has nothing but 100% legit accounts – with absolutely no catfishing, scams, or trolls allowed.
If you're looking for an older sugar daddy, then EliteSingles is the right sugar daddy dating site for you. Made with the traditional sugar daddy in mind – meaning an older man with bags of cash – Elite Singles makes sure that even guys who have never used a dating app before can take advantage of what their platform has to offer.
You're going to find that this sugar daddy app has a reasonably large community with a decent male-to-female ratio, which means you and your fellow sweet pops won't have to compete with each other just to connect with a sugar baby.
And last but not least, if you're looking for a premium sugar daddy dating site, SuggarDaddie is what you're looking for!
This platform is also one of the most exclusive, with some of the most strict verification processes. All that to ensure only the biggest fishes and the sweetest sugar baby pros get to join.
You might have gotten soft with age, but that doesn't mean you can't always go hard into blowing your stack on sugar dates, which is exactly what SugarDaddie is for. Think of this sugar daddy site as the most luxurious among the already luxurious sugar dating niche.
Having gone through these highly recommended best sugar daddy websites, all that remains is for you to decide which one suits your needs most. Remember that you can sign up with more than one site. Go on, make that move right now. Read more articles in our magazine

Paedophiles Admit: Abusing Children in Virtual Reality is 'Stupidly Easy'
The NSPCC has highlighted the disturbing ease with which predators exploit children in virtual reality (VR) worlds, following an in-depth investigation supported by the National Crime Agency (NCA). The study revealed that inadequate age verification and regulation have allowed offenders to craft scenarios, like VR strip clubs, to exploit children.

The immersive nature of VR, paired with avatar use, often desensitizes both the child and the perpetrator, facilitating abuse. An individual, convicted of abusing children through VR, described the ease of accessing servers that cater to such criminal activities using VR headsets.
The rise of advanced technologies, including "phantom" or "simulated" touch, which replicate physical sensations, further entices abusers. James Babbage from the NCA voiced concerns about the technology, especially "haptics" – tactile sensations in VR that mirror real-life touch.
The Online CSA Covert Intelligence Team (OCCIT) stated, "Virtual reality and the metaverse present significant challenges for law enforcement and the safeguarding of vulnerable individuals."
While only 6% of households possess VR, its popularity among teenagers in the US suggests future demand in the UK. There have already been instances of UK children being groomed, notably through VR environments.
The report remarked, "VR's unique blend of physical presence, online anonymity, and often sexualized ambience makes it a haven for offenders." Some platforms also discreetly set lower age limits, and the kid-friendly appearance of many VR games can mislead parents. The absence of rigorous identity checks in VR allows offenders to operate without fear of repercussions.
Highlighting the severity, the study cited a user review that labeled a major platform as a hotbed for predators. The NSPCC warned of the potential manipulation by sexual predators using seemingly innocent avatars, like the reported case of an offender posing as a cartoonish ginger cat.
Richard Collard of the NSPCC stressed the importance of integrating emerging technologies into the Online Safety Bill and advocated for a collective effort from educators, parents, policymakers, and tech industries to ensure child safety.


BCAMS Magazine, the 18th issue!
The independent livecam industry resource for news and tips & tricks for cam models and camsites.
Step into a world where August's warmth envelops captivating stories of grace, resilience, and charm embodied by sizzling models. Immerse yourself in their life narratives, uncover the secrets behind radiant skin, and find inspiration in the latest fashion trends. This issue seamlessly blends beauty insights with empowering tales, becoming your essential summer companion.

In a branding-driven era, witness an unexpected clash between a New York eatery and adult industry titan Mindgeek over a disputed logo. This clash highlights businesses' efforts to protect brand identities. Simultaneously, the digital landscape of live webcam performances evolves with platforms like XloveCam.com and Sex.Cam offering a dance between intimate premium shows and expansive freemium content. Empowering performers through a unified signup, these platforms optimize visibility, engagement, and earnings.
Amid self-expression and digital progress, emerge two subcultures spotlighting human passions. "Dollification" unveils individuals embracing transformation as life-sized dolls, transcending gender norms. Simultaneously, the rise of cosplay showcases modern women's shift from passion to profitable profession, uniting through the capacity to reimagine oneself.
Navigate the dynamic landscape of human sexuality where personal inclinations meet societal discourse. Enter Toronto's 'Come As You Are' store, championing bespoke pleasure. Explore the complexities of the "free use" fetish, igniting debates about consent and the digital shaping of desires. On platforms like X, the fusion of meme culture and NSFW content explores the duality of exploitation and empowerment, delving into the connections between morality, technology, and society in the digital age.
Clash of Logos: Pornhub's Legal Battle with a New York Eatery
In a quirky clash that underscores the importance of branding and trademark protection, adult site Pornhub's parent company, Mindgeek, has set its sights on a small New York eatery's logo, raising concerns of potential customer confusion. The legal dispute revolves around Döner Haus, a charming German restaurant, and its logo which, according to Mindgeek, strikingly resembles their own, and has the potential to befuddle users.

A Bizarre Battle Unfolds
Mindgeek's latest legal escapade comes in the form of a trademark skirmish with the modest yet well-loved Döner Haus. The heart of the matter lies in the uncanny resemblance between the two entities' logos and names. Mindgeek asserts that this likeness poses a legitimate threat of confusion among its users, who may mistakenly associate the restaurant with the explicit content it provides.
Döner Haus, a fast casual dining spot with a focus on authentic German flavors and family-friendly ambience, was left bemused by the accusation. Its logo features a similar aesthetic but incorporates a German umlaut over the "o" in "Döner," making it distinct from the adult site's branding. Despite the clear differentiation and the restaurant's unrelated nature, the legal gauntlet was thrown.
The Cease and Desist Letter
Mindgeek's legal team issued a cease and desist letter to Döner Haus, pressing for a change in logo and name. The letter underscored the potential confusion that could arise among Pornhub's clientele, urging the restaurant to align with their demands before August 7th, 2023. If the request remains unmet, Mindgeek threatens to escalate the matter to the legal arena.
A David vs. Goliath Narrative
In a classic David vs. Goliath scenario, Döner Haus finds itself in a position of disbelief and frustration. The restaurant's representative, Pauline Phan, expressed incredulity at the suggestion that diners might confuse savoury German cuisine with explicit content. Phan dismissed the notion as "comical as it is preposterous," emphasising the substantial differences between their establishments.
Stephen L. Baker, the attorney championing Döner Haus's cause, raised valid doubts about the legitimacy of Mindgeek's claims. He questioned the evidence supporting the assumption that consumers in the United States would associate a family-oriented eatery with a risqué website.
Trademark Tussles in the Business Landscape
This dispute is hardly an anomaly in the world of business, where companies of all sizes zealously protect their intellectual property. Trademark battles are commonplace as they can lead to detrimental customer confusion, potentially granting undue advantages to one party at the expense of the other. In a global marketplace where ideas and identities are shared and often replicated, safeguarding intellectual property has become paramount.
Conclusion: Defending Distinct Identities
As the clash between the playful Döner Haus and the powerful Mindgeek unfolds, it brings to light the significance of visual identities and the lengths companies go to protect their brands. In a world where even the most unlikely contenders can end up in legal duels, the need to differentiate and defend one's identity remains crucial. Time will reveal whether Döner Haus can preserve its distinct character in the face of a titan's claims or if a truce will be reached to satisfy both parties' unique appetites for recognition and success.