Study hard, play hard: Math teacher uses Pornhub for calculus lessons
In the era of online education, teachers are finding it close to impossible to hold classes for students in an interesting and enjoyable way. One teacher from Taiwan, however, have come up with the most hardcore way to teach calculus: post the videos on Pornhub.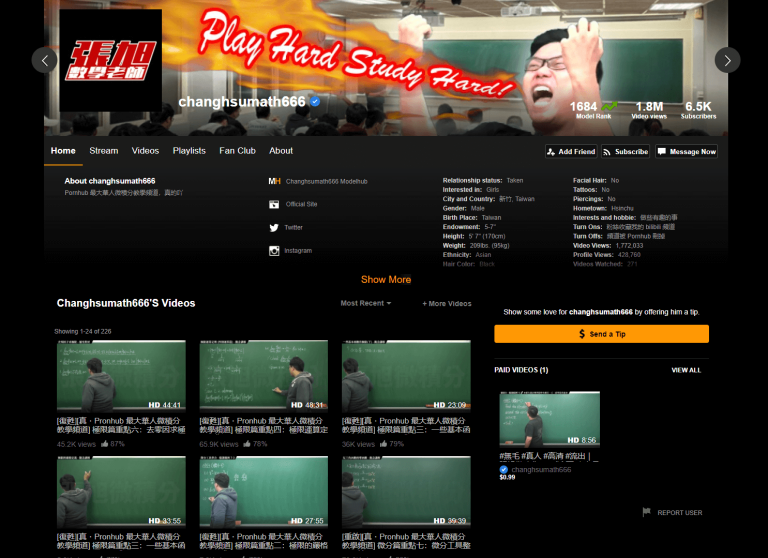 Fantasies with teachers is one of the main kinks on the adult streaming platform. A clip usually starts with a lesson before the learning session goes south. However, a Taiwanese mathematician on the site solves calculus without stripping down in the process.
Changshu, going by the handle changshumath666, has taken his teaching methods to the extreme by uploading over 200 videos of him teaching calculus on the pornographic website.
Changshu holds a master's degree in mathematics and has been teaching both in Taiwanese schools and online for the past 15 years. Talking to Mel Magazine, he originally tried uploading his teaching videos on his YouTube channel, but he didn't do as well as he hoped he would in terms of engagements.
"Since very few people teach math on adult video platforms, and since there are so many people who watch videos on them, I thought that if I uploaded my videos there, a lot of people would see them," said Changshu.
Thus, in 2020, he thought of migrating to the mature video website. Even though his more than 6,500 subscribers on PornHub is lesser than his 22,800 subscribers over at YouTube, he still gets more video views on the unconventional platform. Racking up more than 1.7 million views. His "model rank" puts him at 1,684th place.
He has also tried to take his calculus videos to other pornographic websites but he says that "those platforms know which kinds of videos are adult and which aren't, and they forbid them."
In a recent Ask Me Anything on Reddit, the college math teacher shared some insights on why he chose an unusual platform for his study content. "We like to be special and impressive. Moreover, education shouldn't be that traditional! Learning can be everywhere," said Chang-Hsu.
His videos have recently embraced naughtiness. His team has also brought in known adult entertainers to collaborate on some content. But he claims his channel will never see him strip down.
Whether people visit Pornhub to learn calculus or to drop by his channel for a chuckle, Changshu doesn't mind: "People may not be interested in my videos, but they'll all know there's a teacher who teaches calculus on an adult video platform. I didn't want to teach math on Pornhub. I wanted to let the world know that I'm a teacher from Taiwan who can teach calculus well."
Stripchat: ePayservices No Longer Available After 30th of June
Starting on June 30th, 2023, Stripchat will no longer offer ePayservices as a payment method.


"We know this may surprise some of you, but we're giving you plenty of notice so you can make any necessary changes to your payout method. There are many other payout options available for you to choose from."
To change your payout method, head over to "Payment settings" > "Payment method". From there, you can choose the method that suits you best and save settings.
An article with a list of all payout methods offered by Stripchat can be found here:
support.stripchat.com


Flirt4Free: Office Hours with Stacey White & Izzi, get Your 2,000-Point Boost!
Don't miss out on the next episode of Office Hours, the bi-weekly webinar series from Flirt4Free.com featuring top model Stacey White and one of the site's most successful Flirts, Izzi. Join the conversation on March 22nd at 11 AM PST/2 PM EST to gain valuable insight from their decades of on-cam experience.

Whether you need advice on time management, a better work/life balance, or directions on Flirt4Free site features, Stacey and Izzi have the answers! Sign up for Office Hours here using your stage name and email address and receive a 2,000-point PowerScore boost for participating.
Mark your calendars for more upcoming Office Hours Webinars:
March 22nd, 11 AM PST/2 PM EST w/ Izzi
April 5th, 11 AM PST/2 PM EST
April 19th, 11 AM PST/2 PM EST
BongaCams: Boost Interaction and Earnings with Stream Overlay!
Exciting news from BongaCams!
Introduce Stream Overlay – a chatbot that sends animated images in response to tips!

When you receive a certain amount of Tokens, members will instantly see an animation with your reply message displayed on top of the broadcast. Stream Overlay is sure to spark more interaction and help boost your income!

Configuring Stream Overlay is easy. Simply head over to the "Chatbots" tab and upload an image, GIF, or video along with your text. Set the minimum amount of Tokens that must be sent to trigger the animation. You can create up to 5 animated responses!
Take advantage of Stream Overlay now and make your chatroom even more interactive! Increase your earnings and make your broadcast stand out from the rest.