Massive celebration of the 150 international cam models featured in our past issues!
As the spring is ending, we thought that there is no better way to welcome the upcoming summer!
This issue is a massive celebration of the 150 international cam models featured in our past issues!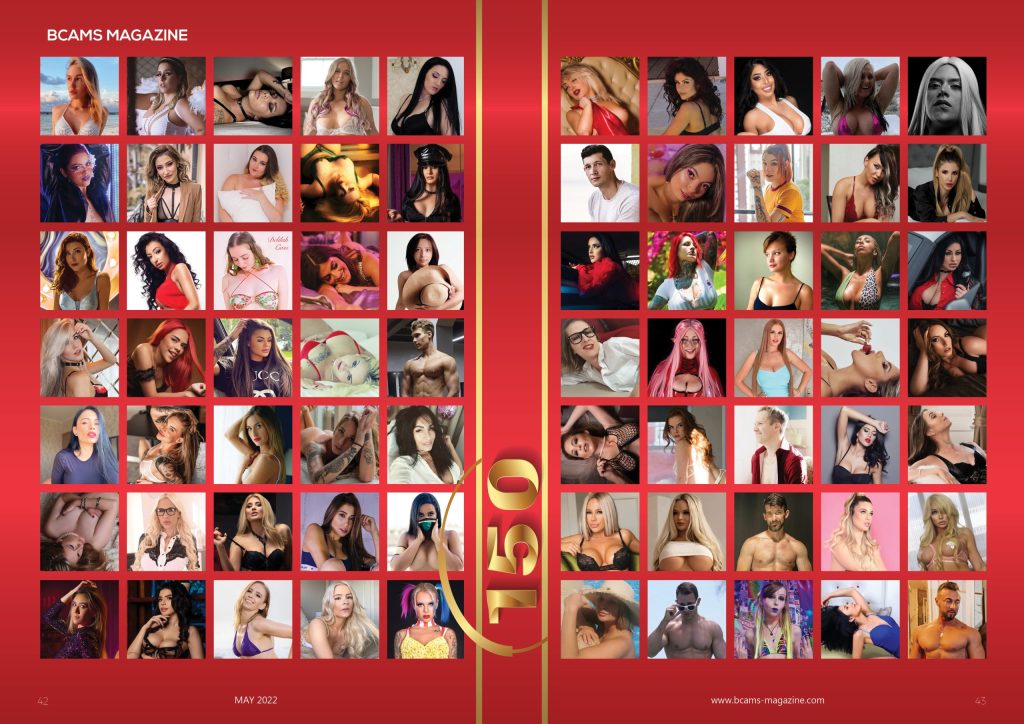 First of all, we want to thank all the models who have been an inspiration for us and for the entire live cam industry in a matter of devotion to their work, for their involvement in growing beautifully our industry, and for being an inspiration for the newcomers in the live cam industry.
So, cheers to the 150! Read more articles in our magazine

Octav Moise Set To Retire From Industry; Sells Paxum Brand And Assets
Octav Moise clarified exclusively to BCAMS Magazine that he sells the Paxum brand and the assets. This sale was not related to the controversy surrounding Paxum Bank in Russia. PAXUM Bank and Paxum Inc. are not part of the same group and are not connected in any way, offering independent services and operating in different fields.

"It has been both a privilege and a pleasure to lead the development of Paxum into one of the premier global payment platforms," he said. "I have truly enjoyed working with so many talented and devoted colleagues, and building long-term relationships with our clients. I am proud of our many accomplishments and I look forward to making a smooth transition with as little disruption as possible to the positive momentum that Paxum has established."
Moise has been at the helm of Paxum for 16 years. Under Moise's stewardship, Paxum has won multiple Awards for Payment Services Company of the Year. Currently, "he is enthusiastically pursuing business in the renewable energies field," said a rep.
He went on to add, "I know I've made a difference with Paxum, and I'm satisfied I'm leaving Paxum in capable hands moving forward. In fact, I'd like to take this moment to acknowledge and thank my many friends, clients, colleagues and the entire industry for all the support and memorable moments we've enjoyed together over the years. I'm excited for my future projects, and I hope our paths will cross again."

We wish you good luck with your new projects, Octav!



Tinder: Action Against OnlyFans and Sugar Daddy Ads on Its Platform
Tinder is taking a tough stance on users who try to promote businesses or advertise sex work on the dating app. The company has announced that it will remove any social media handles listed in public user profile bios to combat this behavior. "Tinder is not a place to promote businesses to try making money. Members shouldn't advertise, promote, or share social handles or links to gain followers, sell things, fundraise, or campaign," Tinder announced on Thursday. This policy refresh is designed to keep the app a "fun and safe place" for meeting people where "realness" is key, according to Tinder.

"To guide these younger daters as they start their dating journey, Tinder is using this policy refresh to remind and educate members about healthy dating habits — both online and in real life," said Tinder's senior vice president of member strategy Ehren Schlue. "Tinder isn't the place for any sort of sex work, escort services, or compensated relationships. So, no — don't use Tinder to find your sugarmamma."
The dating app's updated community guidelines go further, with a new paragraph explicitly stating that Tinder is not the place for any sort of sex work, escort services, or compensated relationships. This is part of the company's effort to distance itself from the hookup app label it has been given in the past and redefine its cultural significance away from hookups and towards healthy relationships.
Stripchat: Users Can Join Your Fan Club Faster for Tokens
Stripchat has just made it easier than ever for fans to join your Fan Club—with tokens!

This revolutionary new payment system takes away the hassle of filling out forms and allows fans to join for longer periods than just one month. To ensure that your Fan Club members keep their subscriptions renewed, upload new content regularly and provide exclusive custom benefits for the three tiers: Soldiers, Lords, and Princes. Additionally, stay in touch with your Fan Club members to keep them engaged.