Meet our gorgeous model XTINA! This goddess of pleasure will make you melt in a few seconds once you step into her room. She's all the wonderful things you have ever thought of and more. This woman knows exactly how to bring all your fantasies to life. The question is, are you ready?
Finish this sentence: If I ruled the world one day, I would…
World Peace!
Do you have any regrets since you started camming?
Wish I had started sooner and absolutely not let what "others think" get in my way!
What is your biggest turn-off?
Beggers, rude, and demanding!
If you were able to ask for 3 wishes right now, what would you ask for?
Healthy family, billionaire, Top webcam model ! 🙂
What would be the next step in your career?
Working my way to the top! I hope that one day I will win some cam awards as well!
Tell us a memorable cam life experience.
The Cam Events I've already been to. I really enjoy going to any Cam events and meeting other models, and also when I meet some of my supporters at one point!
What is your favorite memory since you started streaming?
My members helping me to achieve my goals. As well as on Flirt4free, we work toward certain "badges" you can achieve, and seeing my members that they wanted to help me achieve those as well was amazing!
What do you do to maintain your beauty?
Where do I start! Sleep is key! Fitness abs are a good med spa! It is a must!
What is the main quality that you seek in others?
Humor!
What stands between you and your greatest goal?
Myself and my overthinking!
What is the most courageous thing you have done in your life?
I moved to Las Vegas with no job lined up! Never even been on a freeway until then, so I just packed up my things and left to pursue my dreams and attend school.
What would you like to tell your fans?
Just how grateful I am for all the support! And this is only the beginning!
What is the most important thing you want to change in your life this year?
I want to focus on Camming this year and put everything I have into it!
Where is the strangest place you've ever had sex?
Detroit Tigers baseball game in the stands!
What movie brings you to tears even on the tenth screening?
The notebook and Forest Gump!
What turns you on almost instantly?
A good kisser and blue eyes!
What's the biggest lesson life has taught you?
To relax, just be yourself do the best you can, and not let what others think to stand in your way!
What's the number of times you've had sex in a row?
Three times in a row!
If you had to describe yourself as an animal, which one would it be?
A bunny ! 😉
Do you prefer to give or receive?
I'm a giver!
What's the longest you've gone without sleep (and why)?
Ugh my sleep habits are the worse, maybe 3 days!
What do you do to keep fit?
I love fitness! I'm a cardio queen! I love my spin bike!
Have you ever had an inappropriate crush?
Yes, my high school history teacher, lol!
What is one thing you will never do again?
Date an ex!
What celebrity would you like to meet at Starbucks for a cup of coffee?
Channing Tatum

She is a playful and creative cam model, determined to face her fears and insecurities head-on. She is constantly striving to improve her schedule, engage more with her fans, and build her online presence. She's passionate about creating and maintaining a strong connection with her fans and loves showing her true self on camera. While Alice Elvy is still learning the importance of setting boundaries, she continuously pushes herself in order to provide uniquely romantic and unforgettable experiences to her viewers. From 4 a.m. hookups in the middle of the woods to hiding romantic love notes around her apartment, Alice goes above and beyond to ensure joy and satisfaction with every session.


How do you overcome your fears and insecurities?
I've learned the best way for me to face my fears and insecurities is basically exposure therapy. I used to be terrified of haunted houses, so I started working in one. Terrified of roller coasters? I kept riding them till it was fun one day. Surprisingly I have always been incredibly camera shy and had horrible performance anxiety, but throwing myself into social media and online sex work was really facing these fears for me. Although I still struggle at times knowing I'm on camera, I feel like I've come a really long way. The same with my insecurities, being online in the way I am has really taught me that the things I dislike about myself and would've obsessed over in the past, other people don't see them the way I do. Nobody picks me apart the way I do.
What are your short-term and long-term goals?
My short-term goals are to create a better schedule, stick to my goals, be even more engaged with my fans, and just overall do my absolute best at my job. My long-term goal is honestly to make some sort of a name for myself. I would like to one day be nominated for some awards, maybe even win one. I hope to build a community with my fans and keep building my online presence.
Do you have any regrets since you started camming?
My single regret with camming is not setting stronger boundaries at first. I wanted everyone to like me, so I would try to push myself to do whatever was asked. I've learned boundaries are so important in camming, and you can always say no if you want.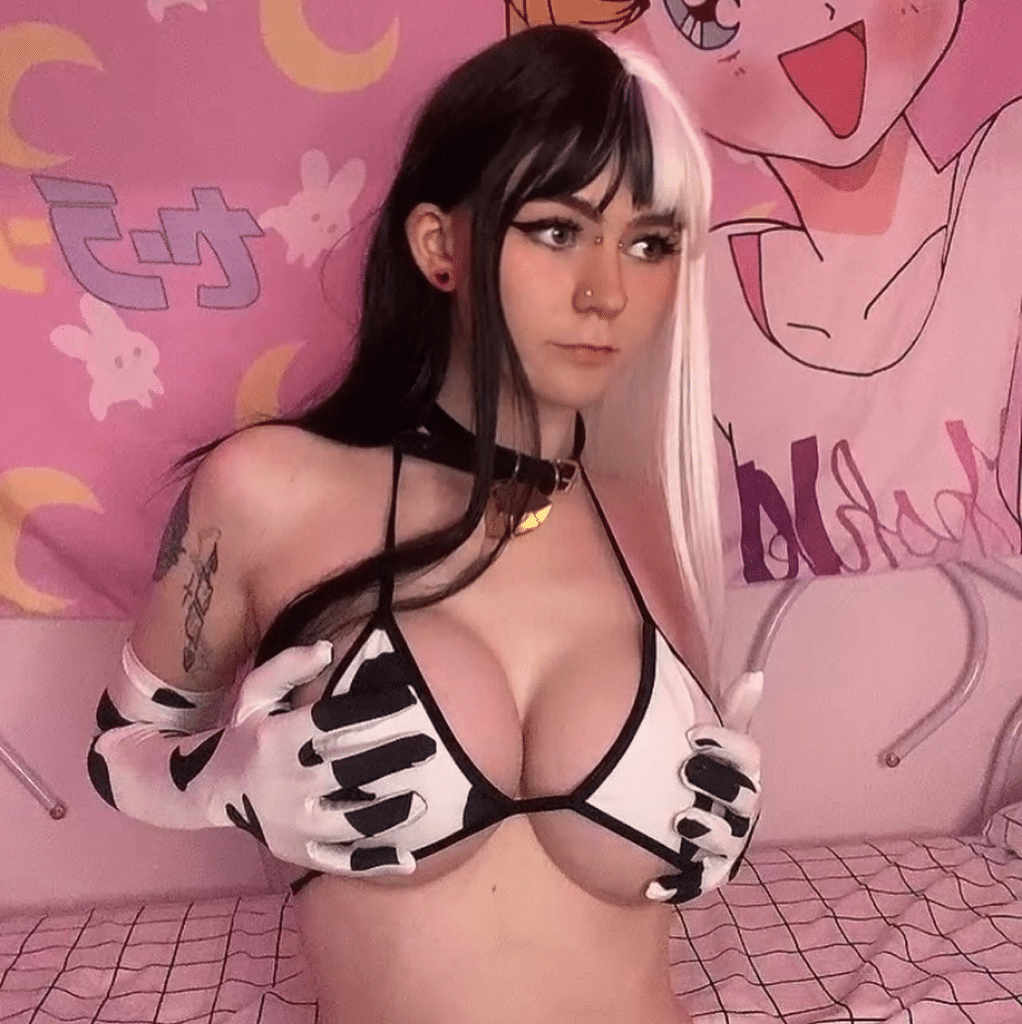 What inspired you to pursue a career in the camming industry?
I used to follow cam girls on Tumblr. I thought they were the coolest, prettiest girls I had ever seen. I didn't think I had what it took to do what they did, but after a year of doing subscription sites, I started wondering about camming again. Suddenly IGF Studios (a studio for cam girls, run by cam girls) showed up on my TikTok FYP. I sent in my application and told myself, "I'm leaving this up to the universe. If I get accepted, I'll try camming. If I don't, it wasn't meant to be." Obviously, I did get accepted, and it's still one of the best things to ever happen to me.
Where is the strangest place you've ever had sex in?
Maybe it's not so strange, but it feels strange to me. I hooked up with a girl in the middle of the woods at like 4 AM after having only known this girl for maybe five hours. We met at a club and a group of us randomly decided to go for a hike, and our friends were just a few feet away from us making out lmao.
What is the most romantic thing someone has ever done for you?
It's small but very meaningful to me. The most romantic thing someone ever done for me was leaving like 100 tiny love notes hidden around our apartment so I would slowly find them over the next few weeks, although I'm not sure if I ever even found them all.
A bubbly and outgoing person, Natalia is someone you'd enjoy getting to know. She has an appreciation for self-care, keeping a detailed cam journal, and cooking Asian meals for her partner. Professionalism is important to her. Despite her friendly disposition, she never shows anything too personal or inappropriate to fans. Natalia is known in the camming world for her authentic and unique charm that keeps fans coming back for more. There's no mistaking her personality for someone else's – her goofy smile and silly attitude make her unforgettable. One thing is for sure – you'll never get bored when you're with Natalia Raye Xo!

How do you manage stress?
Since being a performer can make me feel socially drained at times, I manage stress by taking a day to myself. I love taking hot Epsom salt baths and moisturizing my face and body. If I am feeling extra stressed, I'll spend an hour writing my thoughts in my journal. If doing those activities doesn't help, playing Super Smash Bros on my switch definitely does the trick.
What strategies do you use to stay organized and productive?
I keep a very detailed cam journal to stay organized and productive. I bought an extra large notebook from Five and Below, and after every show, I write down which hours were great and which hours were not so great. If I have an idea about a clip I'd like to film, I write it down right away. Every Sunday, I make a detailed (tentative) schedule for my day, from waking up, to bathing, to eating breakfast, when I want to start camming when I want to take breaks, and so on. I don't always follow this schedule, but it's nice to have some sort of structure. I also like to write down my daily money goals, so I don't end up slipping by the end of the week.



What do you think sets you apart from other cam models?
What sets me apart from other cam models is that I am genuinely myself on cam every day. It's so tiring to try to be someone else, and my fans seem to enjoy watching the person I really am in my day-to-day life. Of course, every cam girl should be careful with how much information they disclose to fans, but if the questions they ask me aren't too personal, I have no problem answering them with a smile. I am silly and cute, and I try to make it sexy in my way, and I think that's what gets my fans coming back for more of Natalia Raye.
Where is the strangest place you've ever had sex in?
The strangest place I've had sex was in a mall parking lot. It was before my boyfriend and I could drive, so we weren't in a car. We were in a semi-secluded area behind a pillar. And we didn't do it there just once, but at least five times. I guess someone caught on to our dirty little secret, and on Christmas Day, a mall security guard told us we needed to leave. I'm shocked he didn't ban us from the mall for life!
How do you like to show your partner that you care?
I show my partner I care by giving him the attention he deserves. Being a cam model can leave you feeling sexually and socially drained at times, but I never let that affect my relationship with Nathan Raye (my partner). I always make sure he knows that he is loved and appreciated by me. I prioritize having sex with him at least once a day. I don't want him to feel that my work is more important to me than him, and being intimate is very important for both of us to have a strong relationship. I also make him homemade Asian meals. I don't know what he likes more, sex or my home cooking (lol).

Twitter
Instagram
She is an adventurous and creative soul based in London. Throughout her life, she has embraced various passions, from being a competitive snowboarder to a cheerleader, and currently pursuing a career as a cam model. Fueled by fearlessness and courage, she has set both short and long-term goals, including opening her own studio and transforming her house into a personalized sanctuary. Snowboarding and pole dancing ignites her deepest passions, and she is willing to take risks for a chance at true love. Ivy finds beauty in the purity of platonic relationships, emanating her passion through both her actions and kind words. Simple yet heartfelt gestures, such as leaving post-it notes adorned with compliments, have left indelible impressions on her, constantly reminding her of life's true essence and what truly matters.

What do you value most in life?
My family and friends support me in everything I do, and I wouldn't be where I am without them. I think sex work can be lonely at times, always traveling or online, and it is important to see people you care about in the real world.
What are your short-term and long-term goals?
In the short term, I want to decorate my house and open my own studio.

What drives you to succeed?
All that ever holds somebody back, I think, is fear. For a minute, I had fear. Then I looked in the mirror and shot my fear in the face.

What are your passions and interests?
I love snowboarding. I was a competitive snowboarder traveling the world chasing winters switching from the northern to the southern hemisphere until I broke my neck and came back to London. I decided to try adult because I wanted to get sober, and it was hard to work in strip clubs while trying to be sober. I also like pole dancing, and I was a cheerleader from a kid through to university.

What is the craziest thing you ever did for love?
Not sure if I have been in love, but I once flew back a day early from a holiday because I heard my crush was going to a sex party, and I was like, I HAVE to be there.

What do you think about romance, and how does it make you feel?
I love romance, and I don't think it needs to just be with a sexual partner. I am romantic with my platonic friends, too. We cuddle and have mate dates. Platonic love is probably more important to me than sexual love.
What is the most romantic thing someone has ever done for you?
I had a partner who would leave post-it notes around the fridge with things he loved about me. That was super cute… They would be stuck to a carton of juice in the fridge or my jewelry box.