MARVEL COMICS UNVEILS ITS FIRST-EVER TRANSGENDER MUTANT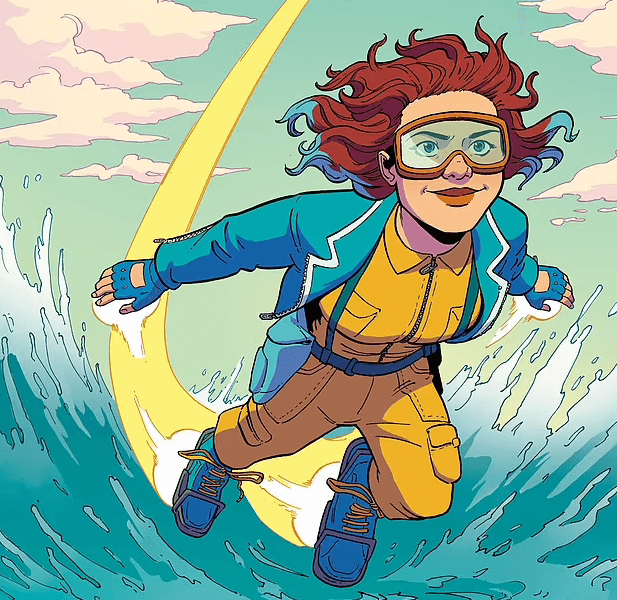 With Pride Month right around the corner, Marvel Comics has revealed its first-ever transgender mutant, Escapade, set to appear in Marvel's Voices: Pride #1.
The superhero, whose real name is Shela Sexton, has the power to trade places with anyone. Accompanied by her sidekick "genetically engineered flying turtle" Hibbert, she will be embarking on a journey with her "best friend and fellow trans mutant" Morgan Red, as explained by Marvel in a blog post.
"I wish I could hang out with Shela in real life. She is a total goofball, a cool weirdo who has a super strong sense of justice and a profound loyalty to her friends," co-creator Charlie Jane Anders spoke of Escapade. "Until recently, she believed that everything would always be okay as long as she and Morgan were there for each other, but lately she's been realizing life is more complicated than that." She additionally commented on Morgan Red and her relationship with Escapade: "I wanted Shela to have a really strong relationship that she could be anchored to. I spent a lot of time thinking about Morgan and how they and Shela had grown up together. I eventually arrived at the thing where Morgan was there for Shela when she was first transitioning, and the two of them kind of supported each other through their transitions when they were kids."
Anders added that she wanted to make sure the story is inclusive. "It was really important to me to have a whole community of trans mutants in this comic — not just Shela and Morgan, but others… I wanted it to be super clear that being a mutant is not a metaphor for being trans, and vice versa."
Marvel's Voices: Pride #1 will release on June 22, with a continued New Mutants story currently in the works. Read more about Escapade here.
Click here to view the full gallery at HYPEBAE
Stripchat: ePayservices No Longer Available After 30th of June
Starting on June 30th, 2023, Stripchat will no longer offer ePayservices as a payment method.


"We know this may surprise some of you, but we're giving you plenty of notice so you can make any necessary changes to your payout method. There are many other payout options available for you to choose from."
To change your payout method, head over to "Payment settings" > "Payment method". From there, you can choose the method that suits you best and save settings.
An article with a list of all payout methods offered by Stripchat can be found here:
support.stripchat.com


Flirt4Free: Office Hours with Stacey White & Izzi, get Your 2,000-Point Boost!
Don't miss out on the next episode of Office Hours, the bi-weekly webinar series from Flirt4Free.com featuring top model Stacey White and one of the site's most successful Flirts, Izzi. Join the conversation on March 22nd at 11 AM PST/2 PM EST to gain valuable insight from their decades of on-cam experience.

Whether you need advice on time management, a better work/life balance, or directions on Flirt4Free site features, Stacey and Izzi have the answers! Sign up for Office Hours here using your stage name and email address and receive a 2,000-point PowerScore boost for participating.
Mark your calendars for more upcoming Office Hours Webinars:
March 22nd, 11 AM PST/2 PM EST w/ Izzi
April 5th, 11 AM PST/2 PM EST
April 19th, 11 AM PST/2 PM EST
BongaCams: Boost Interaction and Earnings with Stream Overlay!
Exciting news from BongaCams!
Introduce Stream Overlay – a chatbot that sends animated images in response to tips!

When you receive a certain amount of Tokens, members will instantly see an animation with your reply message displayed on top of the broadcast. Stream Overlay is sure to spark more interaction and help boost your income!

Configuring Stream Overlay is easy. Simply head over to the "Chatbots" tab and upload an image, GIF, or video along with your text. Set the minimum amount of Tokens that must be sent to trigger the animation. You can create up to 5 animated responses!
Take advantage of Stream Overlay now and make your chatroom even more interactive! Increase your earnings and make your broadcast stand out from the rest.