Ayyy, que sabrosura!! Meet Maleja Gomez, this beautiful Latina who will take care of all your wishes and will point the way to your deepest fantasies. Alluring eyes, sexy tanned skin, long legs, and a smile that could make anyone fall in love instantly. Are you ready to get to know Maleja better?
Finish this sentence: If I ruled the world one day, I would…
… like to make people more empathetic, more human. People forget how others can feel, they are selfish. Make it fairer and more equitable
Do you have any regrets since you started camming?
No, I don't regret starting work in this industry.
What's the best thing one can do for him/herself?
Be independent, work on yourselves, your self-love, self-esteem, and your dreams. Rebuild yourself every day. It's the best they can do for you!
If you could rename the cam site you work with, what name would you give it?
MyB**chS!
What is your biggest flaw?
Procrastination. Sometimes I tell myself I'll do things later, and it turns out that I forget and I don't do them hahaha.
What do you like to do while alone?
I always do a lot of things when I'm alone, from singing, and dancing… to masturbating and experimenting with myself.
If you were able to ask for 3 wishes right now, what would you ask for?
1. Three more wishes hahaha. 2. 100,000,000 USD … Who doesn't want money hahaha 3. For the rest of my life to be happy, carefree, calm, successful, and prosperous. I would use the other wishes in an emergency hahahahha.
What would be the next step in your career?
Make my recognition nationally and internationally, to be one of the best
Tell us a memorable cam life experience.
When I started as a web model, I remember that I was very surprised by the fact that users paid for things like my smile, eyes, things I taught they were too simple. This made me start to value every part of me, start to appreciate myself more.
The craziest thing you ever did for love?
hahahaha I'm very stupid in love, so I've bought exaggerated things, even paid international trips in order to see the person again
What is your favorite memory since you started streaming?
On a bad day, I remember that my hair was super fluffy, and a user fell in love with my hair like that, I told him that it was ugly and that it looked like the girl with the ring, so he told me ready to recreate it, set the black and white cam mood, and start. Put my hair in the front and crawl all over the bed, like a psychopath hahah, but I didn't see and I fell out of bed, and it was catastrophic hahahah but funny
What do you do to maintain your beauty?
From masks, using creams, taking vitamins, and supplements, to going to the gym, getting massages, to look pretty, and working on myself. You have to be beautiful on the outside and inside.
What is the main quality that you seek in others?
Respect, loyalty, happiness, tranquility. If a person doesn't have those, I'd rather not go for it.
What stands between you and your greatest goal?
My emotional state, I am very sensitive in situations. So I am working on that so that they do not affect my progress towards success.
What's the stupidest excuse to get out of a bad date?
I have an emergency at home or a lot of work hahahahaha.
What do you think of when you masturbate?
I think about the person who provokes me when he gives me oral sex or something that has marked me while we had sex or some part of my body that turns me on, and I imagine if he did it.
Did you ever fall in love with someone met online?
No, never!
What is the dirtiest compliment you've ever received?
You s**k it very delicious
If you could go back in the past, what you'd erase from your life?
I would erase some Ex-Boyfriends. They were so toxic Hahaahha.
If someone wrote a biographical book about you, what would be the title?
Unpublished stories of Maleja Gomez. I swear that sometimes incredible things happen to me, I would love to just write them in a book and laugh a lot.
What is the most courageous thing you have done in your life?
It is incredible, but for me to accept before everyone that I am a webcam model and I make adult content, has been a lot of work. People have discriminated against me a lot and accepting it and laughing at how people talk about me, has been the bravest thing for me.
What would you like to tell your fans?
Thank you for always being there for me! Thank you for your unconditional support these 5 years. Let's go for more! Thank you for making me happy and making my life so wonderful!
Who was the worst guest in your house and what did they do?
An ex-boyfriend wants to talk to me one day, but I didn't want to talk to him. So I didn't let him into my house, and I left him outside alone and he stayed for a long time waiting until he left.
What is the most important thing you want to change in your life this year?
Nothing! This year is going wonderfully, so please, 2022, keep it up, empowered and make the next years even better.
Where is the strangest place you've ever had sex?
At a peak of a mountain hahaha. I was a little crazy, but I had delicious sex there.
What movie brings you to tears even on the tenth screening?
Movie, no. I have a series, my favorite is Grey's Anatomy, I love season 16 in the chapter where Alex Karev leaves again with Lizzie and leaves Jo, it makes me cry a lot. I can see it a thousand times and I would still cry very intensely.
What turns you on almost instantly?
When they touch my buttocks, bite them, caress them… For me, it is super delicious.
What's the biggest lesson life has taught you?
Not to discriminate against anyone, to not judge without knowing their reasons.
What's your favorite family recipe?
Rice with chicken, my mom makes it super delicious!
What's the number of times you've had sex in a row?
5 times hahhaha, was so crazy… but when I connect with a person in every way, it drives me crazy!
If you had to describe yourself as an animal, which one would it be?
A baby panther. I can be tender, but also aggressive, sensual at the same time, agile, and a little elusive. Very serious, I'm always aware of everything. I also love black!
Do you prefer to give or receive?
A thousand times to give, I love the energy that remains after giving things without any interest!
What's the longest you've gone without sleep (and why)?
When there is a transmission marathon, it is super hard because there are literally only 3 or 4 hours of sleep, and then you continue working.
What do you do to keep fit?
I exercise in a circuit, 6 times a week, and I take care of my diet.
Have you ever had an inappropriate crush?
Yes, I have had those unrequited loves, or they go away, or they make me suffer.
Have you ever tried using food during foreplay?
Yes, I like to experiment, so I have used chocolate, whipped cream, or mint to make oral sex.
What is one thing you will never do again?
To leave me aside for another person. I would never give myself so little importance again, to exceed my limits and make me feel less.
What celebrity would you like to meet at Starbucks for a cup of coffee?
Jessie Williams, please!
What do you do to have an orgasm?
I use my vibrators and think about something that marked me during sex.
Where on your body is your favorite place to be touched? And how?
My botty! Everything that's happening there, for me is super delicious
Why did you start being a webcam model?
I started to be a webcam model because my father did not support me, also my quality of life was not the best. I had dreams to fulfill and too many things I wanted to do in the short term, not at 30 or 40 years old, so I started, and now I am already an independent woman.

She is a playful and creative cam model, determined to face her fears and insecurities head-on. She is constantly striving to improve her schedule, engage more with her fans, and build her online presence. She's passionate about creating and maintaining a strong connection with her fans and loves showing her true self on camera. While Alice Elvy is still learning the importance of setting boundaries, she continuously pushes herself in order to provide uniquely romantic and unforgettable experiences to her viewers. From 4 a.m. hookups in the middle of the woods to hiding romantic love notes around her apartment, Alice goes above and beyond to ensure joy and satisfaction with every session.


How do you overcome your fears and insecurities?
I've learned the best way for me to face my fears and insecurities is basically exposure therapy. I used to be terrified of haunted houses, so I started working in one. Terrified of roller coasters? I kept riding them till it was fun one day. Surprisingly I have always been incredibly camera shy and had horrible performance anxiety, but throwing myself into social media and online sex work was really facing these fears for me. Although I still struggle at times knowing I'm on camera, I feel like I've come a really long way. The same with my insecurities, being online in the way I am has really taught me that the things I dislike about myself and would've obsessed over in the past, other people don't see them the way I do. Nobody picks me apart the way I do.
What are your short-term and long-term goals?
My short-term goals are to create a better schedule, stick to my goals, be even more engaged with my fans, and just overall do my absolute best at my job. My long-term goal is honestly to make some sort of a name for myself. I would like to one day be nominated for some awards, maybe even win one. I hope to build a community with my fans and keep building my online presence.
Do you have any regrets since you started camming?
My single regret with camming is not setting stronger boundaries at first. I wanted everyone to like me, so I would try to push myself to do whatever was asked. I've learned boundaries are so important in camming, and you can always say no if you want.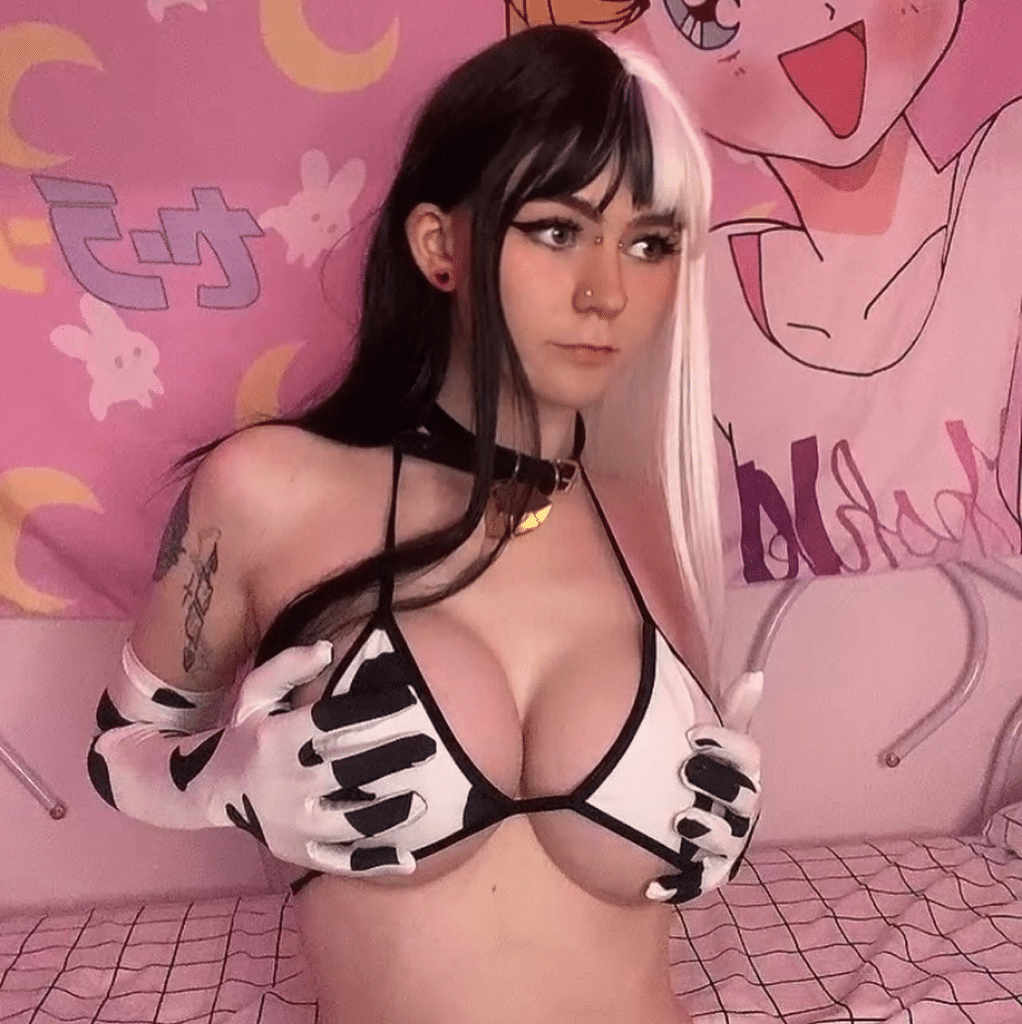 What inspired you to pursue a career in the camming industry?
I used to follow cam girls on Tumblr. I thought they were the coolest, prettiest girls I had ever seen. I didn't think I had what it took to do what they did, but after a year of doing subscription sites, I started wondering about camming again. Suddenly IGF Studios (a studio for cam girls, run by cam girls) showed up on my TikTok FYP. I sent in my application and told myself, "I'm leaving this up to the universe. If I get accepted, I'll try camming. If I don't, it wasn't meant to be." Obviously, I did get accepted, and it's still one of the best things to ever happen to me.
Where is the strangest place you've ever had sex in?
Maybe it's not so strange, but it feels strange to me. I hooked up with a girl in the middle of the woods at like 4 AM after having only known this girl for maybe five hours. We met at a club and a group of us randomly decided to go for a hike, and our friends were just a few feet away from us making out lmao.
What is the most romantic thing someone has ever done for you?
It's small but very meaningful to me. The most romantic thing someone ever done for me was leaving like 100 tiny love notes hidden around our apartment so I would slowly find them over the next few weeks, although I'm not sure if I ever even found them all.
Twitter
Instagram
A bubbly and outgoing person, Natalia is someone you'd enjoy getting to know. She has an appreciation for self-care, keeping a detailed cam journal, and cooking Asian meals for her partner. Professionalism is important to her. Despite her friendly disposition, she never shows anything too personal or inappropriate to fans. Natalia is widely known in the camming world for her authentic and unique charm that keeps fans coming back for more. There's no mistaking her personality for someone else's – her goofy smile and silly attitude make her unforgettable. One thing is for sure – you'll never get bored when you're with Natalia Raye Xo!

How do you manage stress?
Since being a performer can make me feel socially drained at times, I manage stress by taking a day to myself. I love taking hot Epsom salt baths and moisturizing my face and body. If I am feeling extra stressed, I'll spend an hour writing my thoughts in my journal. If doing those activities doesn't help, playing Super Smash Bros on my switch definitely does the trick.
What strategies do you use to stay organized and productive?
I keep a very detailed cam journal to stay organized and productive. I bought an extra large notebook from Five and Below, and after every show, I write down which hours were great and which hours were not so great. If I have an idea about a clip I'd like to film, I write it down right away. Every Sunday, I make a detailed (tentative) schedule for my day, from waking up, to bathing, to eating breakfast, when I want to start camming when I want to take breaks, and so on. I don't always follow this schedule, but it's nice to have some sort of structure. I also like to write down my daily money goals, so I don't end up slipping by the end of the week.



What do you think sets you apart from other cam models?
What sets me apart from other cam models is that I am genuinely myself on cam every day. It's so tiring to try to be someone else, and my fans seem to enjoy watching the person I really am in my day-to-day life. Of course, every cam girl should be careful with how much information they disclose to fans, but if the questions they ask me aren't too personal, I have no problem answering them with a smile. I am silly and cute, and I try to make it sexy in my way, and I think that's what gets my fans coming back for more of Natalia Raye.
Where is the strangest place you've ever had sex in?
The strangest place I've had sex was in a mall parking lot. It was before my boyfriend and I could drive, so we weren't in a car. We were in a semi-secluded area behind a pillar. And we didn't do it there just once, but at least five times. I guess someone caught on to our dirty little secret, and on Christmas Day, a mall security guard told us we needed to leave. I'm shocked he didn't ban us from the mall for life!
How do you like to show your partner that you care?
I show my partner I care by giving him the attention he deserves. Being a cam model can leave you feeling sexually and socially drained at times, but I never let that affect my relationship with Nathan Raye (my partner). I always make sure he knows that he is loved and appreciated by me. I prioritize having sex with him at least once a day. I don't want him to feel that my work is more important to me than him, and being intimate is very important for both of us to have a strong relationship. I also make him homemade Asian meals. I don't know what he likes more, sex or my home cooking (lol).

Twitter
Instagram
She is an adventurous and creative soul based in London. Throughout her life, she has embraced various passions, from being a competitive snowboarder to a cheerleader, and currently pursuing a career as a cam model. Fueled by fearlessness and courage, she has set both short and long-term goals, including opening her own studio and transforming her house into a personalized sanctuary. Snowboarding and pole dancing ignites her deepest passions, and she is willing to take risks for a chance at true love. Ivy finds beauty in the purity of platonic relationships, emanating her passion through both her actions and kind words. Simple yet heartfelt gestures, such as leaving post-it notes adorned with compliments, have left indelible impressions on her, constantly reminding her of life's true essence and what truly matters.

What do you value most in life?
My family and friends support me in everything I do, and I wouldn't be where I am without them. I think sex work can be lonely at times, always traveling or online, and it is important to see people you care about in the real world.
What are your short-term and long-term goals?
In the short term, I want to decorate my house and open my own studio.

What drives you to succeed?
All that ever holds somebody back, I think, is fear. For a minute, I had fear. Then I looked in the mirror and shot my fear in the face.

What are your passions and interests?
I love snowboarding. I was a competitive snowboarder traveling the world chasing winters switching from the northern to the southern hemisphere until I broke my neck and came back to London. I decided to try adult because I wanted to get sober, and it was hard to work in strip clubs while trying to be sober. I also like pole dancing, and I was a cheerleader from a kid through to university.

What is the craziest thing you ever did for love?
Not sure if I have been in love, but I once flew back a day early from a holiday because I heard my crush was going to a sex party, and I was like, I HAVE to be there.

What do you think about romance, and how does it make you feel?
I love romance, and I don't think it needs to just be with a sexual partner. I am romantic with my platonic friends, too. We cuddle and have mate dates. Platonic love is probably more important to me than sexual love.
What is the most romantic thing someone has ever done for you?
I had a partner who would leave post-it notes around the fridge with things he loved about me. That was super cute… They would be stuck to a carton of juice in the fridge or my jewelry box.