Anonymity or Fame which is best for you?
It's easy to jump straight into a venture or new job when the promise of a better life is there before your eyes. Some individuals or organisations even take advantage of the fact that you make not look before you leap.
Rather than providing help and support to those who really need assistance in these testing times, it seems shameful that anyone would use the situation to exploit! It may simply be the result of misguided ideas and views about the current state of play for models working from home.
One of the things which has the most potential to affect someone who is contemplating working in the adult industry, is whether they wish to keep their 'day job' a secret from their friends and family.
It's easy for those who say, 'the hell with it, people should be able to live their lives however they want'. The difficulty comes when you actually try to do that. The general consensus about those working in the adult sector is one of disdain and revolt. In some cases, they even assume that all jobs in that area are sex related, when in fact they are not.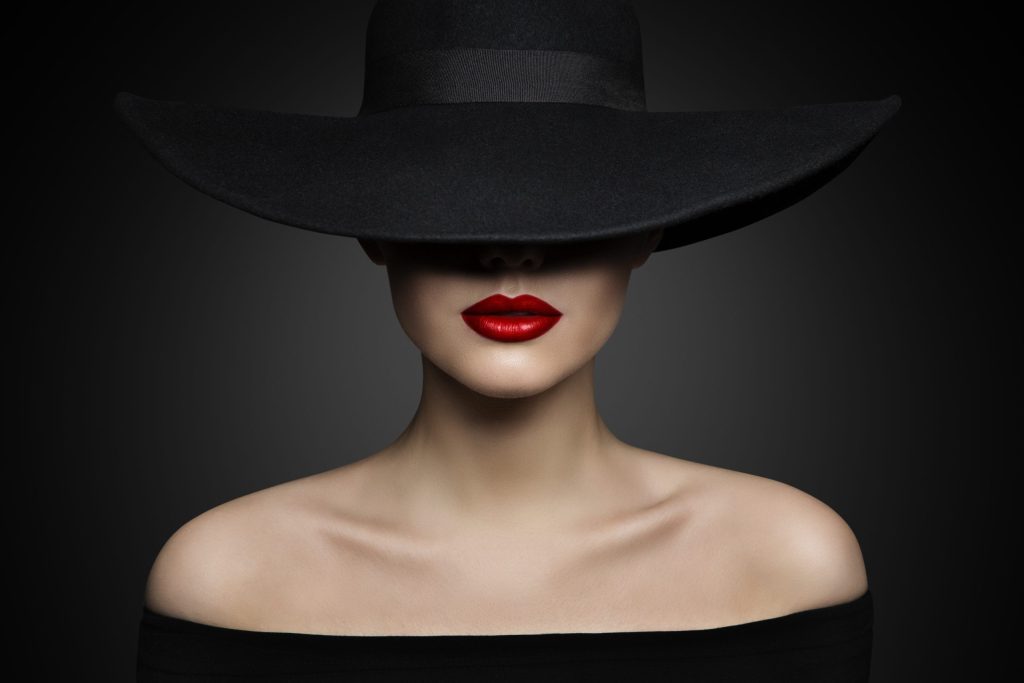 What is Right for You?
The crucial thing is to decide what is right for you. Once you have made your decision, you should really try and stick with it and remember that it can often be difficult or impossible to make a change afterwards.
Out in the Open
Option 1 is to say you are perfectly ok with pursuing this career option and being 110% ok with becoming well known in the industry. You could be using an assumed name or your real name. You just need to remember that the more well known you become, the higher the chances are that your real identity will surface.
Unfortunately, this may affect you more than you realise. If you become successful, then you don't have much to worry about. You may have already built up your portfolio, have savings and maybe own some bricks and mortar.
If you are not quite in that league, you may find yourself being reliant on obtaining an ordinary 9 to 5 job. When you apply for that job, the searches they do may bring up more about your life than you'd like to share with them. In some cases, it could mean you don't even get an interview!

Is Option 2 the Best Choice?
For most, Option 2 is probably the best route to follow. It allows you the freedom to follow your desired career path and keeps your work life separate from your personal life. This separation is also important as it allows you the opportunity of having some proper downtime.
Everyone thinks that a celebs life is just one big party and many people often dream about being in their shoes. Just imagine though – if every time you wanted to leave your house, go shopping, or simply put the rubbish out, you had people gawping at you, snapping away at you. Even publishing pics of you showing off all your worst angles!
Running Scared
Option 3 is the completely anonymous route and one which is quite hard to follow. It requires full diligence and does not provide much opportunity to make any real progress. You'll want to always hide your face and be very wary of showing any recognizable features. You are unlikely to feel comfortable in this role and spend much of your time worrying about being found out or recognized.
The likelihood of being identified by someone you know does rely on the fact that they would be partaking in the area you are working in. If they did recognize you, they would then also have to admit to using said site. This does limit their responses a little but will not stop them using other methods to name and shame you. It's a sad fact that some people would rather humiliate and embarrass than to congratulate their success!
Creating the Ideal Balance
In the main, option 2 seems to offer the most opportunity and safest routes to ensure you have a harmonious working and personal life balance. This does require a certain amount of forethought and an initial period of focus.
Creating a persona that is totally separate from your personal life is crucial to ensuring success. This includes having different email addresses for work, not using your own social media accounts to advertise your adult profile and making sure you are careful with the pictures that you post.
Getting It Right
You should always be aware of what you are posting and where. Pictures for example can show much more than you thought. Instead of concentrating on how you look in the photo, try checking out what's in the background. You may have pics of your family on the wall behind you, perhaps your phone or pc is showing more than you bargained for. It only takes a couple of minutes to check but can take years to sort if the unwanted information gets into the public domain.
Picture recognition software is now very common. Posting that pic of you lying by the pool on holiday to your personal facebook page is fine but using the same pic to post to your cam profile could prove to be disastrous.
Invest Your Time
If you are serious about your career, you should treat everything you do in a professional manner. Gone are the days when everyone had a manager or an agency looking after their careers and making sure the right pics were published in the right places. Social media now makes everything pretty much instantaneous. It's so much easier to post something in haste than it is to check it first. You need to be your own agent and take the time to invest in securing your future.
Remember, think first, think twice and even a third time to be sure. You can never be too cautious.
If you'd like some more help and advice on Privacy and How to be Safe with your Online Profile, please take a look at any of my helpful articles.
Love Carla x
Whoreoween: Honoring Icons in Sex Worker Costumes
Whoreoween is an innovative twist on Halloween, offering sex workers a chance to step beyond the usual sexy nurse outfits and honor legends from their industry. This event serves as an opportunity to pay tribute to current and historical figures, bringing a sense of uniqueness and recognition to a community often overshadowed by stereotypes.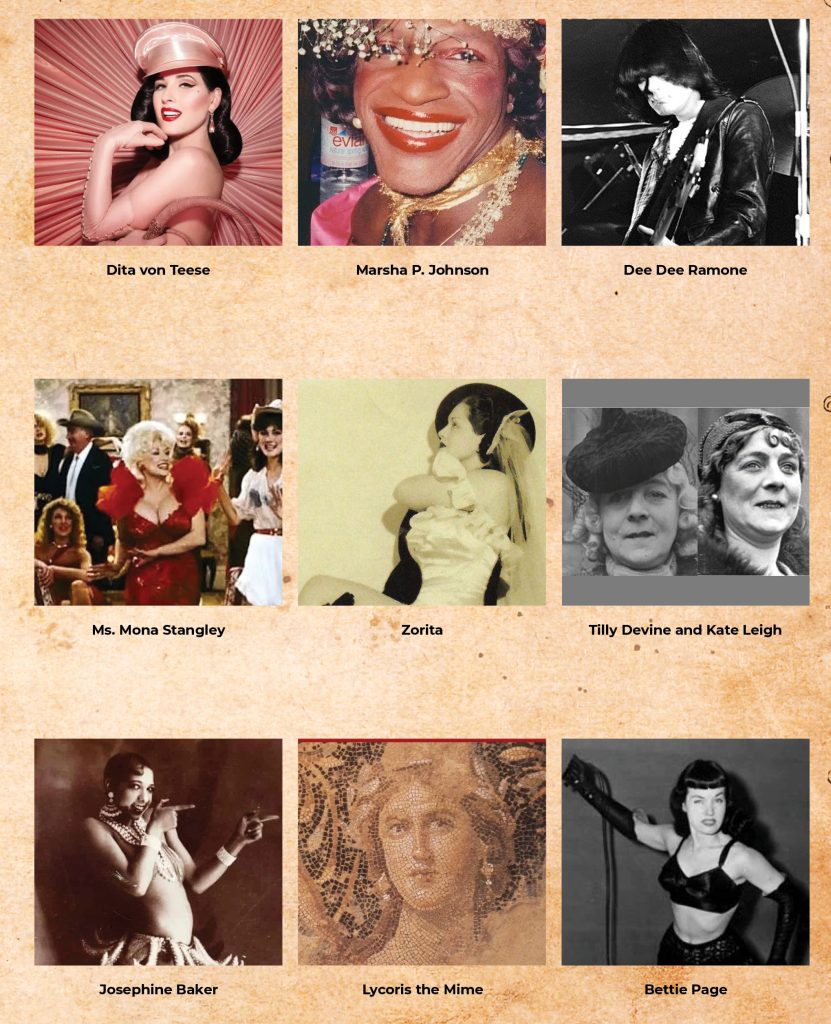 Dita von Teese, a modern burlesque icon, serves as a perfect inspiration. Known for her performances, Playboy appearances, and burlesque acts, she embodies the essence of a seductress. Her costume would include a classic 40s pageboy hairstyle, a sequined corset, opera gloves, statement earrings, and bright red lipstick, preferably in MAC's Viva Glam I or Ruby Woo shades.
Marsha P. Johnson, a pivotal figure in the Stonewall uprising, is another inspirational figure. As a gay liberation activist, trans woman, and drag queen, she advocated for gay, trans, and sex worker rights. Her costume would feature a flower crown, 70s-style glamour with a slinky dress, faux or vintage fur, sequins, and bold jewelry, capturing her spirit and role in the gay rights movement.
Dee Dee Ramone, known for his role in the Ramones, also worked as a sex worker. His costume would reflect his classic punk style with tight vintage jeans, a DIY sleeveless t-shirt, and a leather jacket.

Ms. Mona Stangley, from "The Best Little Whorehouse in Texas," portrayed by Dolly Parton, offers a Western-inspired look. The costume could include big hair, flouncy prairie dresses, or a satin corset with a sheer robe, embodying the spirit of the 80s Texas madam.
Zorita, a groundbreaking burlesque dancer, is known for her bold performances with snakes and a famous 'half and half' act. Her costume would include fishnet stockings, ruffled dresses, spangly heels, and possibly a tiara or two platinum streaks in the hair.
Tilly Devine and Kate Leigh, 1920s Sydney gangsters, provide a unique option for a doubles costume. Their outfits would reflect the era's fashion, featuring heavy coats, top hats, or beaded headscarves, emphasizing their toughness.
Josephine Baker, an American-born dancer, actress, and WWII spy, offers a glamorous choice. Her costume could include glittery earrings, a beaded satin cocktail dress, and a classic 20s hairstyle. The famous Banana Dance outfit, featuring a pearl necklace and an artificial banana skirt, also represents her iconic status.
Lycoris the Mime, from ancient Rome, presents a historical option. Her costume would include traditional white robes, perhaps with floral headpieces, reflecting the mime artists' role during the Floralia festival.
Lastly, Bettie Page, a 1950s pinup and fetish model, offers a vintage choice. Her costume might include a leopard-print leotard, sheer dress with faux fur, or classic black satin lingerie paired with shiny black heels.
Whoreoween provides a platform for sex workers to celebrate their history and culture, offering a way to honor icons who have made significant contributions to the industry and society.
2023 Celebrity Halloween Hits and Misses
As Halloween rolls around, the unveiling of celebrity costumes becomes a highly anticipated event, reflecting both triumphs and transgressions in fashion and fandom. 2023 proved no different, with an array of high-profile personas embracing the season's spirit through an eclectic mix of costumes.
The celebrations of 2023 remind us that Halloween is not only a display of creativity but also a reflection of our times. It's a balancing act between homage and originality, between respect for tradition and the thrill of innovation. This year's array of costumes, from the star-studded to the minimalistic, confirms that celebrity Halloween looks will continue to be a pop culture spectacle, for better or for worse.
---
Dwayne "The Rock" Johnson, whose stature often overshadows any character he attempts to portray, tried to channel soccer legend David Beckham with a '90s-era jersey and a blonde wig. Despite the effort, the familiar face of this wrestler-turned-actor was still the main highlight.
---
Keke Palmer brought a touch of narrative to her costume. The actress and singer, accompanied by her son Leo as a mini mad scientist, transformed into Frankenstein's creature. This whimsical yet heartwarming costume was well-received, as Palmer humorously credited her son for giving her "LIFE," a play on her role as a mother and Frankenstein's creation.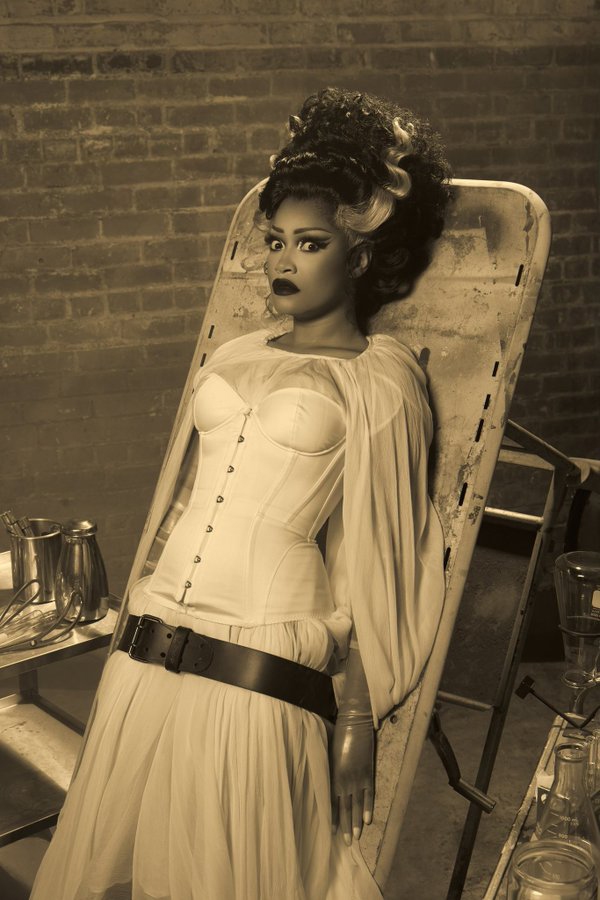 ---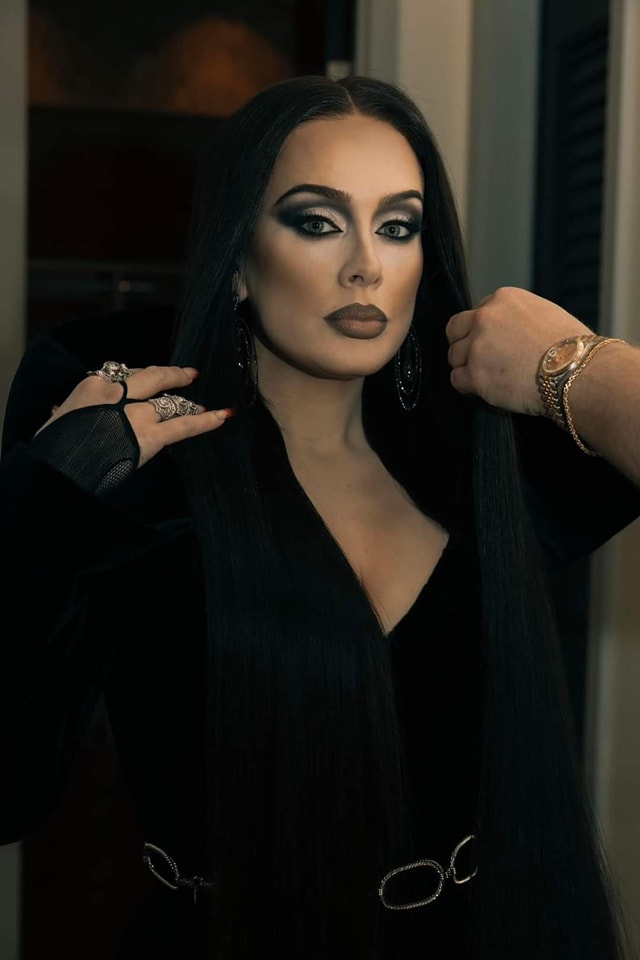 Adele, the vocal powerhouse, took to the stage in Las Vegas, embodying the dark elegance of Morticia Addams. Her rendition was both fitting for the Queen of the Night and adored by her audience, capturing the gothic essence of the beloved character with a long black wig and striking nails.
---
However, not all costumes were met with applause. Megan Fox and Machine Gun Kelly's "Kill Bill" ensemble sparked controversy. While visually striking, Fox's decision to flout SAG-AFTRA guidelines amid an actor's strike resulted in significant backlash, with some labeling her actions as insensitive.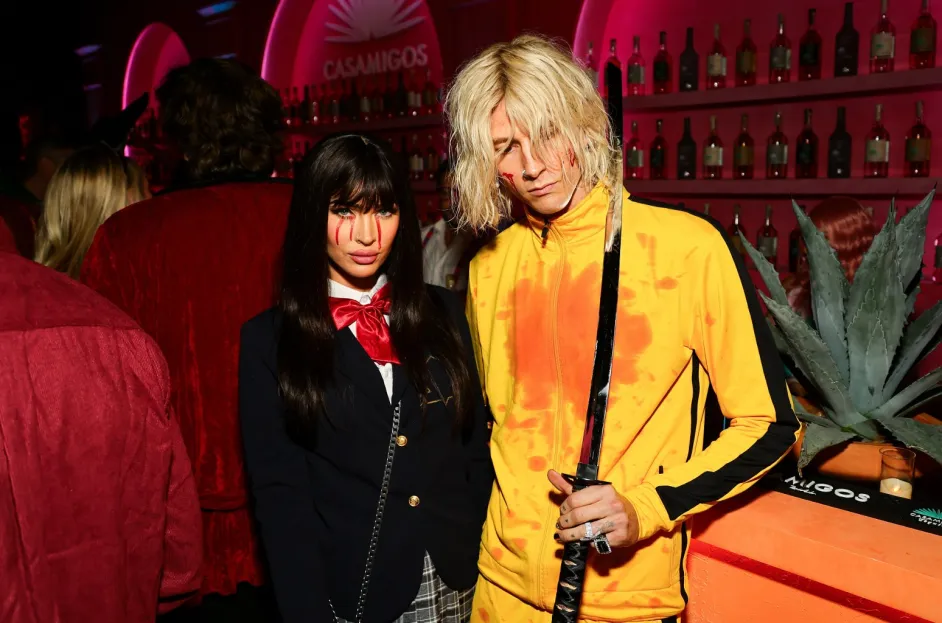 ---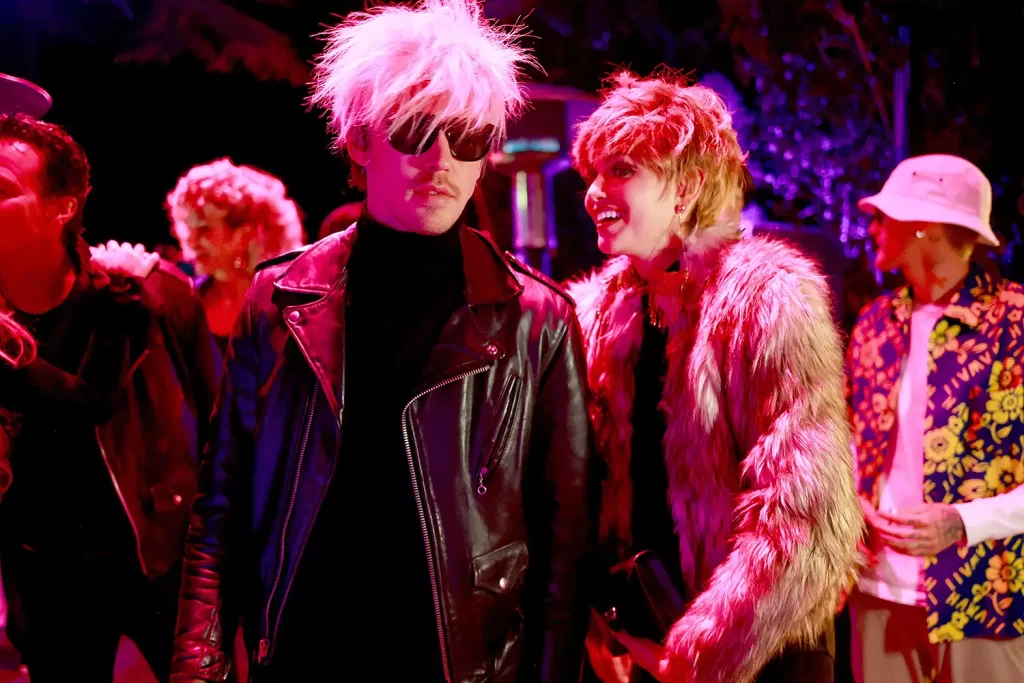 Meanwhile, Austin Butler and Kaia Gerber paid homage to pop art and '60s fashion icons Andy Warhol and Edie Sedgwick. The couple's costume, timely for Butler's rising fame, was both a cultural throwback and a fitting tribute to Warhol's enduring legacy.
---
Florence Pugh took a different route, embracing a more casual, last-minute look as a nod to Guy Fieri. The simplicity and relatability of her costume resonated with fans who appreciate a more spontaneous approach to Halloween.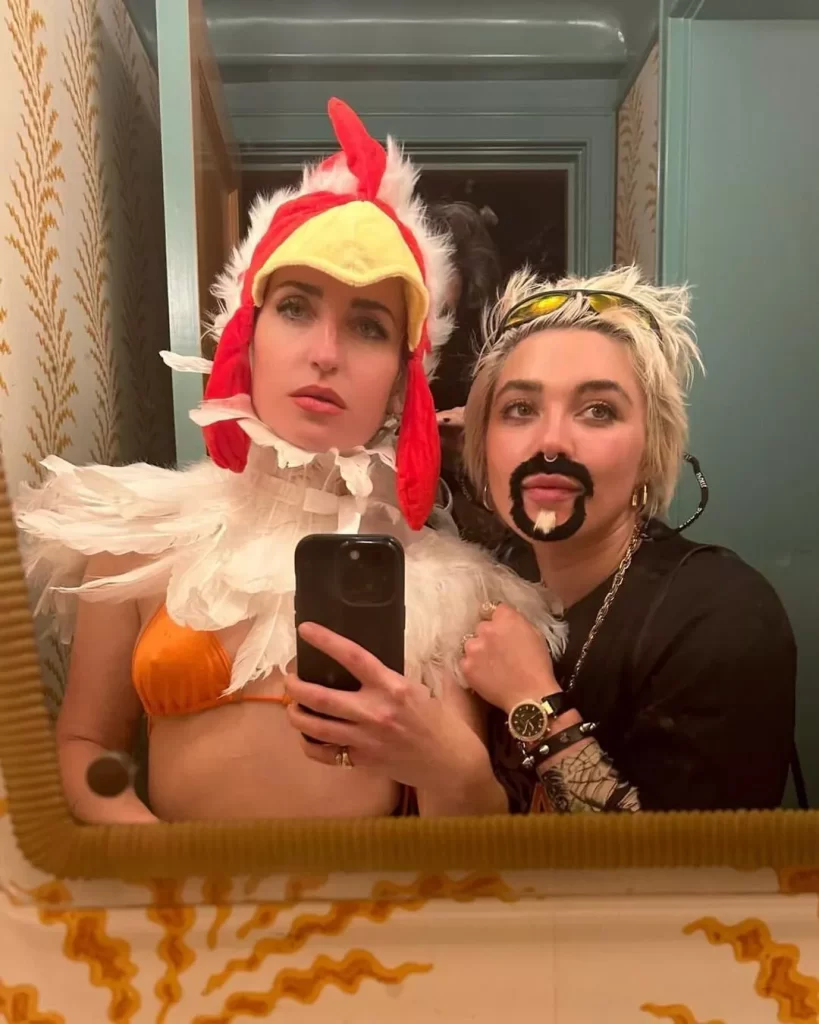 Revolutionizing Desire: The Rise of FPOV Porn
In the realm of virtual reality (VR) adult entertainment, the concept of female point-of-view (FPOV) porn has sparked interest but remains underexplored. Content creators like Lee and Erika Lust have noted that many women seek a deeper connection than traditional porn provides, craving emotional resonance alongside physical stimulation. They suggest that the industry has not fully grasped or catered to female sexual preferences, which extend beyond mere visual cues to include psychological engagement.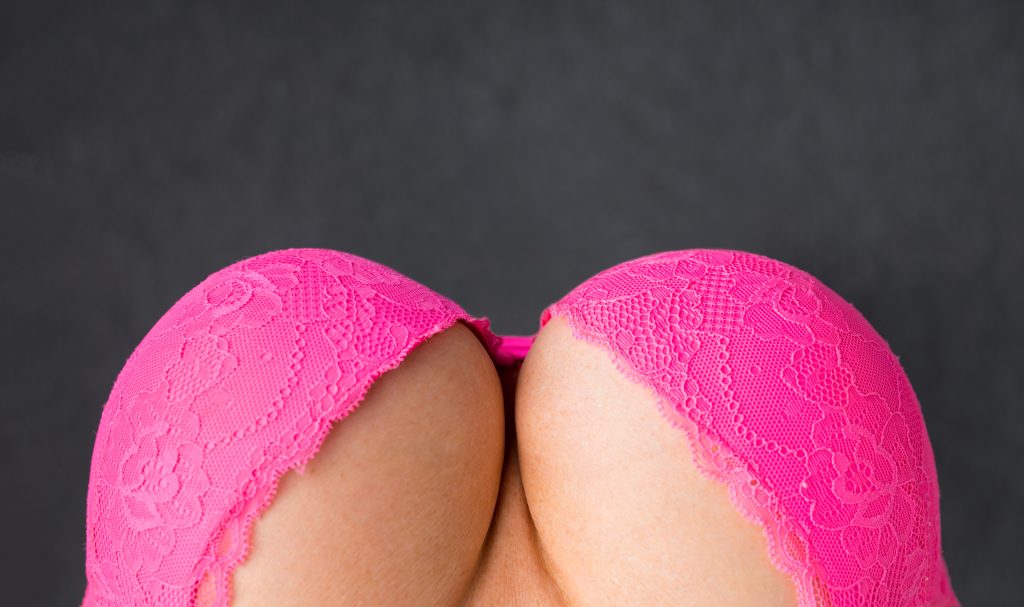 One of the key players, Sex Like Real (SLR), has experimented with FPOV content, responding to specific requests from their audience. However, despite attempts to innovate with scenarios like the "boyfriend experience" and narratives of female empowerment, these ventures have not always been profitable. SLR's findings indicate that the financial returns on FPOV content don't yet match those of conventional porn, suggesting either a mismatch in content or a niche audience.
Only a small fraction of SLR's user base identifies as female, which might indicate limited demand. Nonetheless, industry executives like David Chapman of SLR speculate that the true number of female users is underreported due to shared devices among couples. Chapman and his colleagues believe in the importance of catering to female viewers, not only for diversity but also because VR porn can provide a safe space for exploring sexuality.
The technological barrier presented by the high cost of VR equipment also contributes to the limited reach of FPOV porn. Not everyone can afford the gear necessary to enjoy such immersive experiences, as pointed out by Lust, who acknowledges the success of her VR film "360 Degrees of Lust," though less than her other works.
The content itself has been critiqued for not fully capturing women's diverse tastes. A superfan of FPOV, known as Super Smash Cache, has highlighted the industry's narrow depiction of male attractiveness and the scarcity of content that appeals to her preferences. This suggests that a wider range of male portrayals might better satisfy the diverse desires of female viewers.
Conclusively, there is a consensus that while there is an audience for female-centric VR porn, the industry needs time to adapt. More women in development and production roles could catalyze this change, fostering content that resonates more deeply with female viewers. As the technology becomes more accessible and content more diverse, FPOV porn has the potential to redefine what is desirable in adult entertainment.