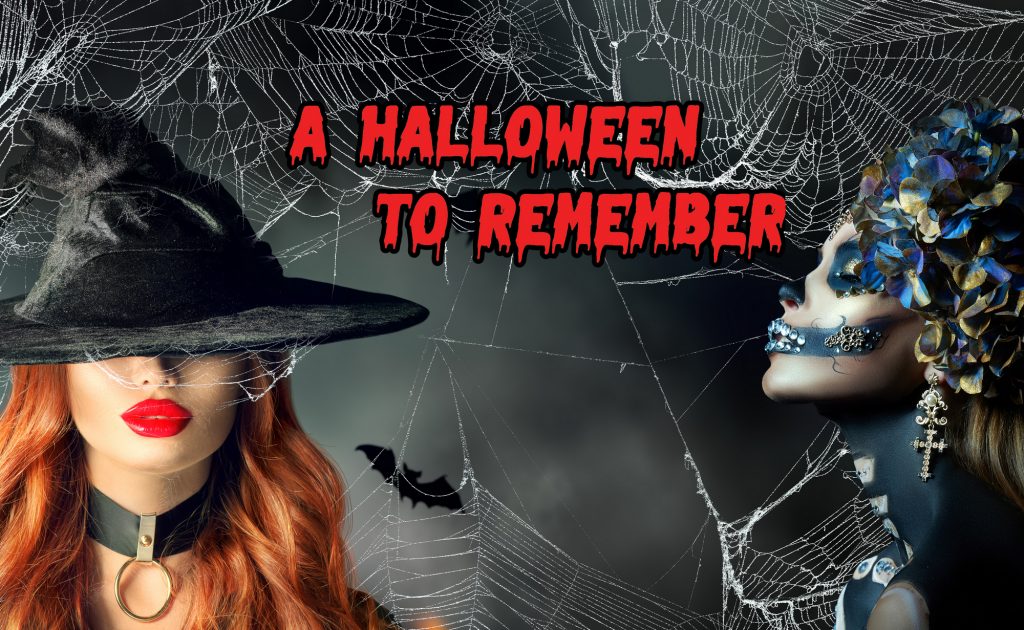 Believe it or not, Halloween offers more erotic adventures than Valentine's Day, as the holiday itself is an ideal occasion to spice up your sex life. There are several reasons why sexual interaction has become more invigorating for many people during the Halloween season. Costumes, candies, sex cards, and "unusual" makeup make this holiday a real "trip" loaded with sexuality. On the off chance you are out of ideas, here we come, with some tips and tricks for you if you want to enjoy a Halloween to remember!
Did you know that chocolate is a booster for your sex drive?
Based on research and studies, historically chocolate has been perceived to have a direct effect on human sexuality, acting as an aphrodisiac that increases sexual desire and improves sexual pleasure.
Chocolate is excellent when it comes to improving your sex life, as it increases dopamine levels, which is the chemical influencing the pleasure centers in the brain.
Boo! Fear is an aphrodisiac, too!
Fear increases female and male libido, and also it is very helpful in treating sexual dysfunction. Even it may sound a bit strange, fear can really spark your erotic desire, so if you want to have an unforgettable sexual affair, watch a scaaaaaaaaaaaary movie and let it turn you on later!
The autumn leaves drift by your window…
The leaves are falling, the libido is rising. Did you know that our hormone levels fluctuate throughout the seasons? Testosterone levels and sperm counts, associated with sex drive, are highest in late fall and early winter. It's still a mystery why seasonal changes influence the sexual drive and testosterone levels, but one thing is clear – take your clothes off, and enjoy the falling season!
PumpKinky, PumpKing, or PumpQueen?
The Smell and Taste Treatment and Research Foundation in Chicago discovered that the scent of pumpkin pie was found to both increase penile blood flow in men and sexual desire in women. Some believe that the scents of vanilla and cinnamon, which may be ingredients in your pumpkin pie also improve sexual desire. Pumpkin seeds are also a good booster for sexual appetite, so paint your booty in pumpkin colors, and enjoy a pie!
Sex and Halloween New Moon
Based on astrologists' opinion, the new moon brings a good time to explore untried things. As the new moon itself brings new beginnings, it could be a good occasion to implement something new in your sexual activity during the Halloween Holiday, as the new moon has a direct impact on our sexual energy.
This time, don't take your clothes off!
Halloween is a great place to experiment if you are a role-playing lover. Wearing costumes while having sex is…! Your imagination should be boundless when it comes to costumes, as this holiday offers the opportunity to turn anything sexy!
The cam models surely know how to celebrate this holiday!
We all remember how the Halloween season was before the pandemic, fortunately, there are alternatives if you really want to enjoy a holiday to remember! There are many cam models that "dress up", just for role-playing adventures, so we bet that the model's costumes and makeup will overcome your expectations. This year, Halloween will turn into a real party for the adult cam sites, so if you decide to have the time of your life, don't hesitate to reach out to your #1 model in light of the fact that the broadcasts will transform into an incredible show! Read more articles here
CHERRY.TV ANNOUNCES SPECIAL BLACK FRIDAY PORNSTAR SHOW WITH SYBIL
Sybil will be streaming a special Black Friday show
Rising European porn talent, Sybil, will be streaming a special Black Friday show on Cherry.tv. The show will take place on Friday, November 26th at 9:30 UTC.

Zuzana Kasinski, Cherry.tv's Business Development and Talent Manager stated: "We wanted to usher in the holiday season with a hot little 'special' of our own—and Sybil could not be more perfect! She's an exquisite visual representation of the Cherry.tv brand."

Hailing from the Ukraine, Sybil began her adult modeling career at age 23 with Wow Girls in Prague, and has since shot with many prominent studios including Nubile Films, Adult Source Media, Babes, Vixen, and more. In 2020 she won The Best Glamcore Sex Scene at the XBIZ Europa Awards.

"For the most part, I don't have much streaming experience," Sybil A. explained, "but I am so thrilled to work with Cherry.tv and am really looking forward to talking with fans…" She added with a mischievous grin: "and I can't wait to see what the conversation's gonna be like!"

"It's going to be spectacular!" Kasinski agreed: "I've had Sybil in mind since our launch. She's young, naturally beautiful, and fans love her. I'm really excited to see how our millennial audience will react to her show."

About Cherry.tv

Cherry.tv aims to provide the ultimate experience in adult live streaming by blending gaming and social elements with the excitement of watching your favorite performers in real-time. Created by a team of professionals with 20 years of experience in the adult and gaming
industries, Cherry.tv brings a fresh perspective that will change the cam game and revolutionize the sector. Our goal is to become the #1 live streaming platform and enable millions of people to connect in a fun and engaging fashion. For more information on Cherry.tv, follow (@CherryTV). Interested affiliates can also sign up through CherryCash, and interested models can join via CherryModels.tv.

BCAMS Magazine, the 4th issue!
The independent livecam industry resource for news and tips & tricks for cam models and camsites.
Welcome to our 4th Edition of the BCAMS magazine. Keeping it fresh and current is a great way in this fast-paced new digital age world. With constant access to all of our previous articles and editions, you – the reader, will have a wealth of knowledge and information on all things in the Adult Industry on www.bcams-magazine.com.
"BCAMS Magazine is a fast-growing one, and each issue proved the strong connection made with the live cam industry. Thank you for your trust and support."
This issue has a festive atmosphere, as the Halloween season is about colorful, tasty, and versatile fun. The answer to the question "Trick or Treat?" is that the models we present to you are sweeter than candies!
This November isn't only about fun, but about business too! Chaturbate's COO Shirley Lara was glad to talk about her company and its achievements and history.

And also, you can read about Gaming Adult, and how the company brings alternatives in Pandemic times, by introducing you to a new level of digital sexy art and arousing adventures.

Moving forward, we are happy to introduce you to some of the most interesting International Kinkiest Sex Festivals, and a lot of useful information about the impact of the Halloween Holiday on humans' sex life.

All this and more awaits you in our fourth issue of BCAMS Magazine!
If you want to get featured in our next issue, don't hesitate to contact us!
Skyprivate announced the "Tease & Treat" Halloween costume contest!
We wish good luck and a lot of inspiration to all the participants! Happy Haunting!
SkyPrivate announced a big party this year! The platform announced the "Tease & Treat" Halloween costume contest, with a prize pool of $5000. Ten models that will have the WINNING costumes are going to be rewarded after the contest ends.
Those models who are interested in being part of the contest must upload a photo of herself wearing a Halloween costume on any social media platform, attaching to it her SkyPrivate profile link and the hashtags #SkyPrivateTeaseAndTreat and #Halloween.

On the official SkyPrivate website, you can find more information about the rules and eligibility to enter the contest, and also a good hint on how to improve your chances of winning!
"The more tweets of you sporting different spooky-steamy looks, the more chances you have to win yourself a $500 Halloween treat".

SkyPrivate Marketing Manager Andrew Red added, "We're celebrating Halloween with the models using our platform by giving them the chance to tease their own Twitter followers with their hottest Halloween looks and to 'treat' themselves to $5,000 in prizes. In other words, SkyPrivate models won't be going trick-or-treating this year but 'tease-and-treating' instead."

"It's a win-win: their Twitter fans get to see them showing off their hottest Halloween looks, while the models get to compete for one of the 10 chances to win a $500 Halloween treat" Andrew added.

We wish good luck and a lot of inspiration to all the participants! Happy Haunting!