Cherry.tv Wins at YNOT and AW Summit
At the YNOT awards, Cherry.tv won Best Emerging Company and AW Summit Awards, Cherry.tv won Best Emerging Platform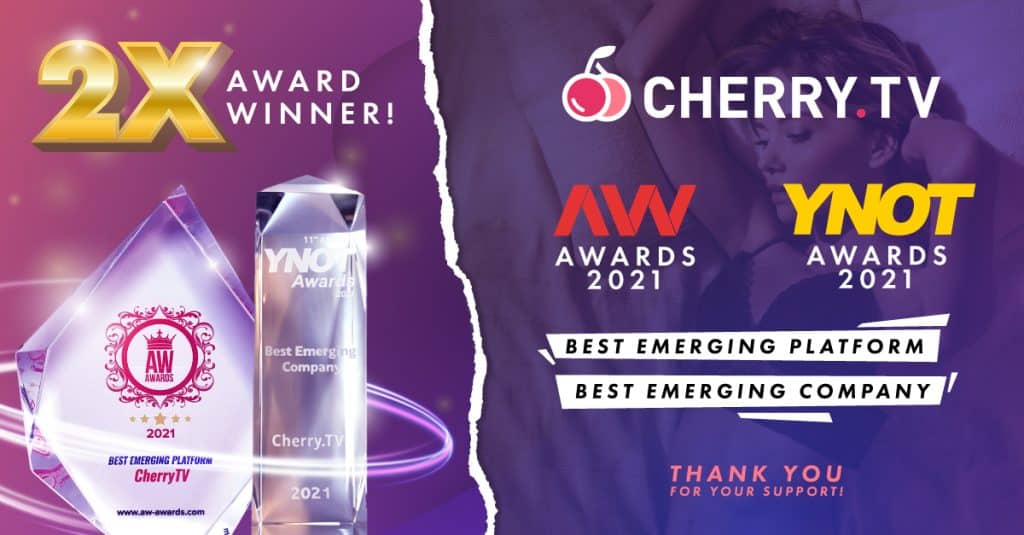 DELAWARE, USA — Just two months after their launch, Cherry.tv is already racking up industry awards and nominations.
At the YNOT awards, Cherry.tv won Best Emerging Company. Additionally, Cherry.tv for was also nominated at YNOT for Best Marketing Campaign, and three Cherry.tv models received nominations at YNOT as well.
Meanwhile, at the AW Summit Awards, Cherry.tv won Best Emerging Platform, and Cherry.tv's VP, Paul Ashworth, was nominated for Businessman of the Year.
Cherry.tv was also nominated for Best Emerging Company at Bucharest Summit.
As he reflected on Cherry.tv's exciting progress to date, VP Paul Ashworth stated: "Working on such a complicated project during quarantine wasn't easy. Not being able to meet as a team in person (for two years) definitely took its toll on us, but we pulled through and persevered–and here we are. We definitely learned a great deal from this process as well."
"For one, we saw there is a huge gap between products nowadays and the way the new generations are looking at things." Ashworth explained, "I think it's extremely important for platforms to listen to feedback from both models and users, and this is what we are trying to achieve with Cherry.tv."
He continued: "We will always aspire to improve the experience on our platform and innovate. In the end, no one wants to be the next MySpace or AOL. Our product aims to give the best experience to models and users who use the latest technology and apps."
A Cherry.tv rep added: "In other words, look out world! The Cherry.tv 'revolution' is already underway–and we are only getting started! Our hardworking team couldn't be more honored or humbled by these recent wins, especially since we are still so new."
Ashworth agreed: "I couldn't be more proud of the creativity and dedication that goes into Cherry.tv. We are so grateful for everyone's support, and we look forward to growing even more in the future."
About Cherry.tv
Award-winning platform Cherry.tv aims to provide the ultimate experience in adult live streaming by blending gaming and social elements with the excitement of watching your favorite performers in real-time. Created by a team of professionals with 20 years of
experience in the adult and gaming industries, Cherry.tv brings a fresh perspective that will change the cam game and revolutionize the sector. Our goal is to become the #1 live streaming platform and enable millions of people to connect in a fun and engaging fashion. For more information on Cherry.tv, follow (@CherryTV ).
Chaturbate Champions Body Positivity in Its 3rd Annual Health & Wellness Event
Chaturbate cordially extends an invitation to its esteemed community for the third rendition of its Health and Wellness Day. This year, we at Chaturbate are lighting the torch for diversity and fervently advocating for Body Positivity. It's time for everyone to unapologetically celebrate and showcase their genuine selves.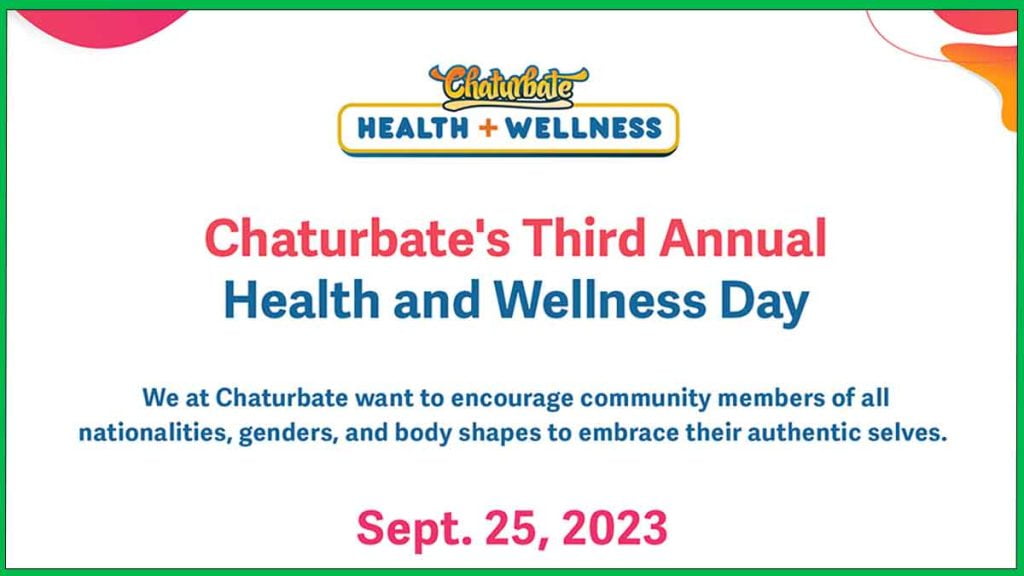 Lock in the date! The Health and Wellness Day unfurls on Monday, September 25th, kicking off at 1:30 p.m. PST. Be sure to join the celebration and enlightening sessions at

https://chaturbate.com/healthandwellness/
Let's uplift and inspire together!
Cams.com Sets Sail with 'Pirate's Booty Model Contest': Cash Treasures Await
Ahoy, cam models! Time to don your pirate hats and set your sights on a trove of bounties in the much-anticipated Pirate's Booty Model Contest. From September 19 to September 28, 2023, urge your loyal followers to shower you with pirate-themed virtual treasures.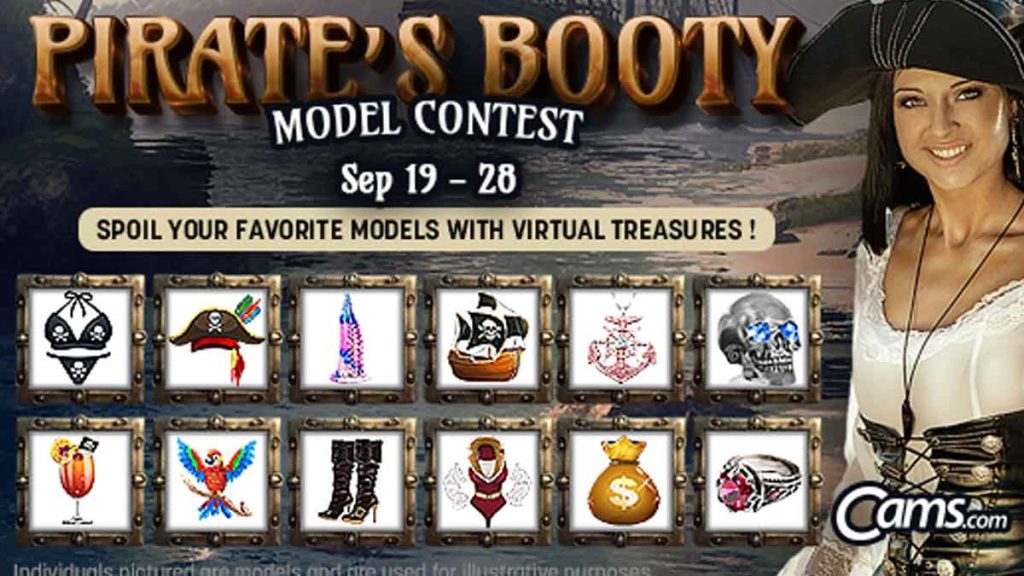 The more you amass, the closer you sail toward these coveted cash rewards:
1st: $550
2nd: $350
3rd: $200
4th-10th: $100
11th-15th: $65

Special Wildcard Bounties of $100 Each:
Most Improved: A nod to the model with the steepest surge in virtual gift sales since the previous contest. Note: The tally hinges on gift count, not their monetary value.

Social Media Darling: A golden chance for those broadcasting the contest on their social platforms. Ensure to tag @camsdotcom (Twitter) and @streamray_angels (Instagram) to ensure your hat's in the ring for this lucky draw.

Best Newcomer: Exclusively for budding stars with a tenure of 90 days or fewer on Cams.com. Outshine fellow novices in gathering virtual treasures and claim your prize! The contest draws its curtains on September 28, 2023, 11:59 p.m. PST, with the champions to be heralded in the week commencing October 2, 2023.
Quick reminders from Cams.com:
Open to all models.
Victory rides on the quantity of gifts, sidelining their fiscal value.
Only the listed gifts qualify.

A singular prize for each model in this contest's duration.
Raise your sails and embark on this thrilling voyage!
Stripchat's Oktoberfest #Stripchug23 Challenge: Chug, Tweet, and Win Big
In the spirit of Oktoberfest, Stripchat is thrilled to announce the return of its annual #Stripchug challenge! Participants stand a chance to bag an enticing stash of tokens, with prizes of 25,000, 15,000, and 10,000 tokens up for grabs for the top three participants.

Here's how you can join the fun:
Record a 2-minute video where you chug as many 473ml beer pints as possible. Ensure the pints have clear markers (beer tubes are off-limits).

Share your video on Twitter between September 22nd, 12:00 UTC and September 25th, 23:59 UTC.

Don't forget to mention @Stripchat and use the hashtags #Stripchug23 and #Oktoberfest.
Include a link to your Stripchat profile and select any audio track of your preference.
The challenge? The models who down the most beers within the stipulated 2 minutes will clinch the victory! All entrants will enjoy a moment in the spotlight, with their entries getting featured on Stripchat's official Twitter feed.
Excited? We sure are! "We eagerly await your entries and can't wait to celebrate your spirited performances," says Stripchat.
Mark your calendars as the victors will be unveiled on September 29th. A gentle reminder: All participants must be at least 18 years old. Cheers to fun and tokens!