Cherry.tv Wins at YNOT and AW Summit
At the YNOT awards, Cherry.tv won Best Emerging Company and AW Summit Awards, Cherry.tv won Best Emerging Platform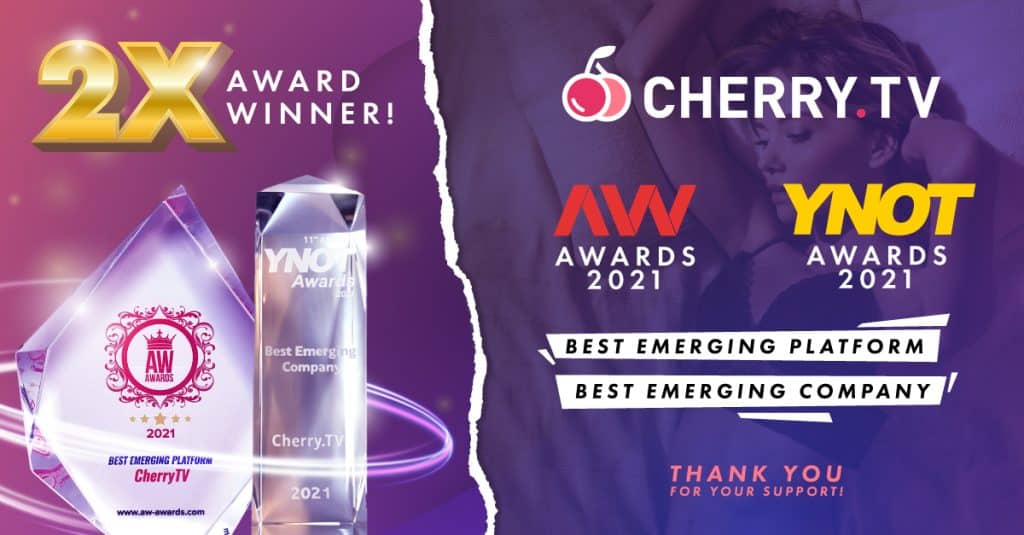 DELAWARE, USA — Just two months after their launch, Cherry.tv is already racking up industry awards and nominations.
At the YNOT awards, Cherry.tv won Best Emerging Company. Additionally, Cherry.tv for was also nominated at YNOT for Best Marketing Campaign, and three Cherry.tv models received nominations at YNOT as well.
Meanwhile, at the AW Summit Awards, Cherry.tv won Best Emerging Platform, and Cherry.tv's VP, Paul Ashworth, was nominated for Businessman of the Year.
Cherry.tv was also nominated for Best Emerging Company at Bucharest Summit.
As he reflected on Cherry.tv's exciting progress to date, VP Paul Ashworth stated: "Working on such a complicated project during quarantine wasn't easy. Not being able to meet as a team in person (for two years) definitely took its toll on us, but we pulled through and persevered–and here we are. We definitely learned a great deal from this process as well."
"For one, we saw there is a huge gap between products nowadays and the way the new generations are looking at things." Ashworth explained, "I think it's extremely important for platforms to listen to feedback from both models and users, and this is what we are trying to achieve with Cherry.tv."
He continued: "We will always aspire to improve the experience on our platform and innovate. In the end, no one wants to be the next MySpace or AOL. Our product aims to give the best experience to models and users who use the latest technology and apps."
A Cherry.tv rep added: "In other words, look out world! The Cherry.tv 'revolution' is already underway–and we are only getting started! Our hardworking team couldn't be more honored or humbled by these recent wins, especially since we are still so new."
Ashworth agreed: "I couldn't be more proud of the creativity and dedication that goes into Cherry.tv. We are so grateful for everyone's support, and we look forward to growing even more in the future."
About Cherry.tv
Award-winning platform Cherry.tv aims to provide the ultimate experience in adult live streaming by blending gaming and social elements with the excitement of watching your favorite performers in real-time. Created by a team of professionals with 20 years of
experience in the adult and gaming industries, Cherry.tv brings a fresh perspective that will change the cam game and revolutionize the sector. Our goal is to become the #1 live streaming platform and enable millions of people to connect in a fun and engaging fashion. For more information on Cherry.tv, follow (@CherryTV ).
Cherry.tv and Byborg Enterprises Join Forces to Create the Best Freemium Cam Site
Karoly Papp, Byborg Enterprises's Director, shared his confidence in the collaboration. "This joint venture provides us with a great opportunity to combine our cultures and knowledge and open up new international opportunities for both of our companies."

Paul Ashworth, CEO of Cherry.tv, expressed his enthusiasm for the new partnership. "We're incredibly excited to be joining forces with Byborg Enterprises SA and LiveJasmin to supercharge Cherry.tv's growth. With the help of LiveJasmin's resources and industry knowledge, we're confident we will be able to achieve better our mission of providing the best possible experience for our users and models."
The agreement between Byborg Enterprises SA and Cherry.tv is set to strengthen Cherry.tv's services and scale them to a new level. It will also create the best freemium cam site on the market, integrating gaming and social elements. Cherry.tv's founders will maintain full control of the brand and its operations, while Byborg Enterprises SA and LiveJasmin will use their technical knowledge and expertise to assist in the process.
The Cherry.tv team will be a Platinum sponsor of the upcoming XBIZ Miami event from May 15th to 18th. They will reveal their newest major platform upgrades, which American models eagerly await.
Jessy Dubai Announces "Pop Up" Giveaway Show on Cherry.tv
Award-winning adult performer and trans model Jessy Dubai will do an exclusive live "pop up" show on March 30th at 6pm PDT on Cherry.tv.
"Surprise! I wanted to give my fans some extra fun," said Dubai. "Leave your stressful work week behind and join me this Thursday for a special "pop up" adult playtime. Watch me play and play along…maybe you'll even score a random giveaway!"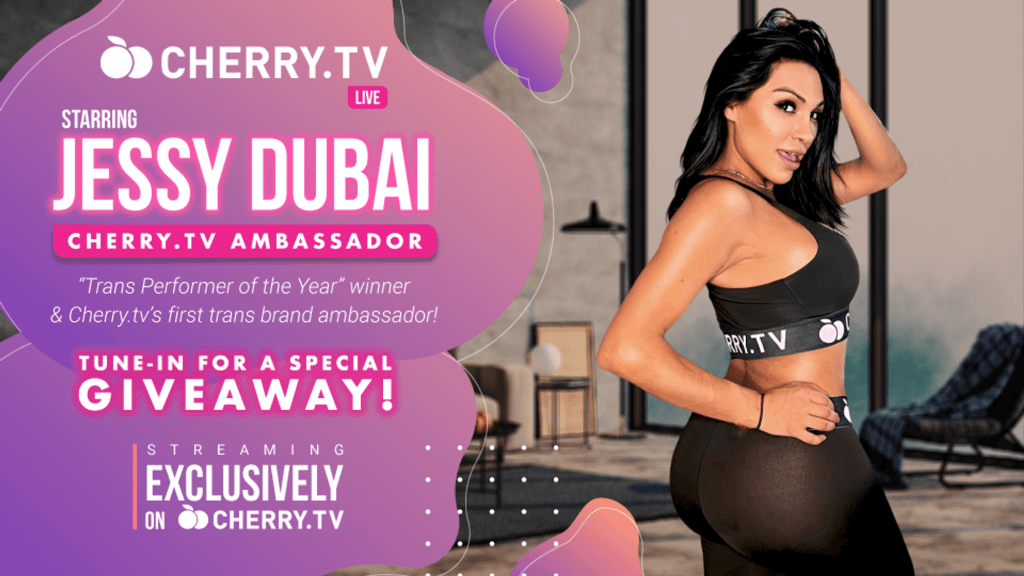 Jessy Dubai began her career as an adult performer nearly a decade ago. To date, she has starred in over 160 films and has worked with several top adult studios along the way, including: Trans Angels, Evil Angel, Devil's Film, Kink.com, Grooby, Gender X, and Transsensual. In 2016, she also won the XBIZ award for Trans Performer of the Year. In addition to her work in porn, Dubai is also a successful entrepreneur, producer, director, and club hostess.

cherry.tv
Livejasmin: Manage your inbox with new filters
Keep your fans close, and don't miss a single text!
Time is money! Save time and better manage your inbox with three new filters.

Say goodbye to endless scrolling to find unread messages. Livejasmin's unread filter will instantly display all threads that require your attention. Want to respond to members whose messages you've read but haven't replied to? Select the unanswered filter and easily follow up with them.
The pinned filter is perfect for those members you can't get enough of! Quickly find your favorite conversations with up to 50 of your members.
Your messaging experience just got better! Save time and get straight to the conversations that matter most with their new Messenger filters.
Try it out now!