This model is a woman that you can fall in love with quickly, as everything she says or does is filled with sexuality and passion. Her body's a sculpture that will keep you hypnotized, and don't be surprised if her "effect" on you, will last longer than you think!
What does cam modeling mean to you?
A righteous model is a psychologist, an artist, an actress, a publicist, a salesperson, a strategist?
Do you have any regrets since you started camming?
I guess my regret is that I didn't start earlier, ha-ha.
What is the main reason you chose to be a model?
Mainly the need for a job that would give me the financial capacity to be able to help my family.
Did someone support you when you started?
My best friend told me about the webcam modeling industry, but she didn't ask me if I wanted to be a model, but she supported me in my decision followed by my mother and my sisters when I decided to tell them that I am a cam model.
From your perspective, what are the problems you see working in this field?
The taboo of being a cam model, as many people don't know what this industry is about and many people are not okay with being involved with a cam model, especially when it comes to love life.
If your job progresses as you like, what would be the next step in your career?
I would love to create jobs and help other people progress, as I have done till now.
What is the weirdest thing that happened while you were performing?
There are fetishes that are not common, and of course, we deal with various fetishes, and here you can imagine what I am talking about.
What did you use to be before you became a model?
A basic person with no dreams, no goals, no visions about anything.
Did you ever fall in love with someone you met online?
I really liked someone, but I couldn't tell them it was love.
Off the chance your ex sees this interview, what would you say to him/her?
I don't know, the truth is I wouldn't expect a good or bad comment from that person, I think after we broke up and closed that relationship, so I wouldn't have anything to say to him.
How does your cam site differ from its competitors?
The market is full, but the cam site I work with offers me the opportunity to be myself. I transmit my essence.
What is the most courageous thing you have done in your life?
Not to insist on being where I am not welcomed.
If you could go back five years, what advice would you give your younger self?
Get a boob job and dye your hair, ha-ha-ha.
What types of people do you have difficulty interacting with while camming?
The pushy ones, those who think they are superior to others, and those who start making requests with nothing in return.
What do you do to maintain your beauty?
I exercise and eat healthy as much as I can because food is a very tasty sin.
If a crystal ball could tell you the truth about yourself, your life, the future or anything else, what would you want to know?
This question is very interesting, because I could answer it as most people would. I mean knowing everything about me, so I don't make mistakes and decisions that hurt me, or that are not the right ones for me. Even winning the lottery, ha-ha, but right now, I am grateful to God for my life, because thanks to my life experience, I am the woman that I am now.
What's your favorite thing about the cam site you work with?
My favorite thing about the cam site I work with is that I gain a constant income.
What's your biggest pleasure?
To be happy, to eat, to sleep, and to do productive things. Read more articles

Introducing Catherine Knight, a mesmerizing cam model where art, design, and music shape her unique performances. Her disciplined approach to life, dogged pursuit of goals, and cherishing of freedom make her a force of resilience and authenticity. With a rich background in fashion modeling and audacious life experiences, Catherine's world is an intoxicating blend of thrill and charm. Driven by her 'stubborn' determination, she ensures each encounter is not merely a performance but a fascinating journey into her captivating world.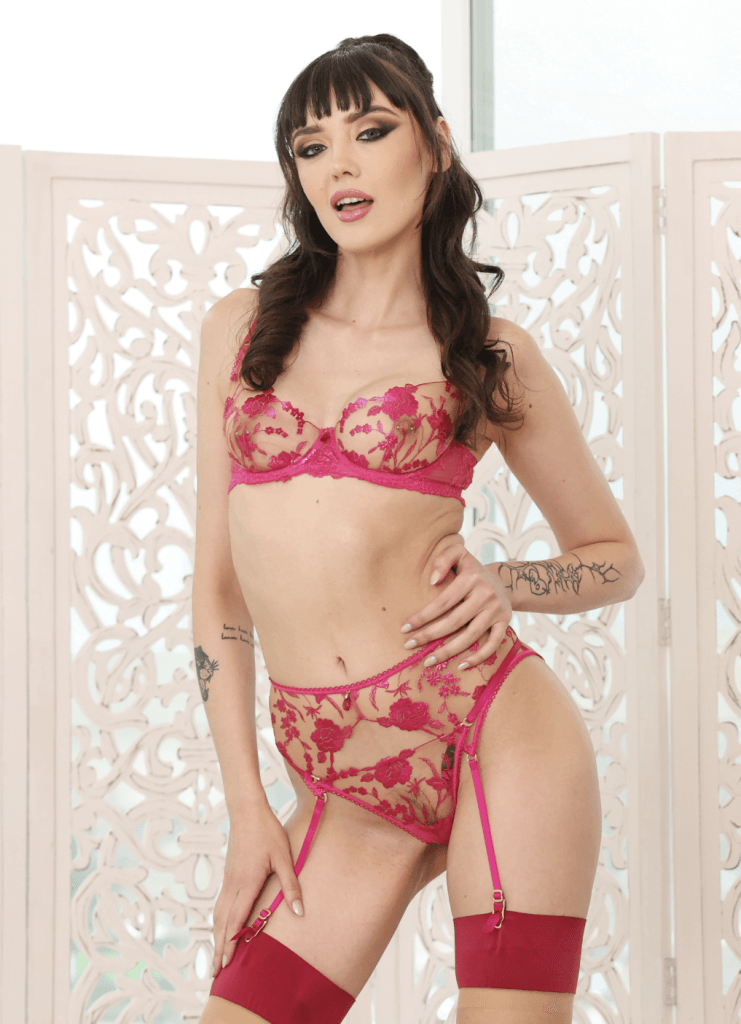 What are your passions and interests?
I am very passionate about interior design and art, painting in particular, which also happens to be a big interest of mine… I used to paint a lot in the past, and I really want to get back to it this year. Other big interests for me are fashion and music. I love listening to Soul and RnB or going to a good techno rave.
How do you manage stress?
I make sure to have everything on my to do list checked off. Taking some time off my phone, talking with my closest friends, work out, go on a walk around a nice park, take time to rest or just lay in bed, sleep enough, or watch something easy on Netflix/Youtube. I've also incorporated ice baths in the morning recently, and I'm obsessed!
What do you like most about yourself?
That I'm really goal-oriented, and passionate about everything I set my mind to.
What do you value most in life?
Freedom. From freedom of expression and authenticity to not following what everybody's doing or fitting in the mold of what's expected.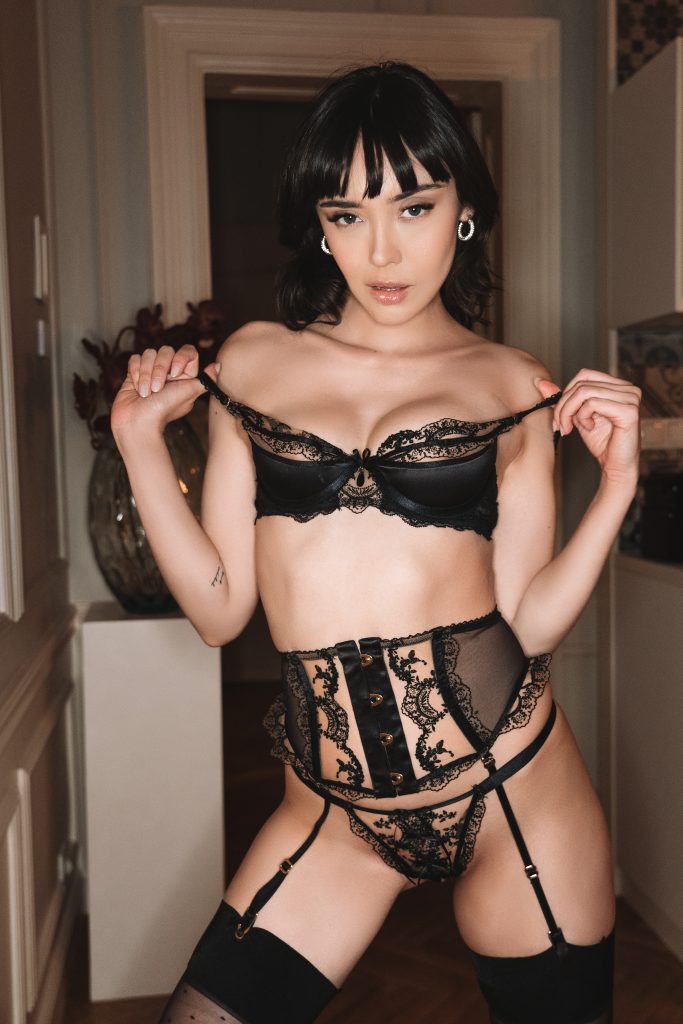 How do you define success?
Making oneself proud of what we have accomplished.
What are your short-term and long-term goals?
Short term: Diversifying my sources of income and getting my work visa to be able to work in the US. Long-term: I've always been interested in fashion and design, and launching my own fashion brand is one of my biggest goals, along with embarking on a renovation project to create my dream home.
Do you have a secret power?
It might not seem like a secret power at first but trust me on this one: being stubborn, hahaha. I know what I want, and I work hard to get it, so having my mind set on my goals is a big fuel to keep being consistent.
What is the dirtiest compliment you've ever received?
That I have a beautiful gape ahahaha, I'm actually starting to get that one quite a lot, and I feel it's kind of picking up. I have to say that I very much agree, though.
What experience do you have as a model?
I've worked most of my life as a fashion model, mostly doing magazine covers, campaigns, runway shows, and fashion editorials for Harper's Bazaar, Vogue, and Cosmopolitan to name a few. I did pretty much everything in Chile and also traveled for modeling to Hong Kong, China, South Korea, Singapore, Ecuador, Bolivia, and Perú. I recently walked the runway for Namilia at Berlin Fashion Week!
Where is the strangest place you've ever had sex in?
In the darkroom/sex dungeon of one of the best techno clubs in Berlin, on a random person's squirt with people staring and passing by.

Twitter
Instagram

Meet Honey Hudson, a captivating cam model celebrated for her vibrant personality, unique tattoo-adorned style, and ability to create memorable shared experiences through kink exploration. Having carved out a space in the industry over a year, she's driven not just by reaching wider audiences but by the autonomy her career bestows. As a woman who embraces criticism as a path to growth, she's a model of resilience. Honey Hudson values her independence at her core, epitomized in her control over her schedule. She's easily turned on by compliments, desire, and old-school manners and expresses her caring nature by planning romantic surprises. In the company of Honey Hudson, every interaction is an adventure marked by authenticity and mutual discovery.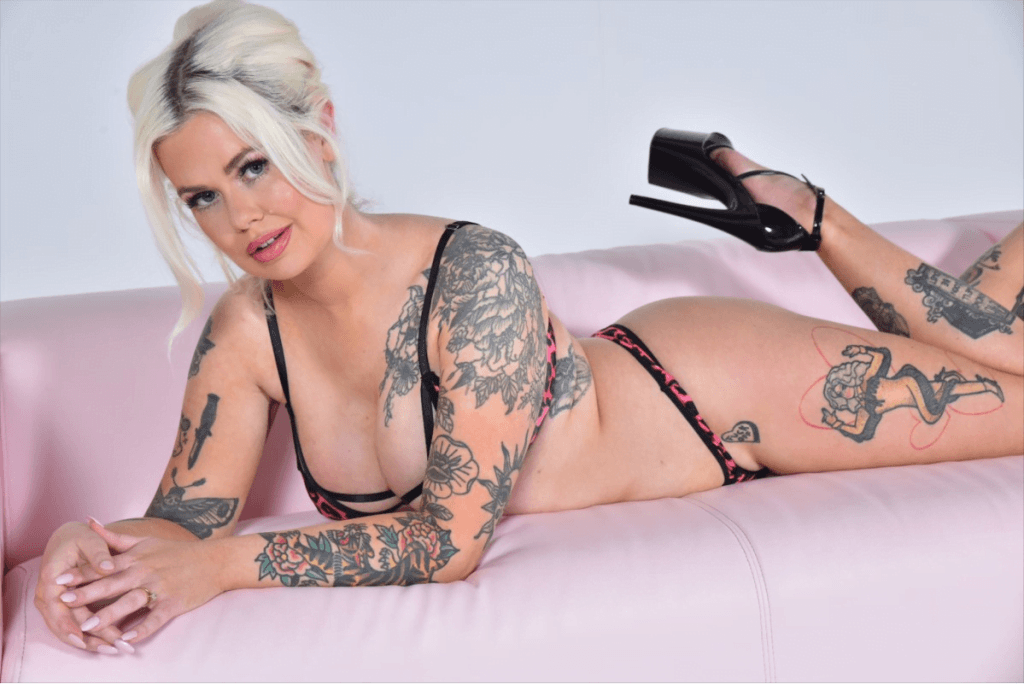 What do you like most about yourself?
I appreciate my down-to-earth personality and unique sense of humor. It's a blessing that I can find joy and humor in any situation. Members often compliment me for being genuine and easy-going during our cam interactions, which I take as a great compliment and find encouraging. Apart from my personality, on the physical front, I love my tattoos as they give me a distinctive edge. Additionally, I take pride in my physical features, especially my curves, which I confidently show off on cam.
What experience do you have as a cam model?
I've spent over a year in the camming industry, a decision I made after being inspired by several documentaries. This journey has been a mix of trials, errors, and lots of learning. One of the most exciting aspects I've discovered is exploring new fetishes with members. I remember having a session with a member where we delved into 'sounding', which turned out to be an interesting and fun experience. I consider myself a kink-friendly cammer and thoroughly enjoy this aspect of my work. While sometimes I wish I had started sooner, I believe everything happens for a reason and I am more confident in my abilities now than I ever was.
What drives you to succeed?
I'm self-motivated and have a broad perspective on success. It isn't just about the income, but also about the freedom to plan my own schedule and lead my life the way I want. The more time I spend in the industry, the more motivated I am to meet my goals and push my limits. I find the prospect of reaching a bigger audience and forming new connections with members truly exciting. I'm always brainstorming new ways to enhance my career and level up my game. I'm eager to see where this journey takes me and I truly believe the sky is the limit.

How do you handle criticism?
Handling criticism is an art. Although I've never received a bad review, I'm my own toughest critic. Sometimes I can be hard on myself, feeling like I should be doing more, whether it's working more hours or creating more content. I have ADHD, which can make me sensitive to criticism. But, I use these moments as reminders that I'm doing my best and that every day presents an opportunity to learn and develop further.
What do you value most in life?
Freedom and independence are what I value most in life, and these are the very things that I love about the camming industry. The ability to set my own schedule means I never have to miss important life events. I'm no stranger to missing holidays, family weddings, and quality time with my loved ones due to a rigid work schedule. Now, I feel truly blessed to have control over my own time.
What turns you on almost instantly?
I have a significant praise kink, so being complimented and desired is an instant turn-on. The attention and admiration I receive, both in my personal and professional life, are things I enjoy immensely. I've invested a lot of time and resources into creating a look that includes tattoos, surgeries, and regular beauty appointments. When this effort is appreciated, it brings me immense pleasure. I also have a soft spot for old school manners and a generous demeanor, whether it translates into a big tipper on cam or my husband treating me like a princess on dates.
How do you like to show your partner that you care?
For me, showing care for my partner often involves small, thoughtful gestures. It could be something as simple as fetching a coffee for them after a bad night's sleep or cooking their favorite meal to brighten up their day. I'm a romantic at heart and love planning surprises for my partner. One of the most memorable surprises was when I planned a trip to New York for his birthday. I believe in actively making time to cherish and nurture your relationships, no matter how busy life gets.

Twitter
Instagram
A date night with Goddess Anitta is a one-of-a-kind experience. With her sassy sense of humor, intelligence, and perky personality, she knows how to set the mood. She puts an emphasis on the art of seduction, enjoying both the flirtatious glances and the meaningful conversation of a night out. She appreciates an old-school approach to dates, favoring eye contact and well-dressed men who are confident in themselves. With Goddess Anitta, you can expect a night full of romantic teasing, carefully crafted touches, and plenty of smart, sexy banter.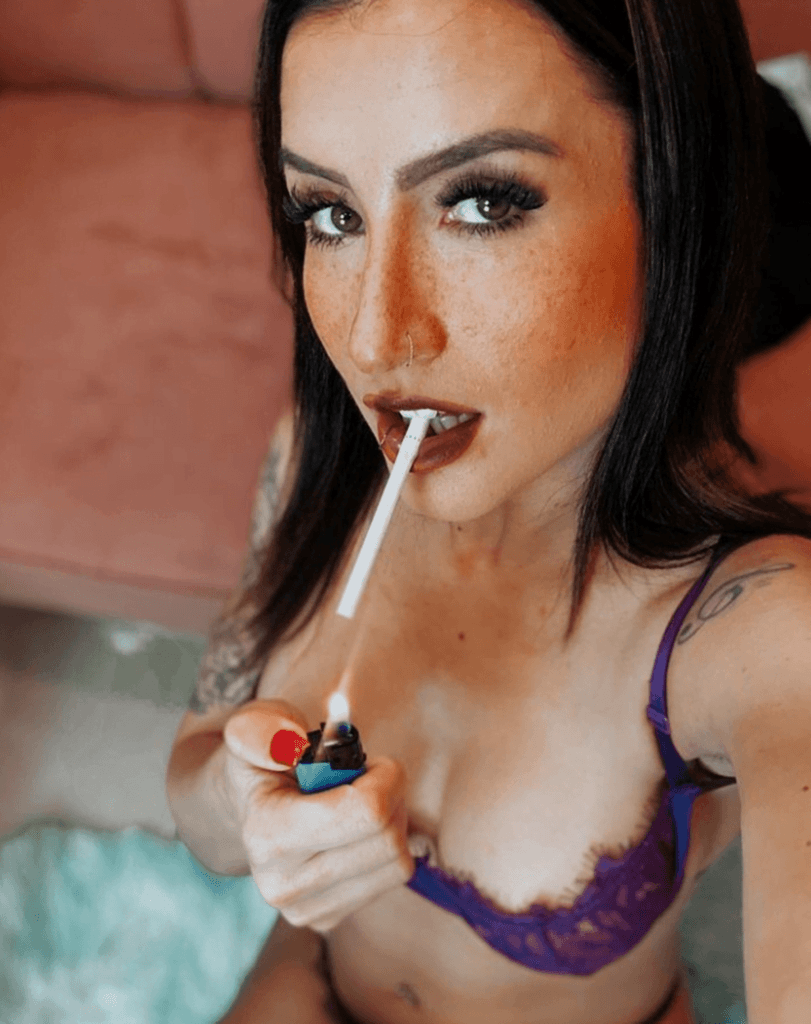 How do you overcome your fears and insecurities?
At the beginning of this journey, I had numerous insecurities, primarily concerning dealing with rude members and competing with other camgirls. Now, I handle these issues naturally, understanding that regardless of my profession, I will encounter such individuals. This realization has made me stronger and more confident. My life has found its rhythm. I don't worry excessively if I encounter a hater on any of my platforms. I calmly let them know that their behavior is inappropriate and that our interactions should be based on respect and freedom. In the past, I would ruminate for days over a negative experience. Camgirls do compete, but I firmly believe that, especially as women, we should always be supportive. Currently, I am at the best stage of my life, free from the shackles of fears and insecurities.
What is the most significant life lesson you have learned?
In this industry, there is always room for learning. It doesn't matter how many years of experience I have, how many people I know, or the number of positive or negative experiences I've had; every new day can bring a delightful surprise. This job doesn't have a monotonous routine. Initially, the unpredictability of not knowing what type of members I would encounter caused anxiety. Now, the variety keeps me engaged and excited. I am primarily into femdom, but I find it exhilarating that in one moment, I can have a submissive participant, and in the next, someone requesting a roleplay where I portray a student or nurse.
What would you like to say to your fans?
We camgirls are just ordinary individuals with common dreams. We chose to break some norms, dared to dream, and understood that we would face judgment. Sometimes we may feel lonely, but there are moments when we feel like we have the best job in the world. We relish the experiences and enjoy being desired and pampered, just like anyone else. Being virtually present versus being present in reality is vastly different, with each having its own set of risks, pros, and cons. If you wouldn't go to a grocery store and ask for a car, why would you make unreasonable requests in a camming session? Most camgirls weigh these considerations before deciding to enter the industry. They opted for the virtual space for a reason, so please respect that choice.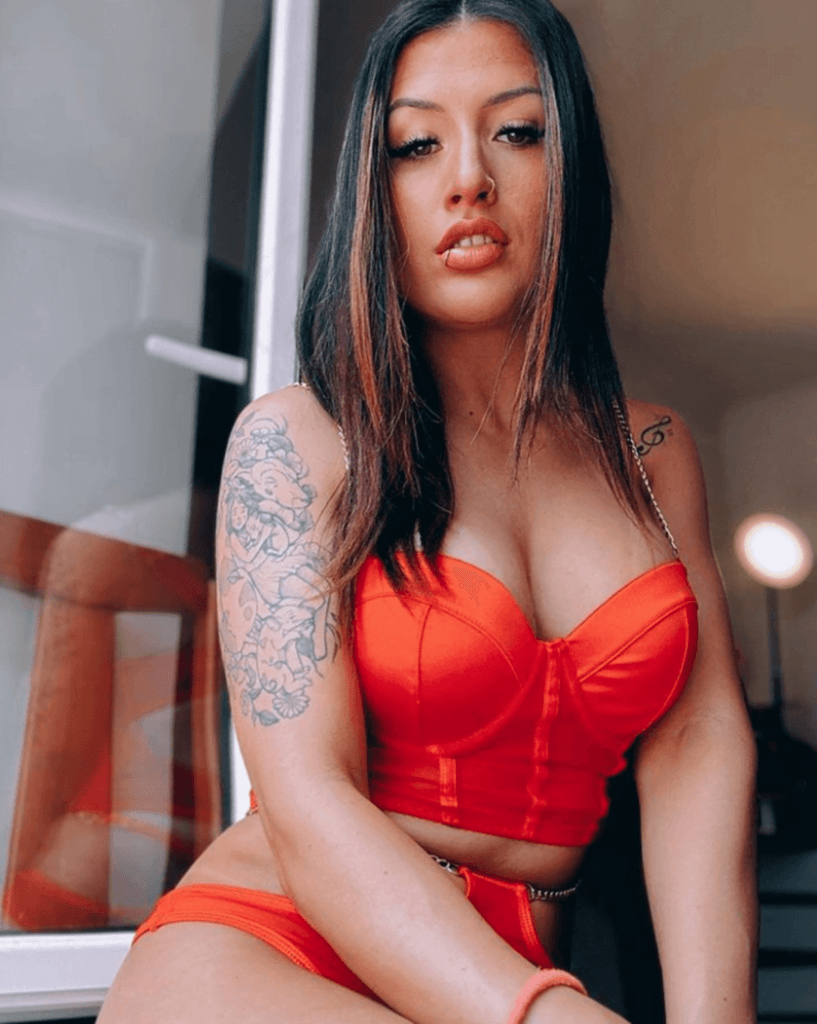 What inspired you to pursue a career in the camming industry?
I switched from one job to another until I landed a position as a barmaid. I enjoyed the role but gradually grew frustrated with the limited income and lack of career progression. The turning point was a conversation with my manager, who told me in no uncertain terms, "I don't let women grow in my company; that will not happen." This served as the catalyst for my departure. At that time, we were in the midst of the COVID pandemic, so I utilized those months to contemplate my next move. During my research, I stumbled upon camming. The income I earned on my first day was triple what I would have made in three days as a barmaid. It took some time for me to grasp the full potential of this career path.

What are the biggest challenges of the camming industry?
We should be better protected, as I feel that it is too easy for a camgirl to get banned from most websites while a member can seemingly get away with any misconduct. We face daily criticism about the fetishes we perform, endure hate, and compete among ourselves. Of course, there are platforms designed to support us, but it still feels insufficient. These platforms tend to be reactive, addressing issues only after the "damage" has been done. A member, on a whim, could choose to give us a poor rating simply because they are having a bad day or experienced technical issues on their end during a stream session. This can significantly damage a rating system that we have spent years diligently building. Unfortunately, most websites do not take adequate action against false ratings or reports. It is far too easy for one's career to be derailed if due precautions are not taken. Additionally, if a camgirl happens to attract a stalker, it is alarming to witness the level of freedom they seem to possess.
What do you think sets you apart from other cam models?
Initially, I was open to trying everything, which took a significant toll on my mental health. There is an underlying pressure to cater to all fetishes and categories. I have heard a plethora of advice like, "Oh, you shouldn't drink water during your stream, you shouldn't play this type of music, you should be in character all the time," and so on. These notions seem amusing to me now. Presently, my genuine personality shines through. I don't attempt to mimic other models, and my blend of sarcasm, sense of humor, intelligence, and mischievous mind attracts the exact clientele I desire, which is ideal. My audience appreciates me for who I am, and that authenticity is invigorating. I feel that Anitta represents a facet of my personality that comes alive online – the sultry, confident side that doesn't conform to stereotypes. I revel in being open-minded.
What's your ideal date night?
I must admit, I'm a bit old-fashioned when it comes to dating because I have a penchant for flirting, which seems to be a lost art these days. People claim they would love to flirt with me, but I suspect it's primarily because they find me attractive. I've never used Tinder or any dating apps, as I have a preference for in-person interactions. There's something alluring about eye contact and the art of seduction. I'm drawn to men who exude confidence without the need for a wingman. Intelligence coupled with confidence is incredibly sexy. However, I have high standards. I put a lot of effort into taking care of myself, so I expect the same from a partner. A well-dressed man with a tantalizing scent is very appealing. The night should then progress with teasing, the perfect choice of words, and subtle touches. And when I refer to touch, I'm talking about sensuality and eroticism, not crudeness.