Uncertain times for OnlyFans or when paying for porn gets complicated

OnlyFans has been around since 2016 and it is best known for letting creators upload any kind of content, including porn, and lock it behind a paywall. Last week, the UK based company announced it would no longer allow "explicit sexual content" in the future, only to suspend the plan after outcry from users, a few days later.
Why did OnlyFans try to ban porn?
The OnlyFans board management announced on 19 August 2021 it planned to ban the posting of any sexually explicit conduct, citing a need to comply with banking partners and payout providers. "In order to ensure the long-term sustainability of the platform, and to continue to host an inclusive community of creators and fans, we must evolve our content guidelines", according to a statement provided to the media.
A few days later, OnlyFans reversed course. On Wednesday, it declared that it had "secured assurances necessary to support our diverse creator community." It suspended its plans for the new policy, and as of this writing, there's no indication it will reimplement the ban.
Mike Stabile, director of public affairs at the adult industry group Free Speech Coalition, explains that launching a platform requires establishing a direct relationship with a bank or using a payment processor that accepts adult industry clients. In turn, banks and processing gateways need to comply with rules set by Mastercard and Visa. (American Express doesn't support digital adult content at all.) "At every point, there's a potential where someone is not going to want to work with you, because you're adult content," says Stabile.
Why don't financial companies want to work with adult sites?
One of the main reasons is an unusually high risk of disputed charges from customers who make a purchase but deny it out of embarrassment, for instance, and try to get their money back. Another reason would be a ripple effect where financial companies worry about violating Visa and Mastercard's adult content rules and may act even more conservatively, exceeding the mark of the actual policies.
Anti-porn activists scored a major victory when Visa and Mastercard cut off payments to Pornhub, the site run by adult services juggernaut MindGeek, following a New York Times report pointing to nonconsensual pornography and videos of children on the site. In April, Mastercard introduced new rules for all adult services, requiring them to verify performers' ages and their consent to have content posted. The rules are set to take effect in October.
Nevertheless, the site was hit with severe backlash – from subscribers, creators, and the media alike – with many pointing out that OnlyFans used sex workers to grow powerful, and then it sold them out. Sex workers claim they had built OnlyFans into a multibillion-dollar subscription platform, and after the news, many have explained why the proposed change was such a betrayal. They helped make the company valuable, and in return, it nearly kicked them out.
We may never know the exact reason why OnlyFans tried to ban explicit adult content on it's platform, but for sure it drove a lot of attention to the matter. Even Elon Musk used the recent controversy surrounding the website OnlyFans and tweeted "The dark side of OnlyFans" alongside a photo of real table fans. Read more articles here
Cherry.tv and Byborg Enterprises Join Forces to Create the Best Freemium Cam Site
Karoly Papp, Byborg Enterprises's Director, shared his confidence in the collaboration. "This joint venture provides us with a great opportunity to combine our cultures and knowledge and open up new international opportunities for both of our companies."

Paul Ashworth, CEO of Cherry.tv, expressed his enthusiasm for the new partnership. "We're incredibly excited to be joining forces with Byborg Enterprises SA and LiveJasmin to supercharge Cherry.tv's growth. With the help of LiveJasmin's resources and industry knowledge, we're confident we will be able to achieve better our mission of providing the best possible experience for our users and models."
The agreement between Byborg Enterprises SA and Cherry.tv is set to strengthen Cherry.tv's services and scale them to a new level. It will also create the best freemium cam site on the market, integrating gaming and social elements. Cherry.tv's founders will maintain full control of the brand and its operations, while Byborg Enterprises SA and LiveJasmin will use their technical knowledge and expertise to assist in the process.
The Cherry.tv team will be a Platinum sponsor of the upcoming XBIZ Miami event from May 15th to 18th. They will reveal their newest major platform upgrades, which American models eagerly await.
Jessy Dubai Announces "Pop Up" Giveaway Show on Cherry.tv
Award-winning adult performer and trans model Jessy Dubai will do an exclusive live "pop up" show on March 30th at 6pm PDT on Cherry.tv.
"Surprise! I wanted to give my fans some extra fun," said Dubai. "Leave your stressful work week behind and join me this Thursday for a special "pop up" adult playtime. Watch me play and play along…maybe you'll even score a random giveaway!"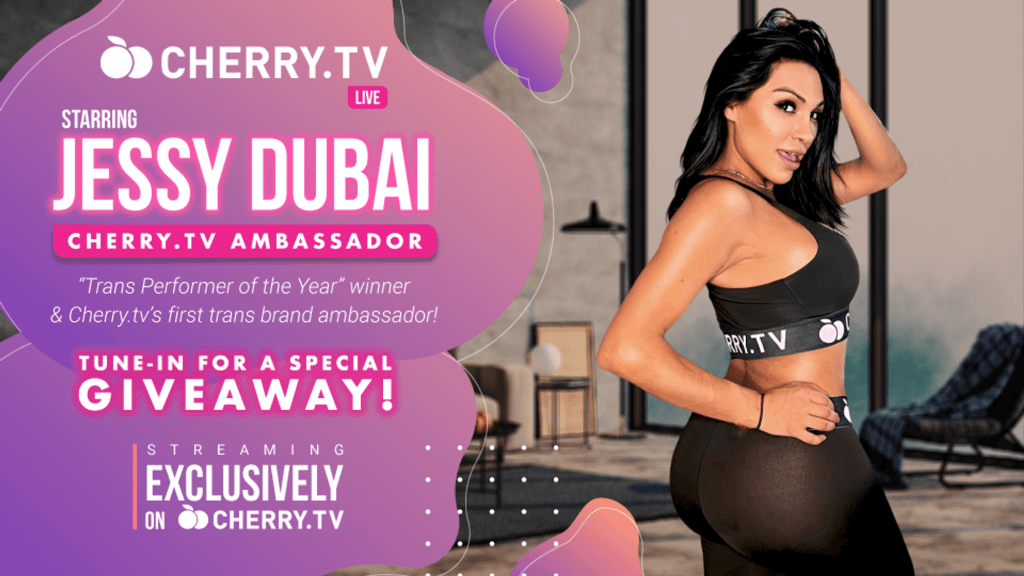 Jessy Dubai began her career as an adult performer nearly a decade ago. To date, she has starred in over 160 films and has worked with several top adult studios along the way, including: Trans Angels, Evil Angel, Devil's Film, Kink.com, Grooby, Gender X, and Transsensual. In 2016, she also won the XBIZ award for Trans Performer of the Year. In addition to her work in porn, Dubai is also a successful entrepreneur, producer, director, and club hostess.

cherry.tv
Livejasmin: Manage your inbox with new filters
Keep your fans close, and don't miss a single text!
Time is money! Save time and better manage your inbox with three new filters.

Say goodbye to endless scrolling to find unread messages. Livejasmin's unread filter will instantly display all threads that require your attention. Want to respond to members whose messages you've read but haven't replied to? Select the unanswered filter and easily follow up with them.
The pinned filter is perfect for those members you can't get enough of! Quickly find your favorite conversations with up to 50 of your members.
Your messaging experience just got better! Save time and get straight to the conversations that matter most with their new Messenger filters.
Try it out now!