myonly.chat – Transform your Telegram channel into your ATM!
" I guess we all owe it to ourselves to have a purpose in life and to use what we have to leave a legacy, create something."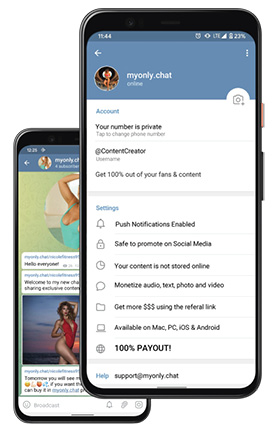 Are you a content creator or business in the adult industry trying to bring more traffic to your platform and promote it safely? Then look no further! Myonly.chat is a premium Telegram service that helps content creators or businesses sell access to their Telegram channels. It's a subscription and tip-based, adult-friendly and safe to promote on any social media. Overall, a service that empowers content creators.
We had the pleasure to meet Andra Chirnogeanu, myonly.chat CEO, who gave us more details and insights of their recently launched app.
How did you come up with the idea to create myonly.chat?
I've worked in the adult industry for the last 6 years and all these years I´ve encouraged performers to take control of their content and their social media. When myonly.chat started, the idea behind it was ¨let´s do something that doesn't put us in competition with anyone but can help everyone make more money¨. We´re not a platform, we´re providing a service, a way to make MORE money from your content, to bring more traffic to your platform, to promote it safely. I want everyone to win and it saddens me to see that in an industry so small, people are so divided.
What is the difference between myonly.chat and other similar services?
As mentioned before, myonly.chat doesn´t store content. The content is diverse, from text messages to audio, photo and video. 100% payout, the 24/7 support from our account managers, and the fact that this is not ANOTHER platform, but a service where you can monetize the content you already have. There's also the fact that Telegram is an app that's safe to promote on social media, it's available for both Mac and PC, and most devices running Mac or Android.
An added benefit is push notifications, which, unlike browser notifications where fans have to opt-in, Telegram has native push right to your fan's mobile device or laptop. And if creators needed more reasons to use the myonly.chat service, there's also the fact that they can stream exclusive shows to their fans.
What are the goals of My Only Chat?
We´re looking at perfecting the service, making it easy to use for everyone that wants to join. The goal has always been to make people monetize what they're good at. There is no one like you out there, and that's something to celebrate and get money from. Nothing in this world is for free, why would your content be?
Where do you see myonly.chat in 2 years?
Hopefully fully adopted on every site that provides services, offer them our API and white label to use as a new revenue stream for their users and models.
Do you think that being a female CEO brings along more benefits, or more disadvantages?
I´ve never been a male CEO, so I wouldn´t know the difference. Timothy Leary said ¨Women who seek to be equal with men lack ambition.¨ In all seriousness, I believe any executive position comes with challenges and it´s a matter of personality, rather than sex how one deals with those challenges.
I don't compare myself to anyone, as no one is me, or goes through what I went through, or had my background, struggles, privileges etc. I guess we all owe it to ourselves to have a purpose in life and to use what we have to leave a legacy, create something.
I´ll be foolish not to use all that I have, as a man would use physical power in certain situations, let's say, I'd use my wits or smile. That just proves you know how to work and take advantage of your differences rather than seeing them as a disadvantage.
How many content creators do you currently have signed in?
At the moment we're doing this interview, at the end of August, the number of creators using our service is 103.
Was it difficult to redirect people's attention to a new platform?
For sure it takes time, and myonly.chat has just started a few months ago. People were very curious and wanted to try it, to see how it works. We´re changing, adapting, improving every week, seeing what works and what doesn´t, while keeping our principles about what the creators should get from it. We don't want to redirect them as in choosing a unique platform to be on; we encourage creators to sell their content and have their ¨eggs¨ in as many baskets as possible.
How hard is it to start your business in these uncertain times?
Starting a business is easy, everyone can do it. Keeping a business going and making it successful (this is different for everyone) is the tricky part. You have to be patient, passionate, and not too proud to ask for help. We make mistakes when we think we know
everything.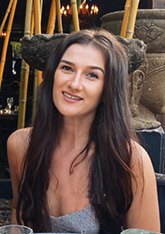 Tell us a few words about MyOnly.Chat's CEO.
I get up every morning and I take a few moments to pray. I´m not a religious person by any means. Praying is my time of giving thanks to being awake and healthy, able to do what I love, have people that I love in my life, and being overall happy. This is not something that people know about me and I believe it's the first time I'm talking about it in an interview.
My career in the adult industry started 6 years ago because I was stubborn to get into something I knew nothing about and learn about it. The reason why I accepted the MOC offer was that it was a challenge to learn more about something I didn't know. This is myonly.chat´s CEO in a few words: grateful, curious and ambitious. Read more articles here
Stripe Shuns Sex Work, Yet Gains from AI Non-Consensual Images
Stripe, a $50 billion payment processing giant known for avoiding the adult industry, is currently reaping profits from AI-produced non-consensual pornographic images.

Two platforms, CivitAI and Mage.Space, have been highlighted for exploiting text-to-image AI utilities to create explicit images, frequently of celebrities or other known figures. Mage.Space, for instance, requires subscription fees for this service.
Both CivitAI and Mage.Space process their transactions via Stripe, meaning with every transaction, Stripe receives a share. Notably, Stripe's typical rate is 2.9% plus a flat $0.30 per transaction.
GoAskAlex, an adult performer, expressed concern about the irony in Stripe's dealings. She emphasized the injustice of financial institutions capitalizing on non-consensual content, especially when they actively distance themselves from legitimate adult industry professionals. Hany Farid, a UC Berkeley professor, similarly questioned the ethics of online financial platforms supporting such services.
Mage's co-founder, Gregory Hunkins, informed about their stand against non-consensual imagery. However, non-consensual images were still readily available on their platform. Multiple outreach attempts to Stripe for comments remained unanswered.
The inconsistency in Stripe's policy becomes glaring when considering their clear stance against collaborating with "adult content and services." They have explicitly listed the types of businesses they refuse, which includes explicit content and adult services.
Mike Stabile of the Free Speech Coalition expressed astonishment at Stripe's seemingly contradictory actions, pointing out how several in the adult industry have been banned or denied services by Stripe. The current situation feels like an affront, especially when one considers that legitimate adult professionals are sidelined while AI platforms exploiting their likenesses profit.
X Corp. Faces 2,000 Arbitration Demands, Agrees to Negotiate
Following Elon Musk's acquisition of Twitter in October 2022, X Corp. has entered discussions to address arbitration claims from nearly 2,000 laid-off employees.

Attorney Shannon Liss-Riordan, in a memo cited by Bloomberg, stated, "We have successfully brought Twitter to the negotiation table. Twitter seeks global mediation to settle all our filed claims." Private mediation sessions are slated for December 1 and 2.
A source indicated to Bloomberg that X Corp. is acting in compliance with a court order to mediate. An August filing disclosed over 2,200 individual arbitration demands against Twitter, with potential filing fees nearing $3.5 million as reported by CNBC. X Corp. has pushed for an even distribution of the arbitration costs.
Previously, Twitter (now "X") allegedly compelled ex-employees to opt for arbitration over lawsuits while declining arbitration costs. Liss-Riordan pursued multiple class actions, including one suggesting Twitter breached the federal and California Worker Adjustment and Retraining Notification (WARN) Acts, failing to provide 60 days' notice before a mass layoff.
In January 2023, a federal judge mandated ex-employees into arbitration due to existing agreements. However, Twitter was accused in July of both insisting on arbitration and avoiding the associated costs.
The company also faces allegations of unpaid severance, discrimination, and WARN Act and FMLA violations. Liss-Riordan, representing the ex-employees, commented, "We are dedicated to ensuring they receive what's due."
Updates will follow upon receiving comments from Liss-Riordan and X Corp.

Source: Blomberg
Texas Age Verification Law for Adult Websites Blocked by Federal Judge
A day before it was set to be enforced, a Texas law mandating age verification and health warnings for pornographic websites was halted by U.S. District Judge David Ezra. He ruled in favor of the Free Speech Coalition, an association representing the adult entertainment industry, arguing that the law infringed on First Amendment rights and lacked clarity.

Judge Ezra criticized House Bill 1181, which was endorsed by Gov. Greg Abbott, stating that the age verification component unnecessarily restricted adults from accessing lawful adult content under the guise of shielding minors.
Furthermore, the judge voiced concerns about privacy. The law's provision allowing age verification via government-issued ID could let the state government monitor and log users' access to such websites. This poses risks, especially for those accessing LGBTQ content, given Texas' ongoing controversial laws related to homosexual activities.
The ruling also highlighted concerns about potential leaks or breaches exposing personal data.
Another aspect of the law mandates warnings on porn sites about supposed psychological risks of viewing adult content. However, Judge Ezra pointed out a lack of evidence supporting the effectiveness of such warnings in restricting minors' access. He further noted that these warnings were labeled "Texas Health and Human Services" without clear backing from the named institution.
It's worth noting that Texas followed the steps of Louisiana and other states in proposing such legislation. However, there were gaps in the Texas law, such as excluding social media sites due to them likely not meeting the one-third sexually explicit content criteria. This loophole means minors could still access adult content on platforms like Reddit, Tumblr, and Instagram.
Summing up, Judge Ezra emphasized that while the law's intent was to protect minors, it wasn't adequately designed for that purpose and instead contained broad exemptions.