Make-up Tips & Tricks for Camming
" When doing make-up for a cam show, make sure you check exactly how you look on your web camera before you actually get started, because the difference can be staggering."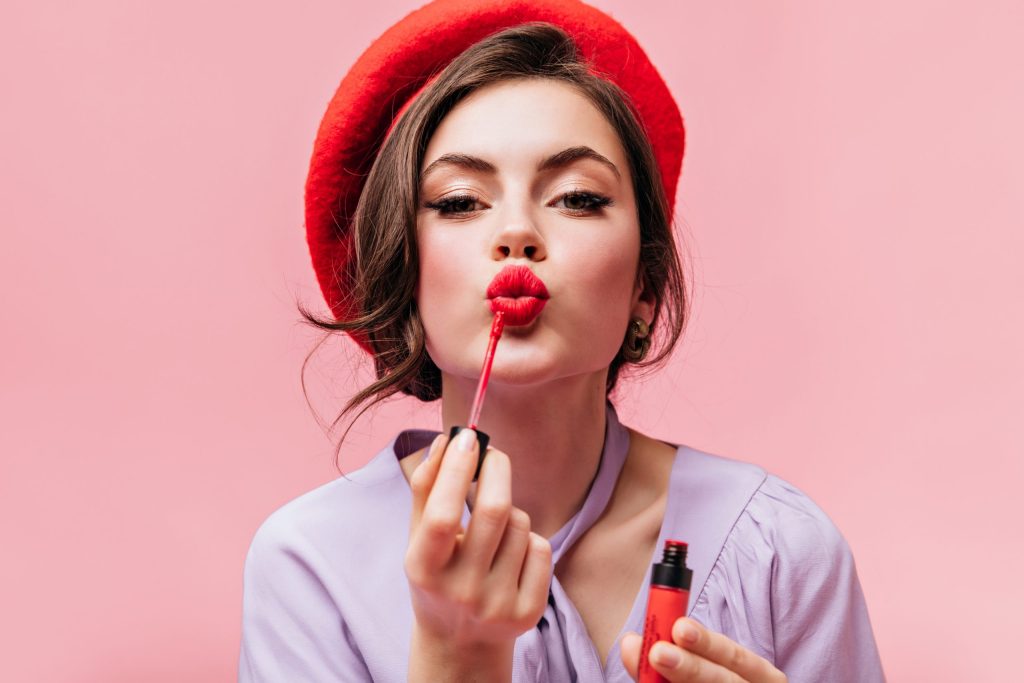 Being a successful cam girl requires more than just sitting in front of a camera. You have to have great content, engage and entice your audience, and attract as many viewers as you can. That's why it's crucial that you look the part.
Your appearance is vital to your success. After all, people like pretty things, that's why they tune in. You have to sell them the fantasy and give them what they came for. The number one rule of webcam make-up: when you're doing a cam show, you want the viewers to like what they see. You won't go live while looking like you just rolled out of bed. You'll do your face and hair, put on some frisky, flirty outfit, and strut around.
What kind of make-up and what types of looks are the best for cam shows? Check out our tips for successful webcam modeling.
Make-up doesn't look the same in different lighting conditions.
If you're putting on make-up to go on a brunch with your girlfriends, you need natural lighting. So, by all means, sit at your vanity while you do your make-up. However, when you're putting on make-up for a cam show, check it in your vanity won't do the trick. It will look completely different under the harsh lighting that you use for filming. So, make sure to check your make-up on your web camera before you start the live show. When doing make-up for a cam show, make sure you check exactly how you look on your web camera before you actually get started, because the difference can be staggering.
Glowing skin
It's essential that your skin looks soft, well-groomed, and taken care of. That's why you need to keep it moisturized. Just because your viewers can't touch your skin doesn't mean it shouldn't be delicate and smooth. What's more, your gorgeous skin will invite the viewers to want to touch it, which is the end goal, after all. That's how you get private shows, girl! Of course, moisturizing and maintaining the healthy glow of your face is crucial as well. So, apply day and night creams and take good care of yourself — it will pay off.
Exquisite tan
It doesn't matter what your skin type and color are — porcelain, fair skin looks just as beautiful as the deep, chocolate one does. All the tones are gorgeous and enticing, especially when you show a lot of skin. What matters is that your face matches your body? So, when applying make-up, make sure you have the right foundation or BB cream that won't make you look like someone stuck your head on someone else's body.
Don't melt under the lights — prime your skin
Because you have to have stellar lighting in your cam area, you have to make sure your make-up is durable enough to withstand the additional heat. So, after moisturizing, don't forget to put on some primer. And, while on the subject of keeping your make-up fixed, we also have to mention setting sprays or powders. Those come quite a few steps after the primer but are equally important. They will lock in your flawless look, and make sure it doesn't go anywhere for as long as you need it.
Set the right foundation
Now, as mentioned, your foundation has to match your neck and body color. Foundation is also essential because the lights and the webcam can make you look quite pale and washed out. So, while you can go for an "all-natural" look, we suggest you apply a lot of foundation. What's more, it's always good to use a full-coverage foundation, especially one made to withstand being viewed on an HD television.
Hand in hand with the foundation goes the mighty concealer. You can apply the concealer either before or after your foundation, depending on your make-up routine and preference. A concealer is a great tool, as it allows us to cover up all imperfections and present the best possible look for our viewers.
The magic of contouring
Not that long ago, we had to accept and commit to the way our faces look. Well, thanks to Kim Kardashian, among others, we no longer have to. With contouring, you can highlight (or hide) specific parts of your face. Because the camera washes out the skin tone a bit, contouring is also crucial so that your viewers may see your face features. It will give your face dimension and make you look as ethereal as a porcelain doll.
To finish off the contouring, pop some highlight above your cheekbones, on the tip of your nose, and under the brow. The highlight will catch the attention right where you want it. Of course, don't forget to apply your blush and add to that ethereal glow you've got going on! Applying rosy blush will make your cheeks look flushed as if you are in the throes of passion. That's precisely what your viewers want to see, as it will boost their fantasy and keep them coming back for more.
Opulent lashes for that "under the brow" look
To avoid looking washed out, fill in your brows. You can make your eyebrows a bit more angled, for that piercing, "femme fatale" look. Add some long, luscious lashes, and your visitors won't be able to take their eyes off of you.
Luscious lips
Of course, no look is complete without lavish, plump lips. You want your lipstick to be pristine and eye-catching. Bold, vibrant lipstick colors are the perfect way to complete the fantasy for your viewers. Give them everything they need, and watch them as they request private chats just so they can keep looking at your fleshy, pouty lips.
Don't be afraid to try out new things. Be bold, be daring, and try out different looks. Remember, sexy girls with make-up done just right will always get more viewers and fans. Invest in your work, and in your brand, and you'll get loyal fans in no time! Read more articles here
Clowning Around Fashion: The Rise of Clowncore
This season, the theatricality of clownery is taking over fashion. Christopher John Rogers began the craze with his pre-fall 2023 collection featuring a magnificent ivory white clown suit decorated with silk flowers. Then, at the spring 2023 couture shows in Paris, the topic seemed to reach its peak. Dior showcased a fancy clown collar inspired by Josephine Baker's wardrobe, Armani Privé went with sparkling harlequin prints and patterns, and Chanel had top hats and bows that allude to a ringleader. Even Marni's fall 2023 show in Japan hinted at the high-volume, unusual shapes and silhouettes typically seen with the character's outfit.
The most fashionable clown of all time is Pierrot, a pantomime stock character tied to the 17th-century Italian troupe of performers in Paris, and it has been a source of inspiration for many designers, ranging from John Galliano to Vivienne Westwood. Bode has reinterpreted the legendary costume multiple times, and unisex hosiery brand TYT released magical clown-printed tights and skirts in a spectrum of colors with funny and spooky faces. Sasha Marie Bell also got in on the trend after finding a Jack in the Box at her boyfriend's house in Italy that had been passed down through generations.
Clown motifs in fashion have been around since the Fifth Dynasty of Egypt, around 2400 BC, and some of the most iconic moments include Westwood's harlequin prints in 1989 and performers like David Bowie and Freddie Mercury wearing pieces inspired by clowns. In 2021, the trend made a resurgence, and it has only gotten stronger and weirder since. The pinnacle of this movement is clowncore, which is all about being wild and standing out.
The current clown trend may be a response to rigid minimalism or the pandemic prompting a rebirth of maximalism, but Heyer believes it is also about full-blown creative expression and maybe a bit of shock value. Even celebs are getting in on the fun, like Harry Styles in his rainbow harlequin jumpsuit at the 2023 Grammy Awards. Some fashion stylists think the impending recession is the reason behind it, as people are looking for nostalgia and joy amidst a bleak period.
Dressing like a clown is surprisingly easy, as all you need is an oversized detachable collar and one item of clothing with a pattern like polka dots, checks, or a harlequin pattern. In the end, it all boils down to laughing back at fashion in times of uncertainty or boredom.

Elle.com
The most viral fashion moments from 2022
This year, a lot of news from the fashion world went viral, triggering frequent conversations on social media and other online platforms.
We have made a record of the events that caused the most significant online conversations in 2022, impacting movements, setting trends, and resonating beyond the fashion industry to affect wider society.
Bella Hadid's Coperni spray on dress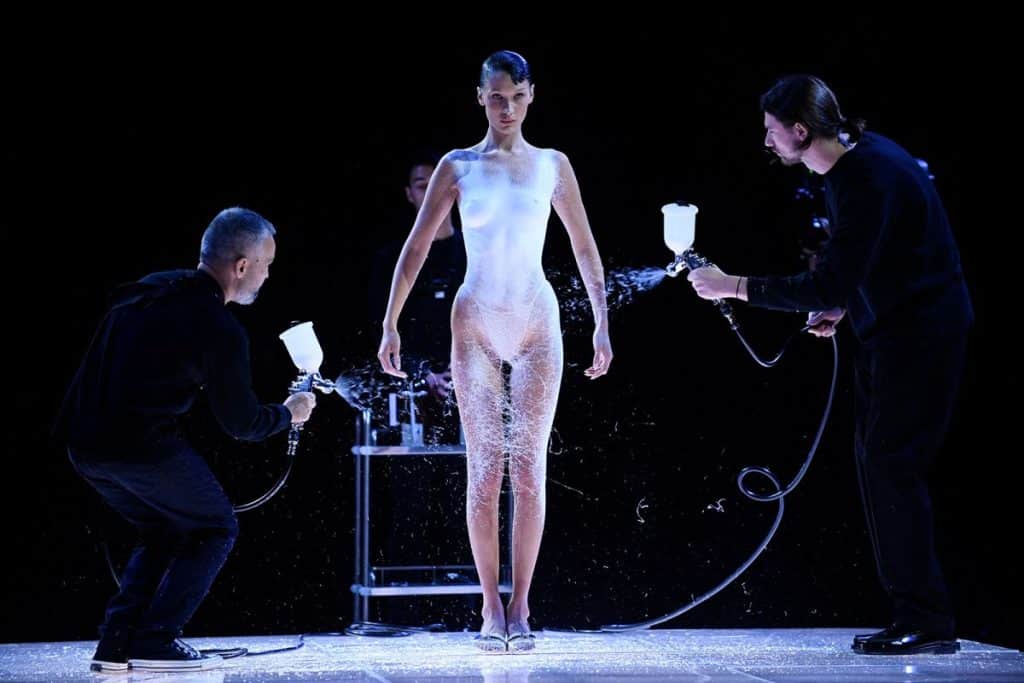 Manel Torres, head of Fabrican Ltd., and an assistant made a splash at Coperni's SS23 show, where they spray-painted a dress onto Model of the Year Bella Hadid during the runway presentation. This event quickly gained traction on social media and was deemed a defining moment in pop culture by analytics platform Launchmetrics.
The firm that evaluates the media impact value (MIV) of events reported that Paris Fashion Week amassed a MIV of 26.3 million dollars within 48 hours, including 20.9 million dollars of social media activity. A post by Hadid of the event generated one million dollars and received 2.8 million likes.
Kim Kardashian causes a stir at the Met Gala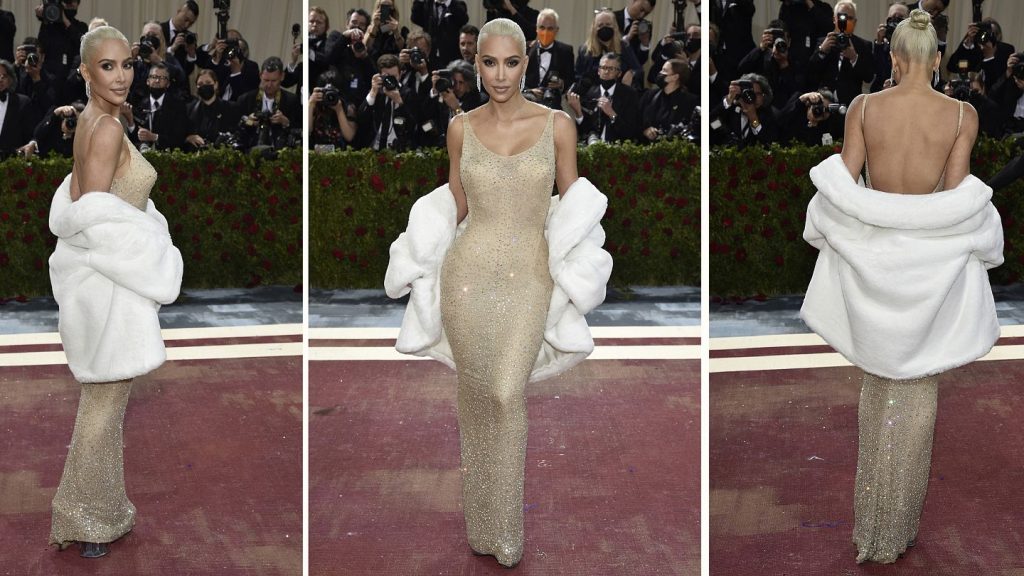 After wearing a dress that was originally made for Marilyn Monroe to the annual event, the reality star caused an uproar from social media users, fashion history experts, and other celebrities. The piece was rented to Kardashian by Ripley's Believe It or Not, which was also criticized for allowing such an iconic item to be worn.
A debate was sparked when it was seen on the red carpet, with many claiming that it had been damaged after a video on Twitter showed alleged rips around the seams. Nevertheless, the museum quickly quashed these allegations, asserting that it was in the same condition as before the event.
Kardashian's stunt at the Met Gala made her the top performer, earning her 39 million dollars in MIV, and also placing her first in social media placement within the first four days.
Adidas collaborates with the luxury industry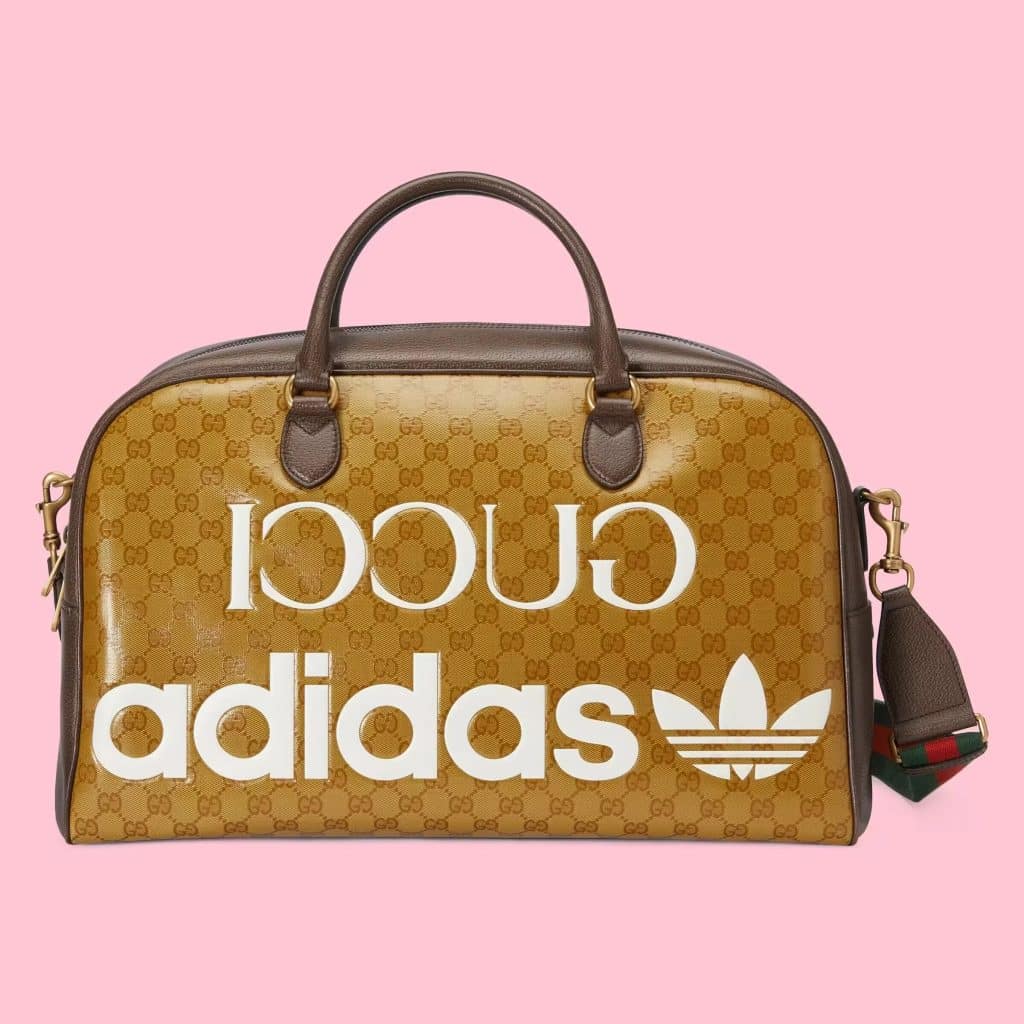 Throughout much of 2022, Adidas was the talk of the town with its steady stream of high-profile collaborations with luxury brands and designers, starting off the year with its Prada joint venture which, according to Launchmetrics, generated more than six million dollars in MIV in the eight days preceding and following its launch.
The partnership between Gucci and Adidas saw a peak in popularity after it was showcased on the Milan Fashion Week runway, leading to the creation of a ready-to-wear collection. This caused Gucci to climb to second place on Lyst's quarterly index, and Adidas to become a significant part of the luxury market, generating 75.8 million dollars in MIV by June.
Adidas' Balenciaga collection, which was presented during the Resort 2023 runway show and included BDSM masks, earned 7.2 million dollars in MIV in its first 10 days of release.
Barbiecore takes over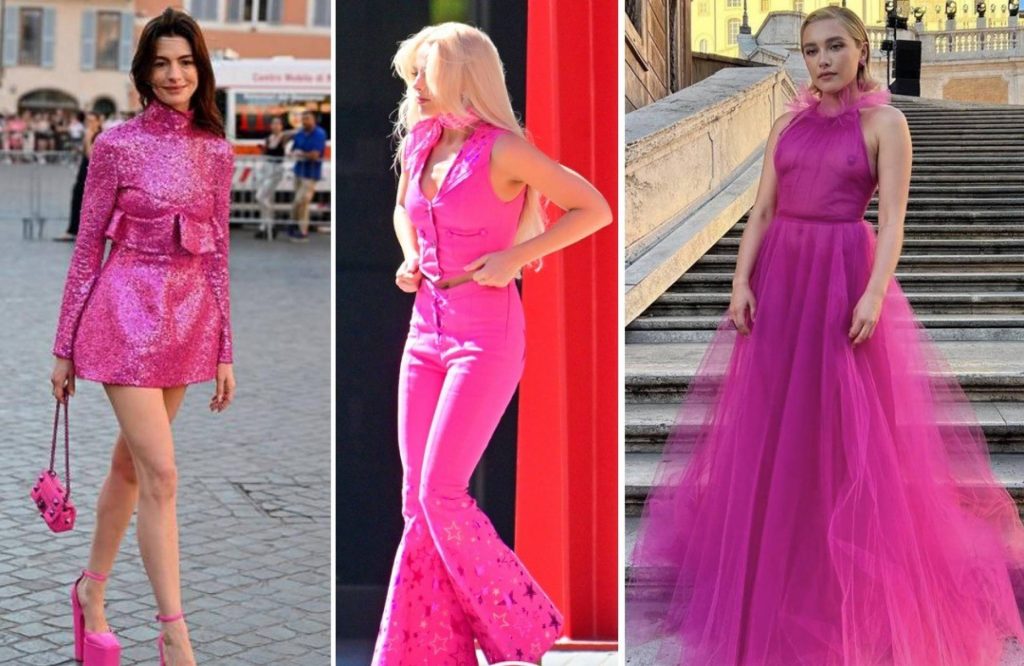 With the release of previews of Margot Robbie as Barbie in Greta Gerwig's upcoming movie, the trend of 'Barbiecore' began to take over the fashion industry, resulting in an abundance of brand partnerships and a surge of online enthusiasm for the color pink.
Celebrities adopted the trend and showed it off on red carpets and social media, and it was also seen in designer collections and runways such as those of Valentino and Balenciaga, which were heavily influenced by the youth.
Klarna, a payment solution provider, conducted research into 'Hyperfemininity', which included Barbiecore, Bimbocore, and Balletcore. This trend was mainly propelled by a rise of 126 percent in sales of pink items in August, according to the company's findings.
It appears that the excitement for the Barbie movie is not going away soon, as the trailer released by Warner Brothers on December 16 has already gained 6.7 million views in just seven days. The movie is set to come out in July 2023.

2023: PH Makeup – The Science Behind the Glamorous Look
No matter how we feel about the TikTok trends, we can't help but be captivated by them and want to figure out what the excitement is all about. What is the mechanism behind the Tarte Maracuja Juicy Lip & Cheek Shift that enables it to adapt to one's individual skin tone?
Although there is a wide range of colors to choose from, it is incredibly challenging to make a makeup product with a universal hue. Pantone, a renowned expert in color reproduction, has acknowledged 110 skin tones, but no cosmetic brand is likely to manufacture that many shades of anything in the near future. Fortunately, this is where pH-powered makeup comes into play – a lesson for all the science enthusiasts out there!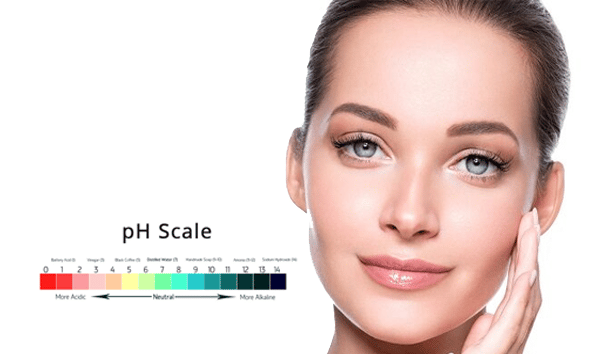 What is PH color changing makeup?
A makeup product with a pH color changing effect that is universal in hue (ranging from black to green to blue to clear or any other shade) can be blended into any skin complexion, transforming into the perfect shade when applied to the skin.
Many brands have tapped into the market by launching blushers, eye makeup, lip glosses, and even foundations in the same color so that people of all complexions can use the same product. Unfortunately, there is yet to be a brand that has developed a truly inclusive and universal ph powered foundation.
How does pH makeup work or is it just magic?
Much like a chemistry class, the pH makeup product contains a dye similar to a litmus paper. This dye is made of acidic, colourless and weak acids which, when in contact with the skin (cheeks, eyelids or lips) will trigger a small chemical reaction due to its higher pH than the product itself. This reaction results in a coloured pigment that is meant to perfectly match your natural complexion.
Your unique color is a result of your skin's pH in that area at the time of day, similar to mood rings that shift depending on the body's temperature which affects its natural pH.
Is pH makeup suitable for all skin tones and types?
Yes and no. Depending on the intended use, such as going from pink to neutral hues for eyes, cheeks, and lips, then it can work for any skin tone. The great thing about this type of makeup is that it is tailored to work specifically with an individual's own skin tone.
The results of the reaction to the pH of one's skin can differ greatly from person to person, leading some to believe that the intensity is dependent on their skin tone. However, when it comes to complexion-based products such as foundations and concealers, the science is not yet advanced enough to make such a claim.